It's a new chapter for Hinds. Back with an album defined by a new guitar-pop sound, the Madrid band are raring to go and the group's two songwriters Carlotta Cosials and Ana Perrote are not letting the virus dampen the excitement for their new record.
"It's called 'The Prettiest Curse' because it's about our lives and how much we love music," says Cosials. "Even though the reality can sometimes be tough. Our job gives us a lot of difficult moments but nothing compares to it."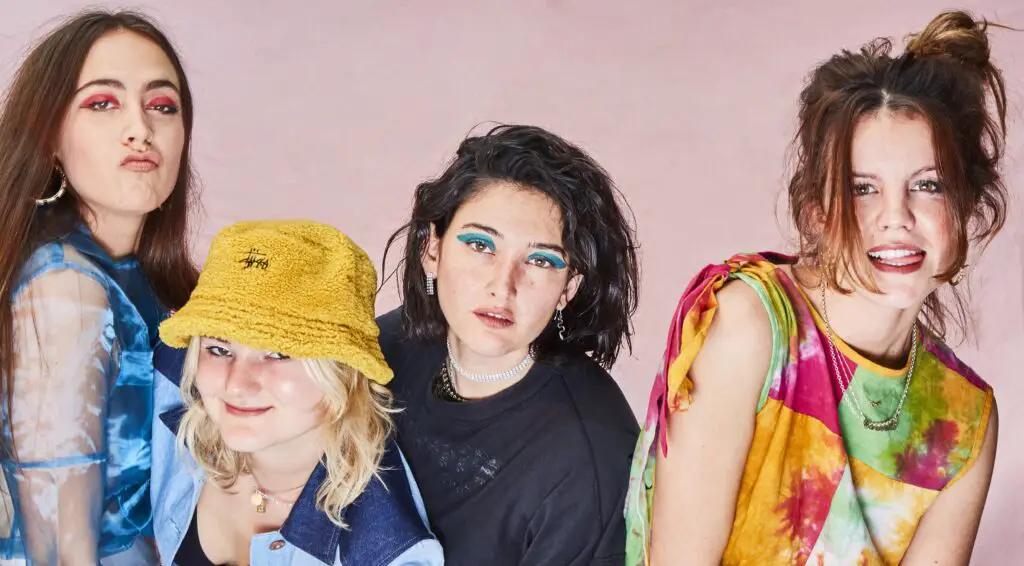 How are you finding lockdown?
Perrote: It was just surreal. It took a while to get used to the idea. It's still weird to think that this is going to be part of our lives for much longer. Every country feels like we got in there too late and politicians should have done better. It's such a crazy reality.
Cosials: At the very beginning, one of the most stressful things was seeing no end. (When we speak) We are on 70 days now, so preparing your mind is easier.
What positives can you take from it?
Perrote: Spending more time with our partners, which we would never have done if we were on tour. It's a luxury we don't usually get. It's also taught me that everything you plan can go to shit and that makes you more chilled. Only once I have thought: "This is so unfair. We've been writing this album for a year, we've recorded it in New York and suddenly a fucking virus is going to fuck it all up."
Cosials: When you face a crisis, it activates parts of your brain that have never been activated before. It's like training for life. It changes how you think and so it's made us more stable how our brains deal with things.
'The Prettiest Curse' is a change in sound for you. What inspired it?
Perrote: It's album number three and we've made two rock albums so we felt strong enough to do something riskier. We wanted more instruments and when we met our producer Jenn Decilveo, in LA, she was a keyboard master, with synthesisers around the room. We wanted something more refined that sounded more colourful with more textures.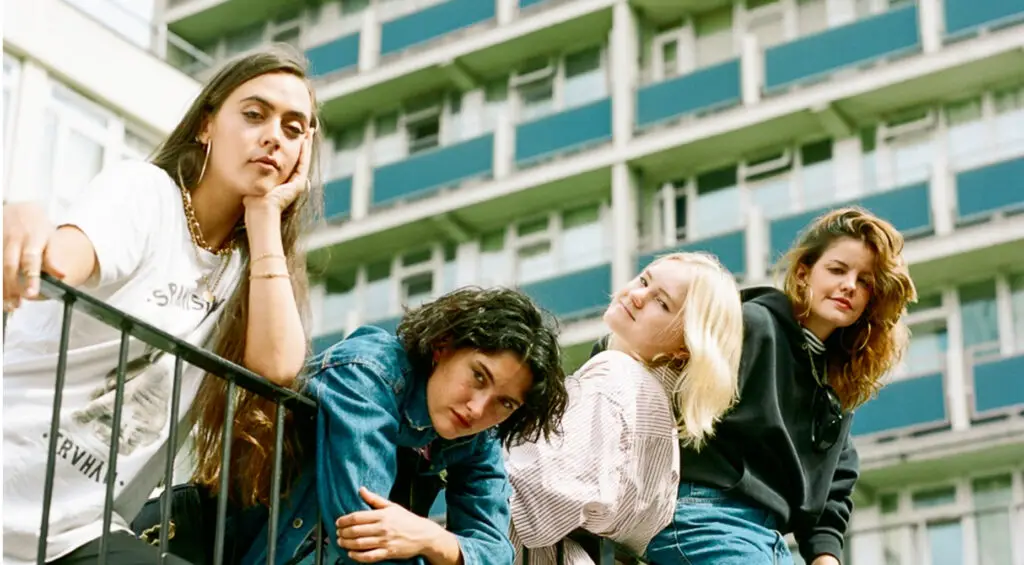 Cosials: It's exciting to have these songs that don't sound like the others. We had fun and that's how Hinds works the best. It's been called a pop album and we are fine with that. Pop is such a big world. When I think of pop, it's Ariana Grande and Lana Del Rey who are both awesome but we are far from them. But we like this sound. We like writing catchy, pop melodies.
READ MORE: 'The Prettiest Curse' review
Music is crying out for more female producers – what was it like having Jenn Decilveo on board?
Cosials: Jenn is the best. She is amazing and so talented and so was the best option. We learnt so much from her and she had great stories to tell. We don't meet a lot of women on the other side of the music and she's really worked hard for her success.
What do you think of the whole bedroom pop scene sweeping the charts?
Perrote: Mac DeMarco, to me, is exceptional – he's brilliant but I don't love bedroom pop, even though I love Mac DeMarco.
Cosials: At the end it always comes down to the songs. We are songwriters and that's why we love playing covers because we like the song. You can love something by Beyoncé or even love EDM if it's a good song.
READ MORE: WHAT EVEN IS BEDROOM POP?
Tell us about the track 'Good Bad Times' – what inspired it?
Cosials: It was written when we were in Madrid and LA. It's about being on tour and having a long-distant relationship and problems with communication and the frustrations being apart brings. You know if you were together you would just sort it out.
You've said 'Come Back And Love Me' is the most romantic song you've ever written. Tell us about it.
Cosials: That is the very first song we wrote on the album. We wanted to go fully romantic. We don't usually open our hearts that much or even say the word "love", and that song needed the Spanish guitar. When you are going to do a cheesy song you need to make it a strong one.
Have you noticed any changes for women in music in these #MeToo times?
Perrote: Definitely. It's opened a dialogue and there's a conversation going on. It's still there but it shouldn't be. One of the hardest parts of being a girl in the music industry is not realising that all the bullshit you are getting, you shouldn't be getting. All the extra baggage we have to carry just because we are women. For me it's about letting it get to me less and making sure that whatever I am doing I don't let those opinions shape me or the music we are making. Now, we are building more tools to communicate between each other. The #MeToo movement is speaking out loud and doing it in public. That is a very big step. It's like a net of empowerment protecting us. We are not in this alone.
Do you think you deserve more success? Higher chart positions?
Cosials: Personally, I didn't care. But we'd been told: "You are going to get this; you're going to do that" by the people around us so when we didn't blow up I was like, I actually want this."
Perrote: We were under a lot of pressure from our team, part of our management. And I'm not going to badmouth them but once we realised it wasn't going to be like they said, they started blaming us for venues not selling out. Everyone was frustrated and it made us really sad. Everyone was turning their backs on responsibility and measuring it on how many likes we had on an Instagram post when we are actually really good with social media. We take it super seriously.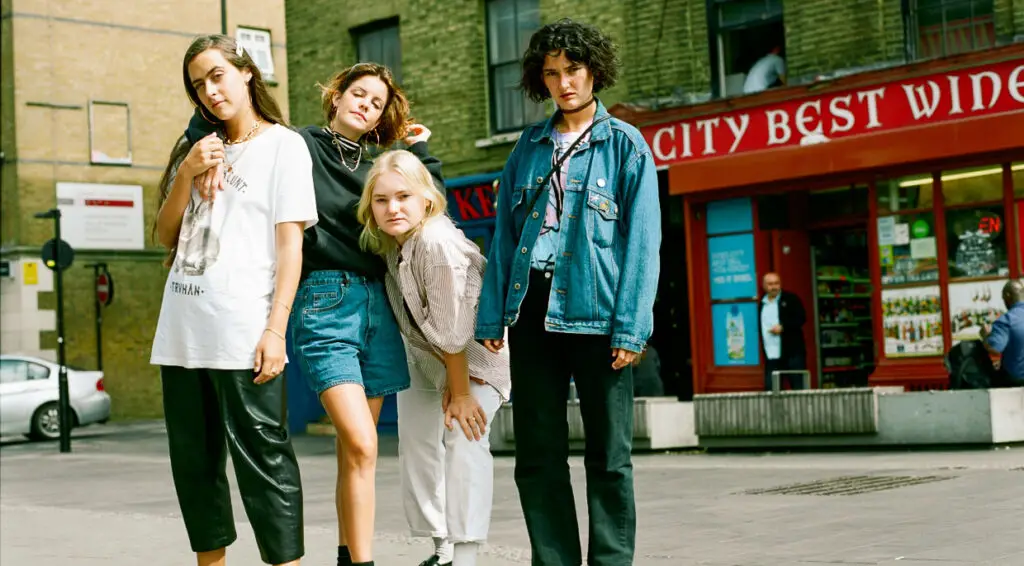 You have a new team now. How much a difference has it made making this record?
Perrote: It's a fresh start and we've changed a lot. We have a manager for Spain for the first time and another for the rest of the world. We've also changed booking agents. There's a lot of new people with this album.
You've been doing a lot of live streams in lockdown. Have they helped?
Cosials: It's helped change my mindset completely. I'm not opening my diary and saying: "I should be in Philadelphia today." Now I don't think about the cancelled tour at all. I wouldn't say we are trying to adapt the tour for Instagram but we've been trying to create and give content to people. We need music more than ever. I'm missing playing festivals, it breaks my heart. I can't wait to go to a festival or a show. I love live music and I miss it at home. I dance a lot at home!
Perrote: It's been a good time to do other creative things. We spent a year writing songs so it feels like we deserve not to write for a bit. I've been painting a lot and cooking and just enjoying the time off.
Hinds new album 'The Prettiest Curse' is out now.