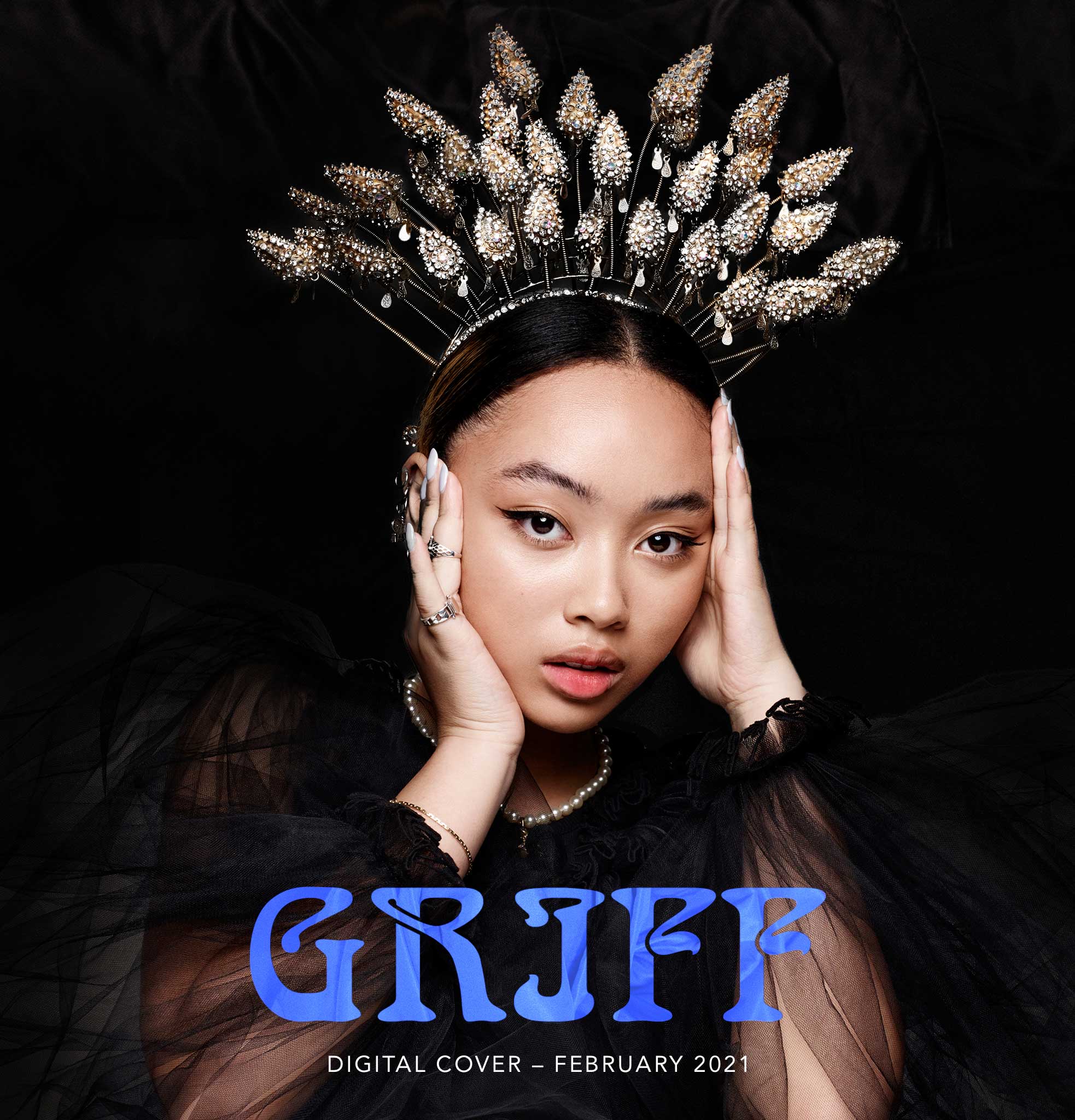 GRIFF
---
Griff takes bedroom pop to a new level. The singer-songwriter-producer-tailor is part of a generation of young musicians shaking up the charts. Rhian Daly talks to the Taylor Swift-approved artist about her journey so far.
---
"It seems like things are going really well for you," sings Griff on her latest single 'Black Hole'. "I wish that I could say the same about me too." It's the classic feeling you have when a relationship's gone up in flames but, in reality, it's hard to imagine many people are beating 20-year-old Sarah Faith Griffiths at life right now. Are they also a promising, young pop star making some of the most interesting-but-still-accessible music of the 2020s so far? Do they have the approval of one Miss Taylor Swift, who tweeted that she's a "huge fan" of Griff last year? A top five place on the BBC's Sound Of… 2021 list? An Ivor Novello nomination? Seems unlikely.
Hertfordshire-born Griff, is all that and more. In the 19 months since releasing her debut single – 'Mirror Talk''s balance of minimal production and pop hooks that get under your skin – she's carved out her place as one of British pop's next big things, growing more and more into the role with every track she puts out. It might be a part that's coming to her naturally but, when she first started making music at the age of 11, becoming a musical icon wasn't at the forefront of her mind.
"It's weird, I don't think I ever really desired to be a pop star," the now-20-year-old tells us. She's sat in her music room at her parents' home in the quiet village of Kings Langley, near Watford, guitars hung on the wall beside her and a piano behind her. "I just loved writing songs and I was really excited by the idea of being a songwriter – for other people." As she got a little older and more experienced in her craft, what she was writing became so uniquely her that it felt like no one else could sing them.
Nevertheless, she's now fully throwing herself into things, be that producing her own tunes, creating the set design for her shows, or making her own clothes for photoshoots, videos and anything else that requires her to look like a pop queen. For Griff, each of these creative strands feeds into building her own world – one that she hopes will always set her apart from the crowd.
"There's so much of the same conveyor belt pop at the moment and it's really overwhelming," she explains. "If you go on [Spotify's weekly new music playlist] New Music Friday every week, everything's good but it's the same. It's another girl writing about heartbreak and looking the same." Instead, she wants to follow in the footsteps of the likes of Lorde, Haim and Banks, and become an artist with her own distinctive sound. "Sonically, I think I'll always write big pop melodies, but I always want to try and create something a bit more interesting in the production that throws it off a little bit."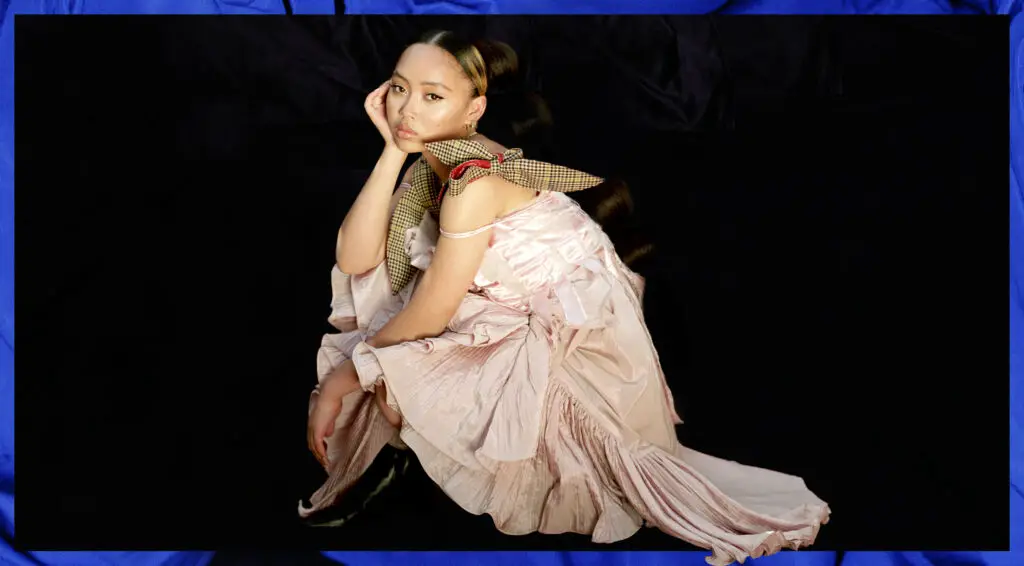 ---
---
She might only have 11 songs to her name right now but, so far, Griff is accomplishing her mission. She held off from writing about romantic relationships when she first got signed because she didn't have much experience in that department – she was only 18 when her debut single 'Mirror Talk' was released, after all. Now she is tackling that subject in some of her tracks, she's doing it with a refreshing twist.
'Forgive Myself', the trumpet-laden single from 2020, puts the focus not on the person who left her in her feelings but on herself. "I gave my heart to the wrong somebody else," she sighs. "I need to forgive myself." It's a song that subtly encourages us to be kind to ourselves in a period when it's easy to dig into your faults in minute detail; a reminder to "cut myself some slack". On 'Black Hole', meanwhile, she intentionally dials up the melodrama.
"Some people might listen to it and think, 'Oh, these lyrics are quite deep', but I think I was trying to make them so melodramatic that there's a humour about them," Griff says, an amused smile on her face. "It's finding the humour in your own heartbreak. There's obviously not 'a big black hole where my heart used to be'."
Just when you think you've got Griff sussed, though, she does a 180 on you. The gentle, piano-led 'Good Stuff' might sound like a break-up song on the surface, but it's actually an ode to all the foster children that have passed through her family home over the years. "Why'd you leave me with the good stuff, babe?" she questions on the emotional track but today she's all smiles when she talks about having new siblings come in and out of her life.
"I got more used to it the more we did it," she explains. "There was always such a huge age gap between me and the kids, so it was really fun and cute to have little kids running around the house." The song she wrote about them might focus on these children not living with her anymore, she says that wasn't a thought she was preoccupied by whenever a new foster child joined her family: "I don't think that in the moment while they're staying with you, that you really dwell on the fact they're not going to be here forever."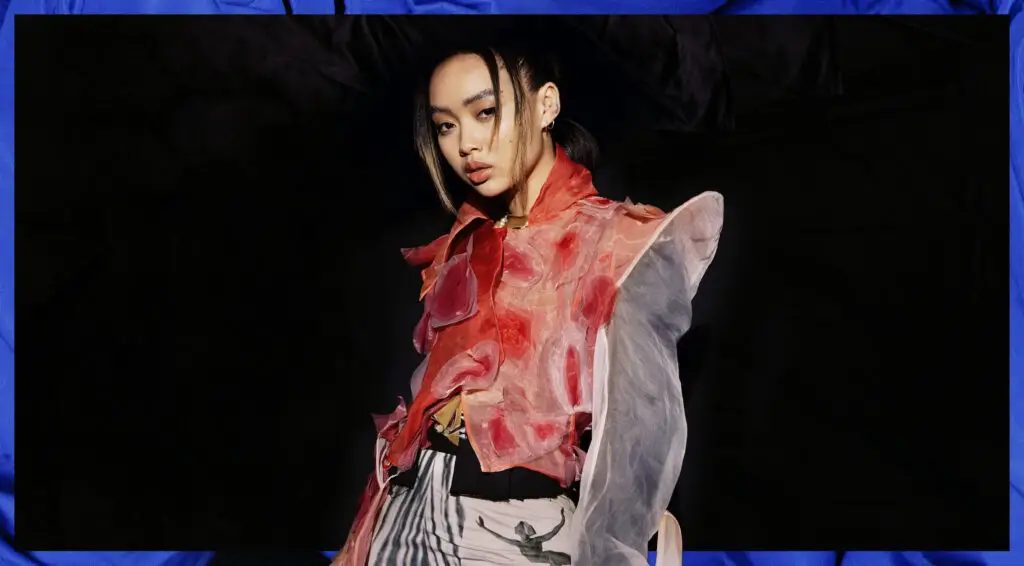 Although Griff says she doesn't have any desire to be a role model, some of the Griffiths family's young charges did try and copy what she was doing while they were living with her. "They always used to just burst in and start playing," she laughs. "Or they'll pick up something and pretend it's a microphone because they've seen me singing."
The 20-year-old's family environment has generally always been supportive of her and her brothers pursuing creative endeavours. Their dad used to be a gospel singer who would "always sing in church back in his heyday" and pushed them in the direction of music. Griff started playing piano aged six, determined not to be left out of the lessons her elder siblings were getting. It was because of them she took her first steps into producing too, hijacking the copy of Logic her dad had bought for them so she could record the piano covers she learnt to kill time.
The fact that the rising musician has the ability to produce her own tracks is something that's often celebrated about her – a far too rare instance of a woman in pop music possessing that know-how. She says she was blissfully unaware of the gender divide in that area until she started going to studio sessions, noting sadly that the assumption now is "when you go to the studio, the producer is a guy".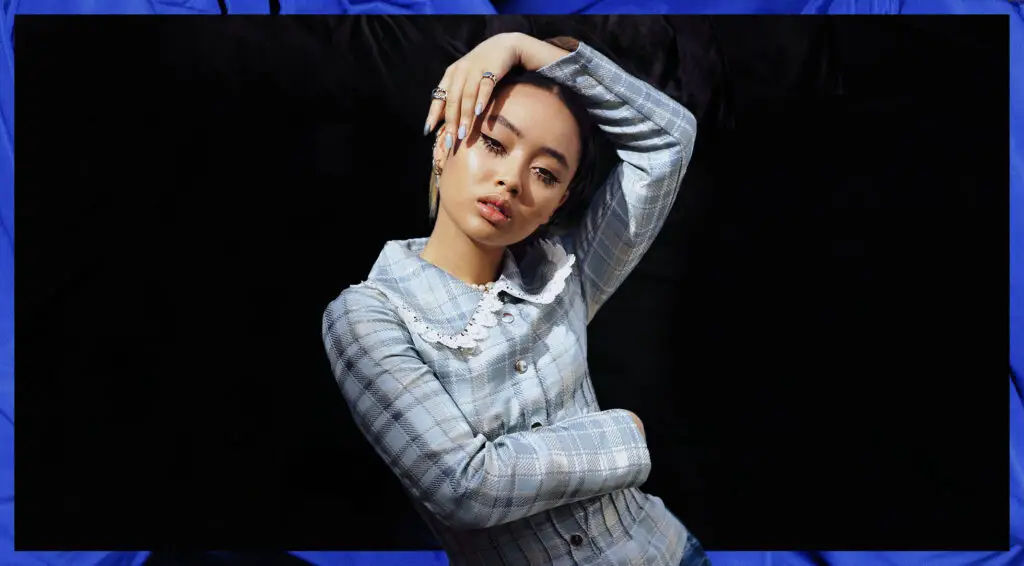 Having her technical skills highlighted, though, has been something of a double-edged sword. "In some ways, it was really exciting because it was a nice ego stroke," she explains. "Then, in some ways, it was weird because it feels like your whole talent and the selling point of you is the fact that you're a girl and you produce. It was this weird thing that was good, but also really twisted."
Despite that slightly odd situation, Griff has nothing but positive things to say about her experiences of the music industry so far. Historically, it's not been uncommon to see young artists (particularly female artists) be exploited by the teams behind them – just look at Framing Britney Spears for an extreme but familiar example. In Griff's case, she's been given the time to develop her artistry behind closed doors and take control of what she wants her career to look like.
But when she did sign her record deal with Warners in 2019, her guard went up, just in case. "You hear all these horror stories of horrible big major labels forcing artists to do things they don't want to do," she grimaces. "But I think times have changed so much through streaming and social media – it's probably the best time to be a young artist because you are more in control."
---
---
That's not to say that modern music careers don't have their downsides, though. Social media and the amount of content you need to produce for all the various platforms – be that TikTok challenges or new songs – can be draining. "I can feel completely out of any creative juices, it's like I've got nothing left," Griff says. "That's definitely a newer issue for young artists now – it's a whole influencer job in itself."
With having to put so much of herself out into the world and all its various platforms, the fact that Griff doesn't release music under her full, real name is something she's hoping will help her keep some distance between her pop star life and her day-to-day existence. "Hopefully my career is going to be long-lasting and huge," she says confidently. "If that happens then it should be healthy to have a bit of separation."
That gap between personal and public is something one of Griff's heroes – and now fans – is only just starting to find for herself. Until 'Folklore', Taylor Swift didn't seem to have a filter when it came to her songwriting, pouring all of herself into her lyrics. It's a balance Griff hopes to find sooner, although she acknowledges there's something of a power struggle between the two sides: "It's hard, because the best things come from when it does feel like you're really pulling out your own experience. For Taylor, that's probably been at her expense – but then it's produced the best stuff, the hits."
The British singer must be getting something right in her attempts to hit that equilibrium in the eyes of Swift. In August, the superstar posted that aforementioned tweet reacting to a cover of 'Exile' that Griff and Maisie Peters teamed up on. "The 10-year-old me that first got into Taylor Swift was just dying inside," Griff laughs. "I read the tweet over and over again. I was like, 'This is mental, she just said she's a big fan of me. What?!'" A post on her Instagram page still shows her and Peters FaceTiming gobsmacked and the frantic keyboard smash DMs they sent each other in the aftermath.
On the day we speak, Swift has just released her first re-recorded track after the rights to her music were sold out from under her in 2019. First up is 'Love Story', which originally appeared on her 2008 album 'Fearless' – Griff's "favourite Taylor". As well as being "well excited" to hear all the new versions of her favourite songs, she's also behind what the project stands for. "Obviously none of us knows the details of whatever beef she's got going on, but I think it's still quite impressive that she's making such a statement about being a woman and owning her own music," she explains. "It's such a weird thing to do, to be like 'I'm just gonna re-record my whole catalogue' – and to be so confident that she's gonna be really successful with that. I think it's quite a bold, powerful move to make publicly and it's quite exciting."
And for her own power moves? Griff is currently working on a mixtape. "I'm doing it all and there's something about me not being very technically trained that it does feel a bit rougher and readier," she says. The tracklist for the release isn't quite nailed down yet, but it will have a "really fun, optimistic message" and feature songs that reflect on "growing up and figuring out adolescence".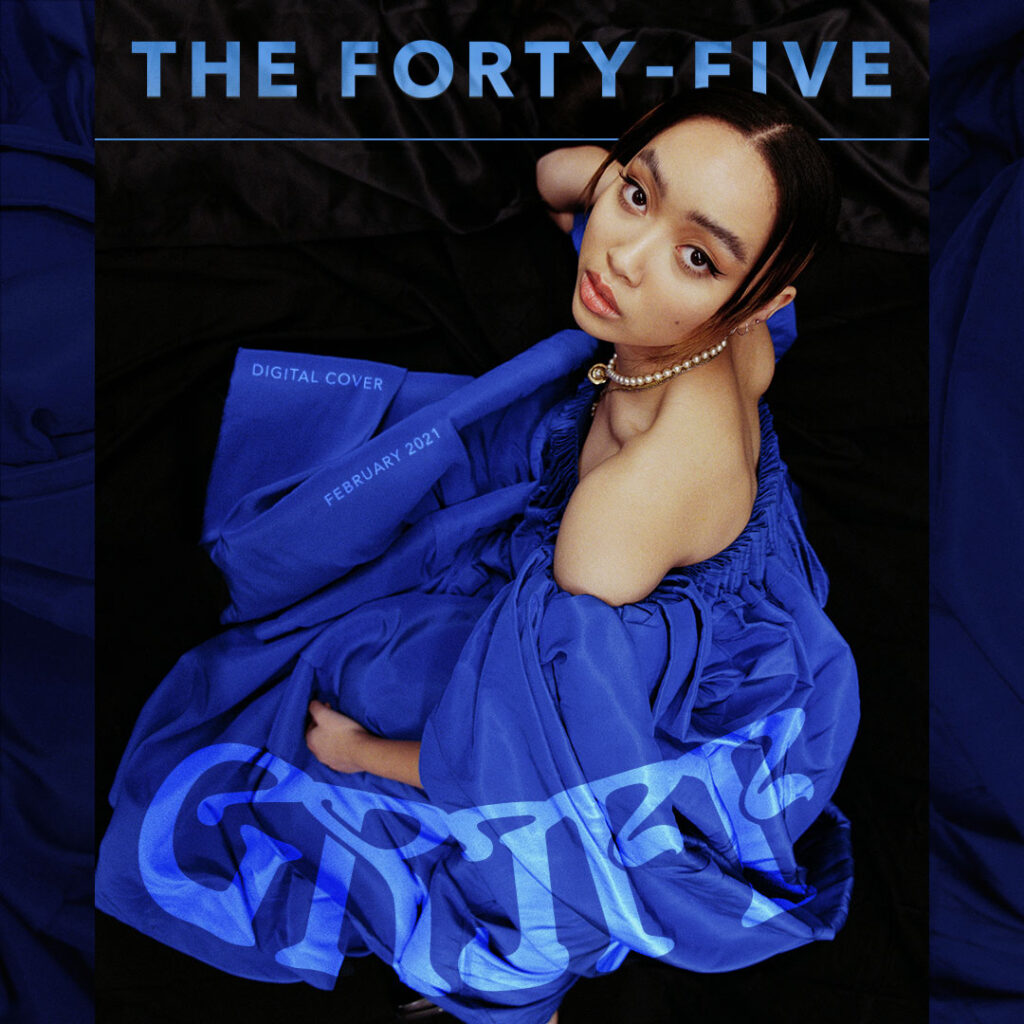 And has she thought ahead to what a debut album might look like? "It's just so much music, isn't it?" she grins. "I want to release an album when everyone's ready to digest that – especially now we don't have attention spans for that much music, unless you're obsessed with an artist." Though she admits, despite being a child of the streaming generation, full-length records are still important to her and she wants her debut to be "one of the most thought-through pieces of music that I ever put out".
It's an ambition that taps into what Griff calls her "overall goal" – to put out the best music possible. "I want to write songs that feel timeless and like they've impacted lots of people," she says. In both her tunes and her visuals, she has big aspirations. She wants to become known as someone who is always "a little bit ahead or a little bit more interesting" than the trends of the day. "It's such an impossible task," she laughs. Based on the evidence so far, though, she's very much on the right track.