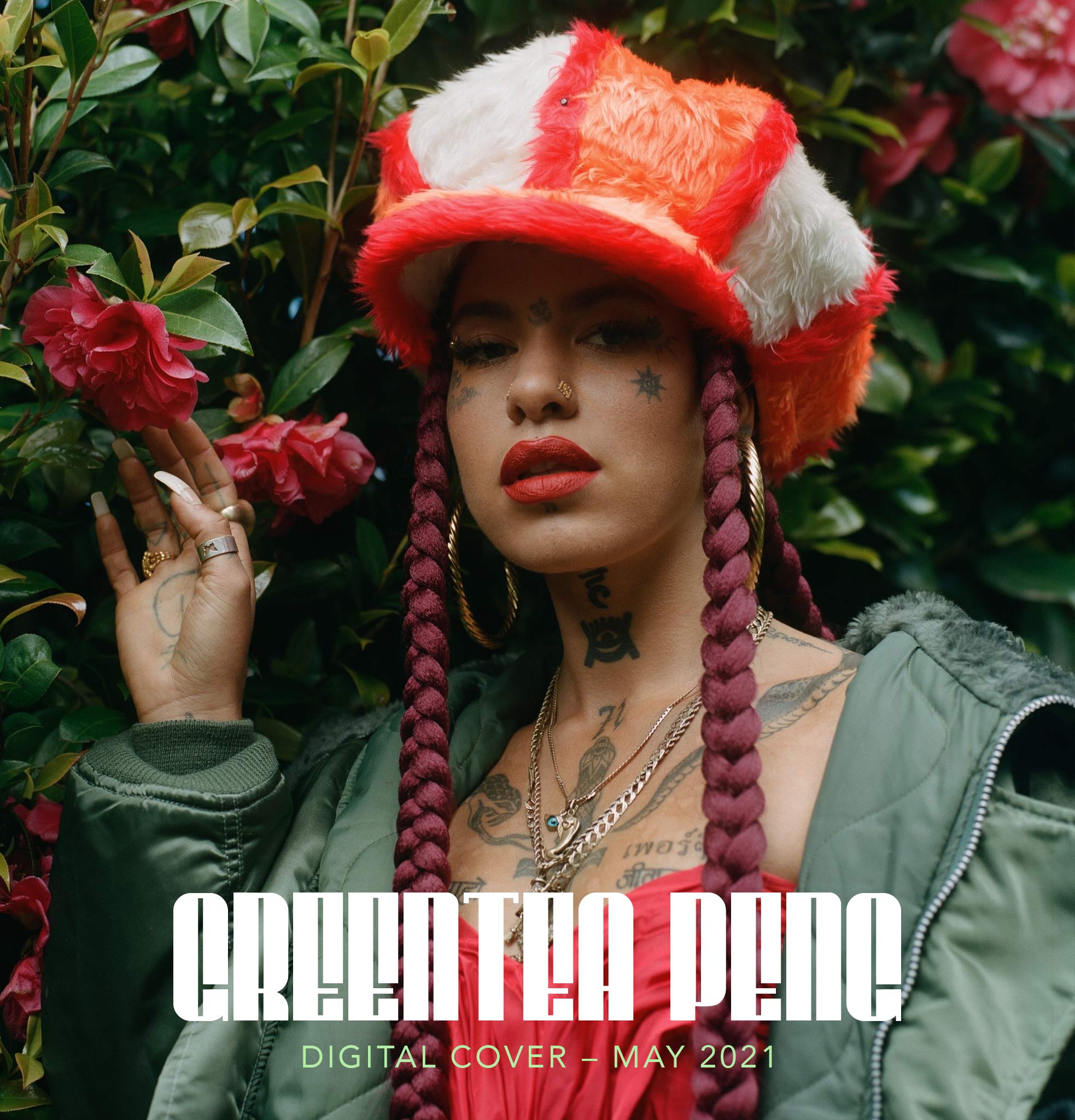 Greentea Peng
---
Greentea Peng's debut album is as eclectic as the person behind it. As she prepares to release the psychedelic grooves of 'Man Made', she chats to Leonie Cooper about goat-rearing, truth-telling and why being one of the herd was never an option.
Photos: Holly Whittaker. Creative Direction: Emily Barker
---
Greentea Peng is rattling through the animals that also occupy the idyllic countryside farmhouse where she's currently living. "I've got some goats, a dog and a cat – but I want a horse and a cow and maybe a pig," she says thoughtfully, mentally piecing together her fantasy menagerie. Though we're meeting at a Turkish bistro on Islington's Upper Street ("this is the best place I've ever got baklava from," she raves), the south London-born Peng no longer lives in the city, skipping town to live the good life instead. Frankly, she couldn't be happier. "The goats are my bredrin – I take milk off them sometimes," she continues, before detailing her technique. "It's pretty self-explanatory, you just get in there and give their titties a squeeze," she adds with a shrug. Far from simply dabbling in this Countryfile-friendly lifestyle, Peng recently helped one goat through childbirth, albeit with a slight showbiz twist. "It was my first time helping an animal give birth," reveals Peng. "I was half doing an interview with Annie Mac on Zoom and half in a goat shed… It was intense."
---
---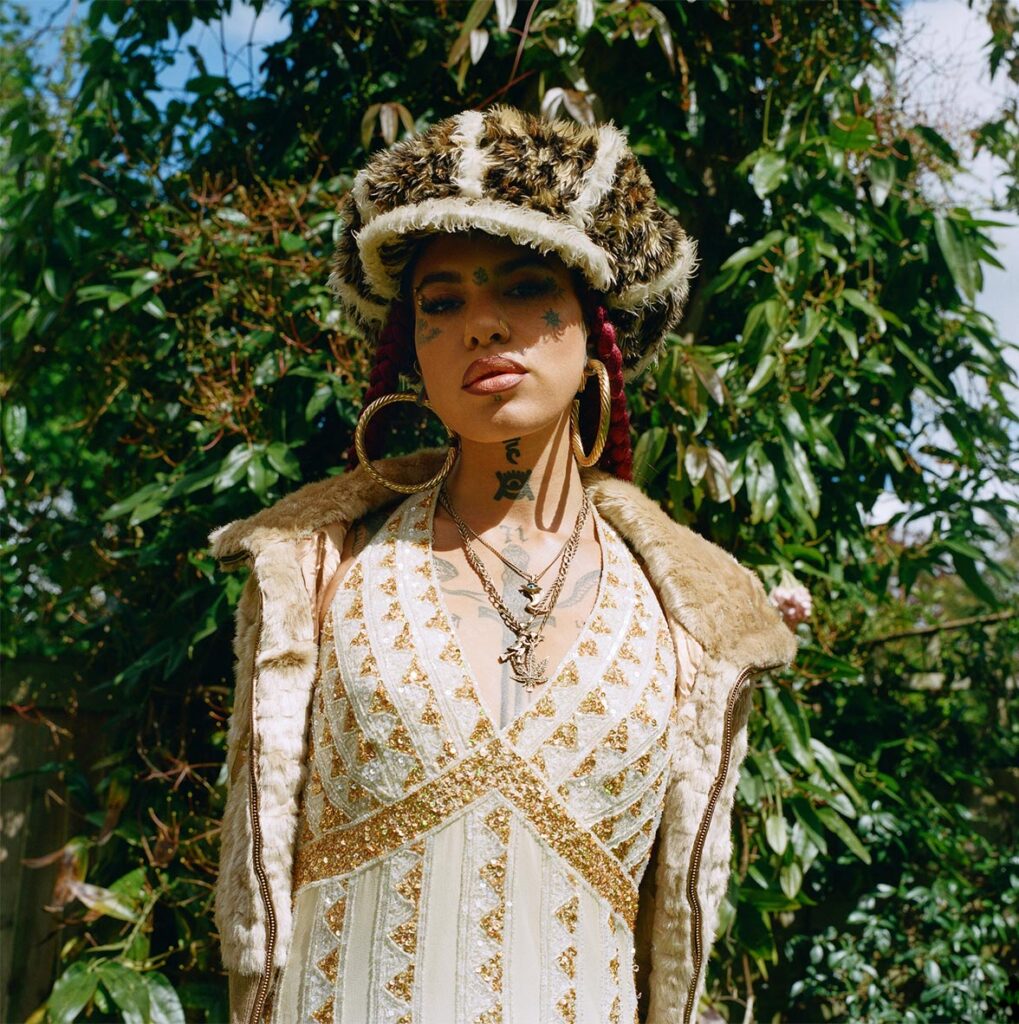 A new artist on the precipice of Very Big Things who's also getting ready to drop her much-hyped debut album, 'Man Made', Peng's escape to the country might seem counter-intuitive, but this soul, jazz and spaced-out R&B fusion artist has always been a fan of doing things differently. Peng was 18 when she first went off in search of adventure, leaving London and jetting off to California with a mate. But instead of the bright lights of Los Angeles or hitting the beat poetry trail in San Francisco, the pair went to the wilds of Humboldt County on the far north coast of the state. On arrival they headed directly to one of the area's many weed farms and quickly got to work on the harvest. Can we assume that Peng also sampled the goods during her time there? "Of course, of course – but it depends on how much money you want to make…" she says with a smirk. "I didn't make that much money."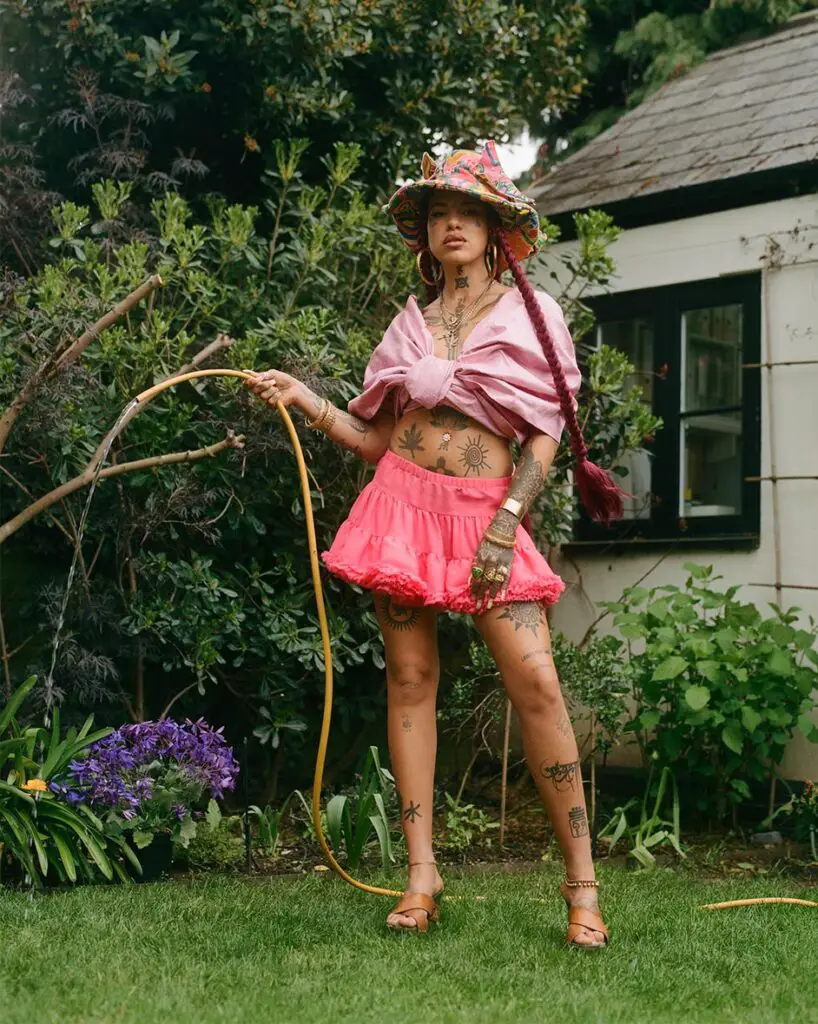 With her face and fingers dotted with tattoos, fluffy neon faux fur hats, immaculately applied 1990s style lip liner and heavy statement jewellery – she's dripping with rings, pendants and the biggest of gold hoops when we meet – Greentea Peng looks every inch the fully-formed star. Rather than the creation of an overexcitable stylist, Peng's enviable, idiosyncratic look is all her own, a mixture of Buffalo Stance-era Neneh Cherry glamour, Ari Up of The Slits' punky reggae rebellion and a smattering of day-glo Spice Girls flash. "I fucking loved the Spice Girls when I was younger," she notes. "I used to have these sick Spice Girls trainers that my mum bought me in Paris – they were red and they lit up. They were banging."
Peng was just a kid when she realised what you wore could speak volumes about who you were. "I've always used clothes as a form of expression – I'd wear tiaras out, proper fur coats and that," says Peng of a typical outfit she'd wear as a five year old. These kinds of outre fashion statements came with their own particular hurdles, but Peng quickly came to embrace her individualism. "I've always been taken the piss out of and I've always stuck out like a fucking sore thumb to be honest," she admits. "There was a time when I really tried to fit in with everyone and just wear tracksuits and Nike trainers. My mum couldn't afford it, so I was like 'I'm just gonna stop forcing this shit and go back to being a freak.'"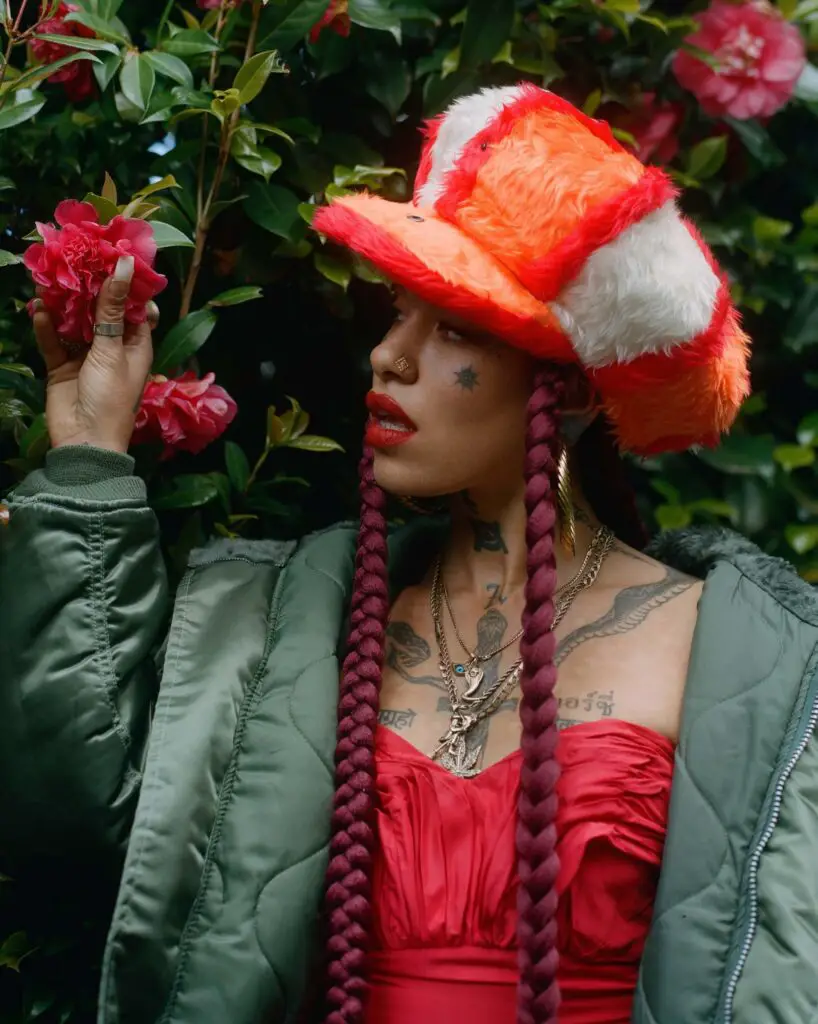 ---
---
It was this attitude that Peng took with her to Hastings when her mum moved the family to the seaside town for their secondary education. Peng fell in with the local indie and grunge scene and got her very first job helping out in a junk shop called Robert's Rummage. "Then I moved back to London when I was 14 or 15 because I fucking hated Hastings," she says. "But then I fucking hated it here as well, so I went back to Hastings and that's when I gave up trying to fit into any scene and I was like 'fuck everyone, I'm gonna be my own thing'."
There's a refreshing openness about the way Peng speaks, a kind of carefree spark which brings to mind those early interviews with Amy Winehouse, full of deadpan humour and sharp intelligence. Some people might act like they don't care what other people think about them, but it feels like Peng genuinely doesn't. Suddenly her life out on the farm makes total sense. With her catchy and vibey sound she's more than likely to conquer the music industry this summer, but if she doesn't you get the feeling she'll be just as happy sacking it all off, tending to her goats and finally getting those piglets.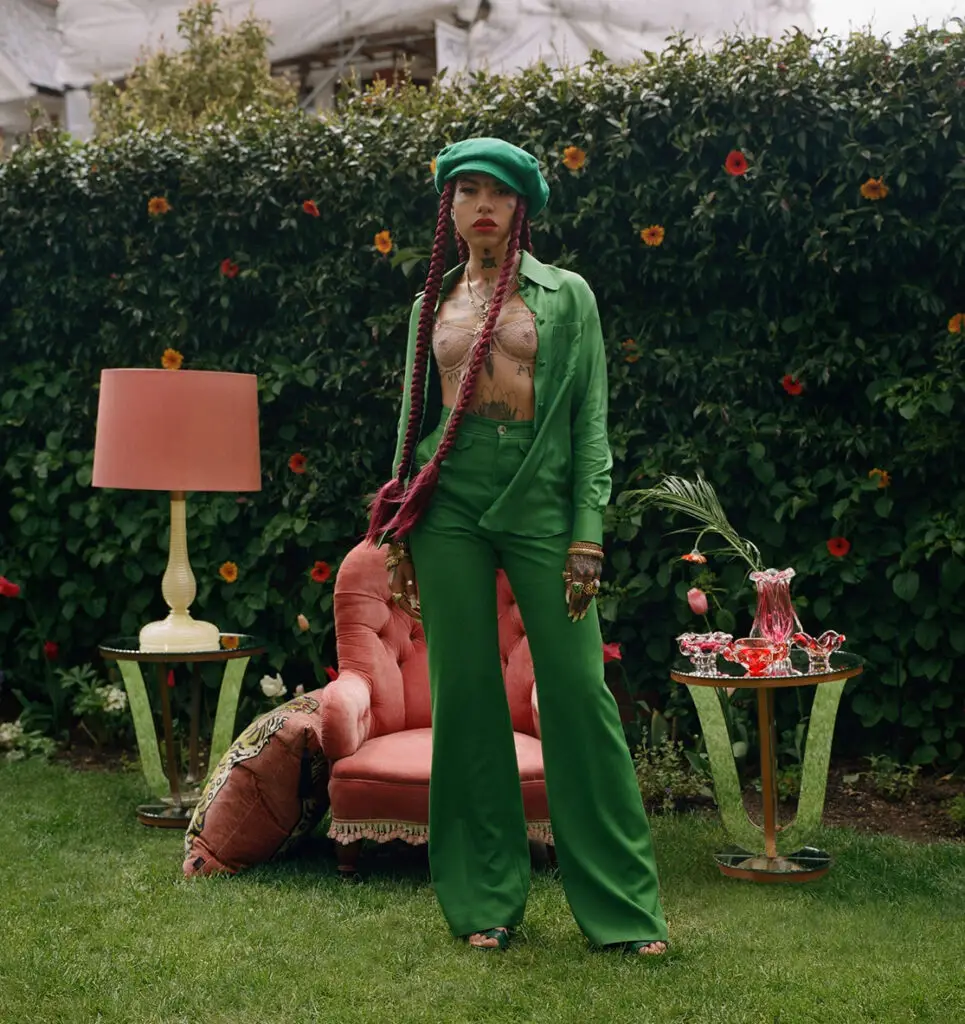 See, music was never really the plan for Greentea Peng. It was only while out on her travels – this time during a trip to Mexico – that things started to fall fatefully into place. Living by the beach and working at a yoga retreat, Peng found herself singing covers versions of songs by everyone from Arctic Monkeys and Jimi Hendrix to Lily Allen and Dusty Springfield with a local bar band. Editor, Charlotte Gunn, can confirm this to be true, by chance, having watched her sing in Tulum in 2017. Little did she know she'd go on to be 2021's most compelling new artist. It was during this stint that Peng would meet the woman who'd go on to be her first manager.
Before that Peng had been working behind the bar at Visions, an infamous basement boozer in the middle of the so-called Dalston "strip", a run of rowdy gig venues, bars and pubs dotted across the Kingsland Road. Starting there when she was 18 years old, by the time she was 23 she was made bar manager and her social life revolved around its late night antics. "The majority of my friendship group, I met there," says Peng. "I was quite, not arrogant as a teenager, but… blinkered. Like, I would only listen to '90s hip-hop. But working in Visions opened up my mind." Being in the bustling space also helped boost Peng's self-esteem. "I went from not having much confidence to working there and just getting chirpsed all the time," she says with a grin. "Which is quite good for you when you're a teen with bare image issues." But as enjoyable as it was, Peng's work in Hackney hospitality always had an end date, mainly because of its relentless schedule. "That kind of career's got a shelf life – I was working from 9pm to 7am. I was awake all the time. I would just party until work started again."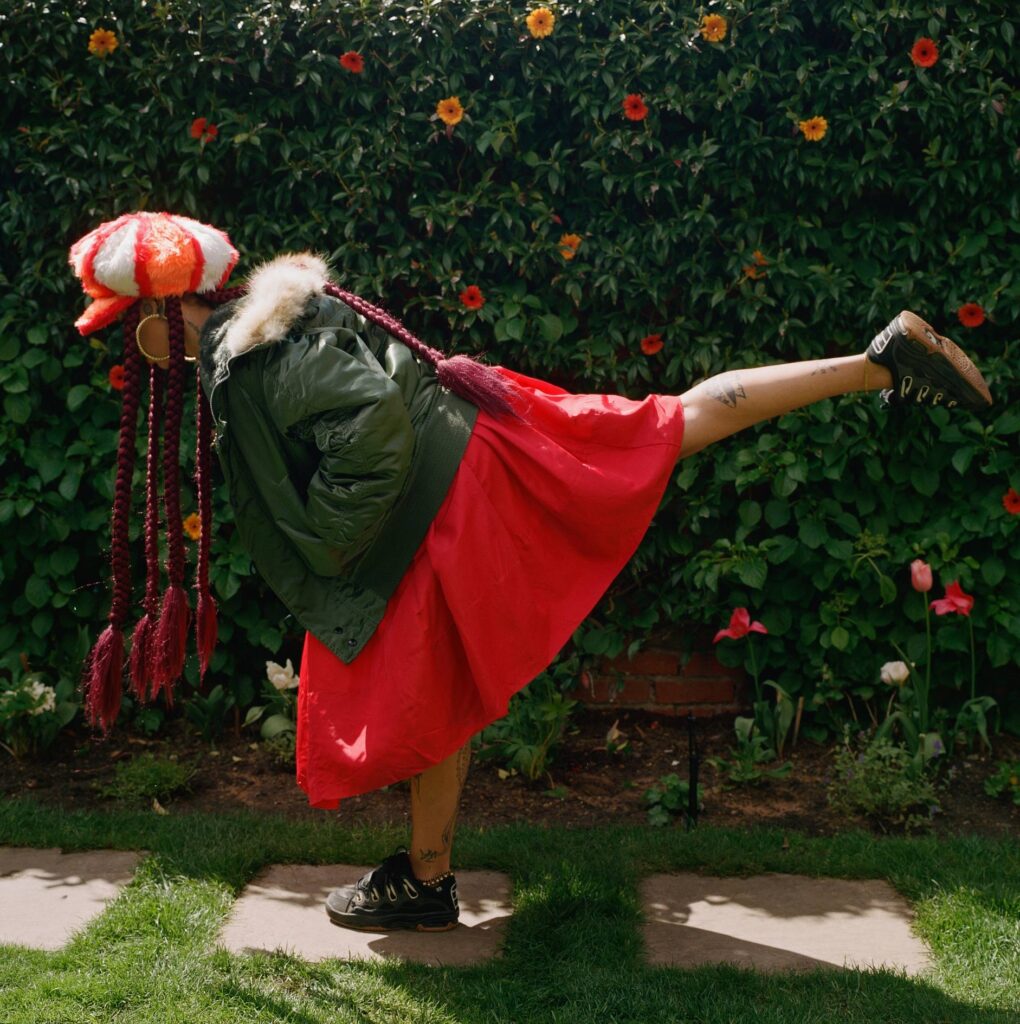 That 'Man Made' is here at all is a bit of a surprise, not least to Greentea Peng. "It all happened quite quickly – I never planned on making an album," explains Peng, who dropped her first single, the hazy spiritual hip-hop of 'Moonchild', in the first half of 2018, following it up with 'Ghost Town', a powerful, dubby track about the ongoing gentrification and social cleansing of London, on which she sings "London Bridge is fallin' down/All my mates walkin' 'round with frowns/Can't seem to make no sense of all this rain". It's something Peng is passionate about. "Look how many young homeless people there are now, how many independent businesses are being shut down, how many people are struggling to pay their rent," she states.
The relentless grind of London was another reason for getting out of the city last summer, when Peng and her band hijacked a friend's house in Surrey and built their own studio. The only real aim was experimentation. "We were making music for eight hours a day for a month and a half – more than eight hours, we were playing all night," remembers Peng. There was a certain amount of psychedelic experimentation too. "I mean, the original plan was to get bare Zen, do yoga, stop smoking and just be really clean," remembers Peng. "And then my stepdad died and I went 'fuck it'… I might as well delve right into it – I was losing my mind anyway."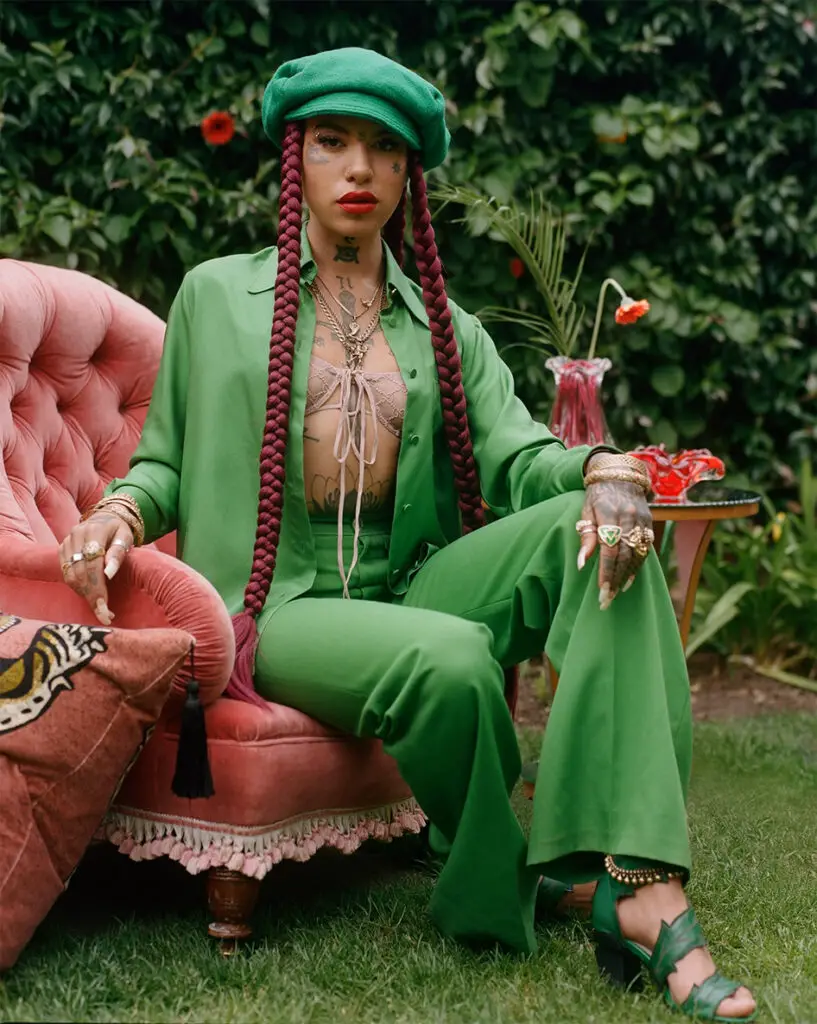 Recorded in the aftermath of that trauma, 'Man Made' is a soothing, special collection of songs which thrum with an interest in divinity but also plug into ground-level social consciousness. After a year of chaos – from Peng's own grief to the global corona crisis – its laid-back, chilled-out energy couldn't be more welcome. Alongside singles 'Nah It Ain't The Same' and the Blak Twang-sampling 'Dingaling', the album features 'Jimtastic Blues', a tribute to Peng's stepfather Jim, the man who introduced her to punk rock and heavy metal. Raised on a diet of Finley Quaye and Lauryn Hill, it was Jim who brought the hard and heavy guitars of Iron Maiden, Black Sabbath and The Clash into a young Peng's world. "It was sick, I fucking loved it. The Clash especially – it was rebel music. Any sort of rebel music interests me." It seems more than coincidence then, that we're meeting Peng on the 40th anniversary of the death of Bob Marley, perhaps the king of rebel music. "Fucking hell," she sighs. "We need Bob Marley now, bruv. I think Bob Marley was a prophet and it's sad to be absent of prophets in this day and age."
That said, Greentea Peng is wary of raising anyone up so high that they're beyond reproach. Instead of bearing the album's name, billboards advertising 'Man Made' are emblazoned with the slogan, 'Fact check the fact checkers', a statement which Peng holds dear. "I want to remind people that they should question everything and not take things on face value and do their own research – don't just swallow spoon-fed shit," she explains. "I just thought it was a suitable message to put out there, rather than just putting up a big picture of my face."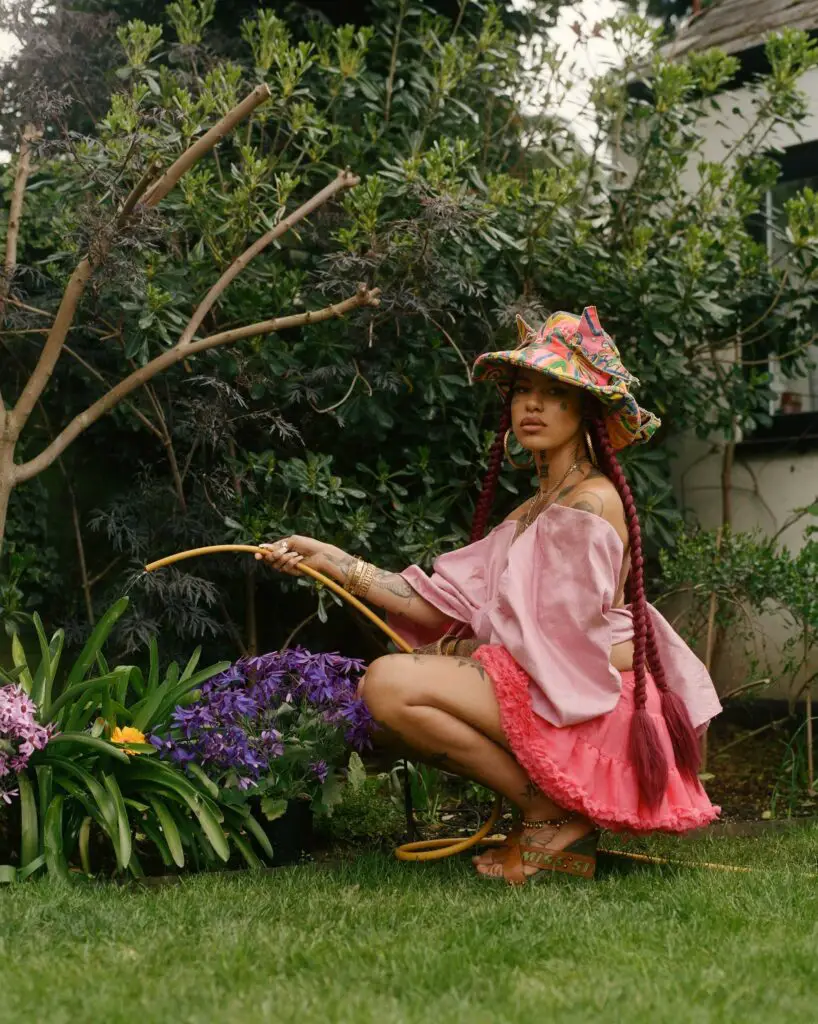 ---
---
However, the slogan has seen Peng come across criticism online, with one fan responding to her Instagram post of the billboard with the comment: 'love your music but not the anti vaxxer personality'. It is, explains Peng, slightly more complex than that. "I'm not anti vaccine, I'm anti lies and corruption, I'm anti exploitation, manipulation and i'm anti propaganda," she wrote in reply. "This isn't a question of pro or anti vaccine, it's about civil liberties, human sovereignty and TRUTH. I'm not an 'anti vaxxer' or a 'conspiracy theorist' I am a person with a different view to you." Today she doubles down on this stance. "This is exactly what I'm talking about," she says when we ask about the comment. "They see 'fact check the fact checkers' and their response is I'm an anti-vaxxer – they've completely jumped to a conclusion. You don't know how many vaccines I've had!"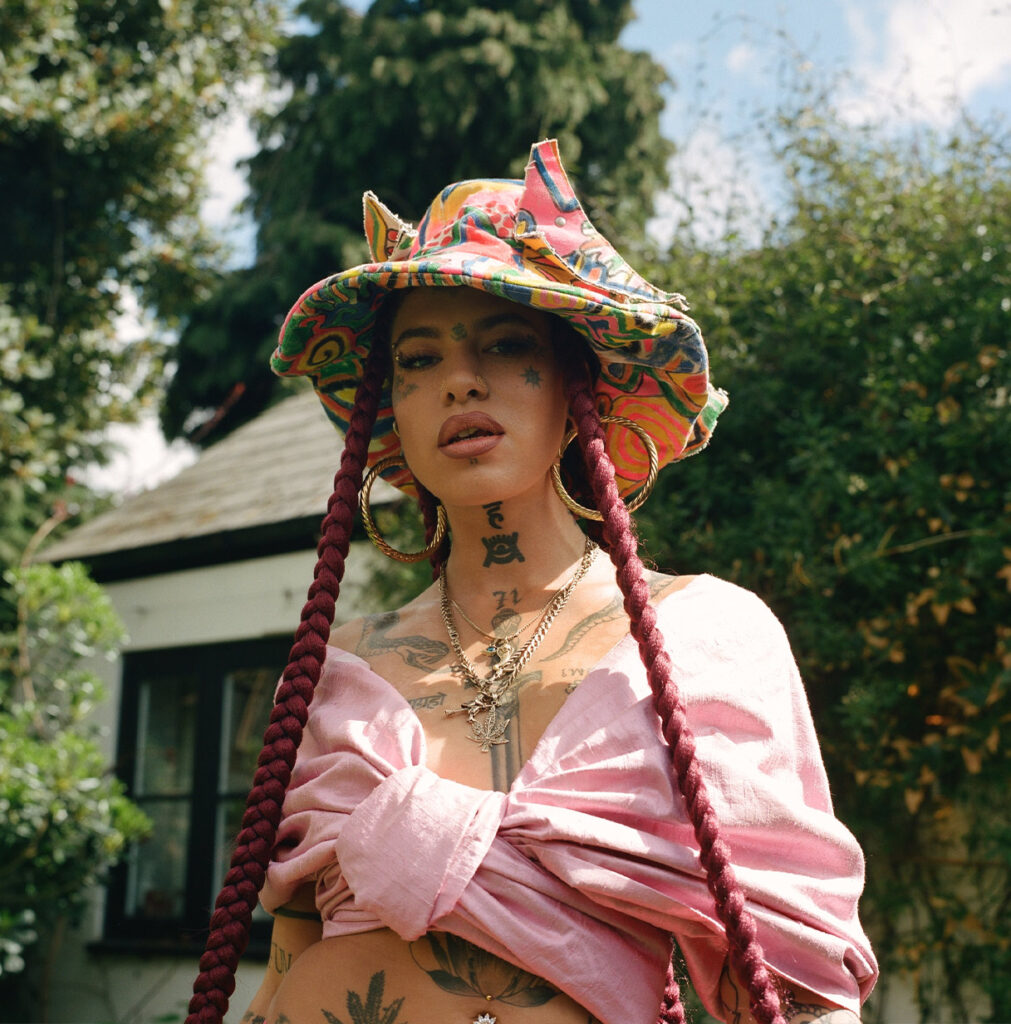 Greentea Peng isn't interested in the easy way out or engaging with the dominant discourse. Rather she wants to make her own mind up about everything and wants her fans to do the same. It's why her album is called 'Man Made' instead of 'Woman Made'. "Everyone's so obsessed with this man/woman thing," she explains. "At the end of the day it's 'man' when you read the scriptures, it's how we refer to humans. Everyone gets a bit touchy around the whole feminist thing, but I'm more of a humanist myself," she says, reclining in her chair and proudly lifting her chin. "That's the future I'm pushing towards."
'Man Made' is out June 4 2021. Greentea Peng was styled, wearing Gucci, by Jake Hunt. Make-up by Maha.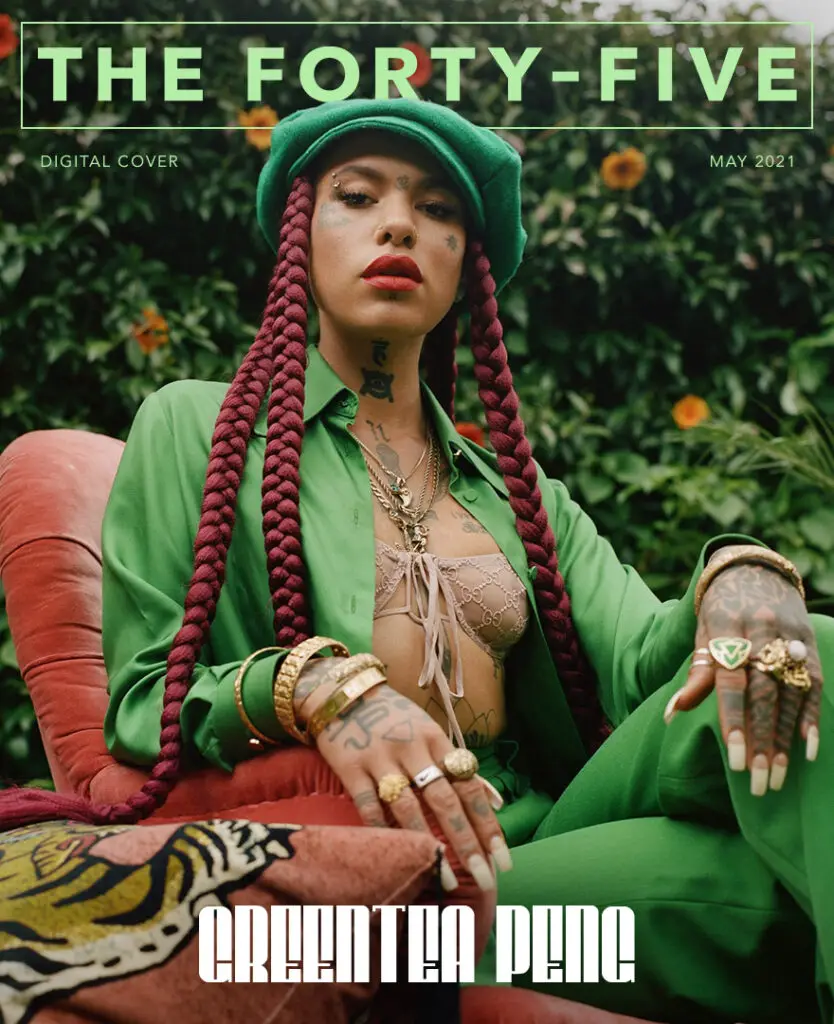 ---
Like what we do? Support The Forty-Five's original editorial with a monthly Patreon subscription. It gets you early access to our Cover Story and lots of other goodies – and crucially, helps fund our writers and photographers.
Become a Patron!