It's a sweaty June afternoon and Denai Moore is feeling the heat. "I'm melting! It's just too warm," she exclaims. She's right, too: it's disgustingly close, made all the worse by this seemingly eternal national lockdown. But all things considered, the musician is coping pretty well. She's just about to release her third album 'Modern Dread' – the follow up to 2017's 'We Used To Bloom' – and as we chat on the phone, she gives off a relaxed energy: "It's actually been perfect for me, you know?" she says of lockdown. "I feel like the things I do can feel intense at points, so, it's nice to have a slower paced environment".
With 'Modern Dread' the Margate artist has created a highly personal and political series of tracks that expose her vulnerability. Dubbing herself as "genre free", Moore's vocals in 'Modern Dread' remain sultry and melodic throughout, layered over bass-heavy beats that flawlessly merge her R&B, soul, folk and electronic influences. The result is a nuanced album that feels both timeless and nostalgic, and in message, perfectly captures the current sentiment of us all: in an era where we are constantly fed streams of information, it can feel impossible to detach.
Moore attributes her genre-spanning abilities to her father. "My dad was a musician, he always made music that was very eclectic," she explains. "I think I get that broad inspiration from the music that he played around me growing up". Being exposed to a multitude of sounds, from ethereal instrumentals to the soul of Stevie Wonder, led Moore to find 'genre' as a method of categorising music stifling, and ultimately meaningless.
"Genre to me has been a conversation around my music that I've always found quite limiting. I never really got it. I just make my music, rather than allow for the tropes of media and whoever to inform me on what I do. I think it's almost impossible to make a record with one genre". As a listener, this is what makes Moore stand out. Her wavy synths and bouncy percussion, paired with her angelic lyrics, create a sonic universe that remains mesmerising and all-consuming. "We're influenced by everything; I find it so limiting to ask yourself how music is defined."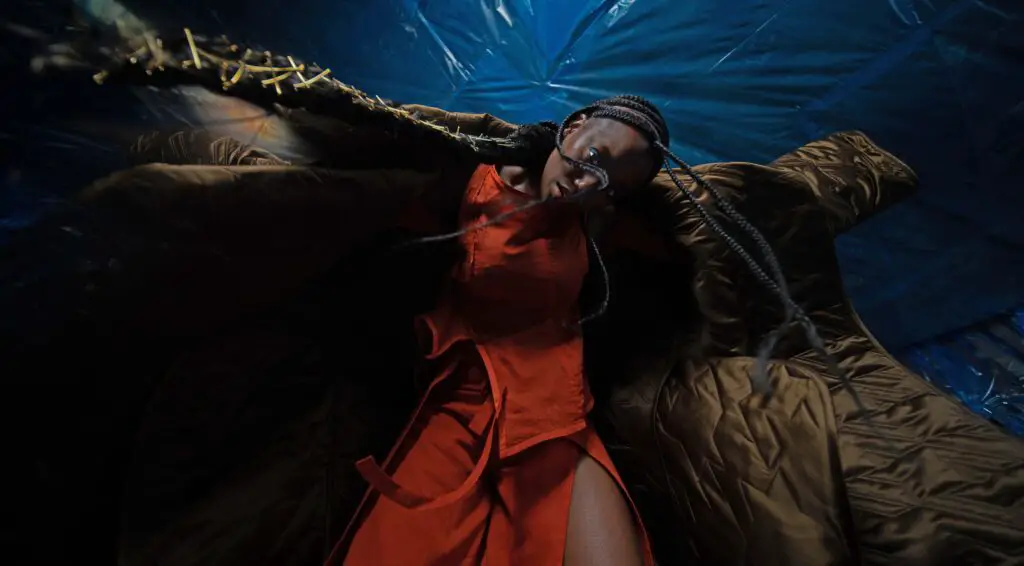 When listening to 'Modern Dread', Moore takes you by the hand, drawing you deep into her subconscious, revealing innermost thoughts about identity and finding your place in the world. Her willingness to talk about such personal issues demonstrates real strength and courage. "I was experiencing something that I feel like a lot of people are feeling," she says of the album's choice of title. "We have so much more power to voice our opinions, but right now it's just too intense, like, social media now feels so loud? I was feeling very overwhelmed, and I was re-evaluating a lot."
---
---
These words will resonate with many. The digital age has made the average person an active participant in the 24-hour news cycle. We are no longer passive recipients of information, but are granted the ability to share, critique and make our own news. With 2020 being such a tumultuous year, from Brexit and the Australian bushfires, to the COVID-19 pandemic and the recent wave of Black Lives Matter protests, it's easy to feel engulfed by the relentless negative news stories.
"We are in a constant stream of updates with what's going on. But it's hard because what do you do with all the information that you're receiving?" Moore questions. "There are so many things that affect us based on the amount of information that we take in."
It's true. The paradoxical dilemma as to whether to stay connected and remain well-informed and resourced, or to switch off in order to protect our sanity is one most of us can relate to. This endless battle fills us with a sense of dread; a dread that is now so commonplace that it almost goes unnoticed at times, embedding itself into our very core.
READ THE FORTY-FIVE REVIEW OF 'MODERN DREAD'
Moore's 'Modern Dread' is an emotional account of her attempt to escape from that reality. Songs like the hard-hitting 'To The Brink' detail the singer's frustration with humanity's evils, desperately wanting to break free. Sonically, a sense of impending doom is created with the build-up of aggressive synths and quick guitar flicks that mirror a glass being continuously filled, only for there to be a cathartic release in the song's conclusion as Moore repeats: "They can't pull the plug on me".
Surrealism underpins the album's production, yet the songs' subject-matter remains timely and relevant. The sound bolsters an audacious energy, with the abrasive drum-beats thrusting us into an imagined universe that is detached from reality. This, paired with the distorted visuals that accompany singles 'Cascades' and 'Motherless Child', result in a warped new world that feels trippy and psychedelic. The production and optics don't feel real, but the lyricism grounds us.
That duality is intentional: "There's escapism from the world – but you can't escape from yourself," Moore says. "A lot of these records were birthed from me feeling exhausted, and tired, and in a headspace where I wanted to turn everything off. A lot of these songs are informed from these places."
As the album reaches its close, it feels as if you're not given much respite. "That's what's important to me when it comes to making music. It's supposed to be unpredictable; the songs take a mind of their own and you draw your own conclusions," Moore tells us.
'Modern Dread' isn't supposed us to give us all of the answers for how to navigate this toxic world, but the self-awareness it generates builds strength amongst those who listen to it. "It's important to understand how you feel, give a moment to yourself to realise why you might not be okay, preserve your own headspace and focus on self-care. I think it's important to understand the balance."
Words, that if we all took heed of, we might dread tomorrow a little less.