Will Gould is cursed.
Or, at least, the release of his band Creeper's second album might be. 'Sex, Death & The Infinite Void', which was due in May, has been doomed since its inception. After the band took a planned break to write the record, Gould encountered personal hurdles, among them losing a family member and needing to relocate. At the same time, guitarist Ian Miles suffered a breakdown and had to be hospitalised. The plant where their record was pressed burned down, seemingly a divine sign, and now Gould finds himself in a pandemic, the release disrupted. As always, though, he's looking on the bright side: it adds to the mystery.
"Like The Exorcist, all those stories about how everyone who helped make it has some kind of misfortune. Or someone going into an Egyptian tomb," he laughs, adding that he hopes the curse will be lifted when the record is finally released on July 31. Right on cue, our call cuts out – something he attributes to the hex. "This couldn't have gone another way," he says. I'm inclined to agree.
The story of Creeper's "missing year" is embedded in their lore. After the release of debut album, 'Eternity, in Your Arms', a widely lauded feat of emo and punk coloured by goth influences, the band were ready to leave behind the album's story and retire the black and purple logo known as The Callous Heart. It wasn't going to be easy. They'd assembled a fervently dedicated audience who would notice if they went missing, but they needed a way to kill off the first phase of their career while securing time to write something new. "We were really burned out around that time. We hadn't stopped," says Gould, "I'd written a narrative up to a point where it was always going to end with this grand finalé."
It wasn't enough to black out their social media. Instead, they were inspired by the way David Bowie killed off Ziggy Stardust, and they broke up onstage at a now infamous show at Camden's KOKO, leaving fans devastated. "I felt that the ultimate magic trick would be to do it onstage, in person. We completely vanished in front of our audience's eyes," he says, but it wasn't easy to convince their team that it would work. After all, Creeper were on an upward trajectory, and disappearing could make people forget. It took three meetings, but he managed to earn enough time for a complete reinvention.
After a year, they announced a secret show under a different name, enticing curious fans who quickly figured it out. Tickets sold out in minutes, and despite the lack of surprise, the effect was not lost. Onstage at 229 The Venue, exactly a year after the KOKO show, Creeper were back; dressed all in white, a rebirth. Bouncing across the stage and interacting with fans, Gould neared tears at points, introducing new songs and working his way through 'Eternity, in Your Arms'. Fans screamed, cried and crowdsurfed, overwhelmed that their favourite band wasn't gone. Backstage, afterwards, Gould was modest: "I think that went OK, right?" he asked as his friends cheered.
What many didn't realise, however, was that they almost didn't return: the missing year was fraught with disaster. "It was done to give us the time we needed for a complete reinvention, but we ended up needing it a lot more for personal recovery. I had to rebuild my life from scratch. We're a completely different band to when we started making this album," says Gould. "I wanted it to be a grand return, but what happened in that year away was more than we ever bargained for. There were points where I wondered if we were even going to come back."
Gould spent a lot of his missing year far from home. "The first record was made in Southampton, and that's where we were from. By the time we got to the second one, I wanted to show where we've been since, and we'd spent so much time touring America. I had all these formative experiences while I was there that would form this record," says Gould. He and Miles flew to Los Angeles to write and find a producer, but struggled initially to meet someone that understood what they were going for, finding that many people wanted to restrict their innate silliness.
After a series of meetings with people who wanted Creeper to avoid progressing their sound "more than 20%", Gould and Miles felt deflated and misunderstood. In their last session, however, they met Xandy Barry, a producer and songwriter with diverse credits to his name. The walls of Barry's studio, where much of 'Sex, Death & the Infinite Void' was recorded, are lined with albums by artists he's worked with, among them Miley Cyrus. "He wasn't from our world at all," says Gould, which at that time, was perfect. They wanted to lose their identity, and Barry was the man to help them do it. "It allowed us to completely reinvent from the ground up, because he didn't know anything about the band." Gould told Barry what he wanted, and Barry just listened: a quality Gould says is rare in LA. They had found their guy.
In early 2019, Gould found himself alone in LA. It's a place he loves, one he calls "very dark and alluring". He amused himself by getting immersed in all of the larger-than-life activities you can only do there: going for Scientology personality tests, visiting the Museum of Death, trawling Hollywood Boulevard at night, going to after-hours fetish clubs. All of those strange experiences influenced the writing: "I was trying to channel the alien feeling of being a Brit walking around in Los Angeles. How strange it is: if you squint your eyes, the place almost looks like England, but when you really get to know it, there's nothing similar about it at all."
It was a difficult time for Gould, and while bandmate Hannah Greenwood joined him briefly, he was mostly left adrift. Drinking in themed bars most nights, he met other lost souls, both from the UK and LA: "The more time you spend there, there's a weird community of freaks like me. I was like, everyone in this place has just washed up here from somewhere else and they don't really fit in anywhere. That's exactly who I was," he says. Despite his difficulties, he found peace, partly through the friends he made. "My support network arrived at the same time, and it's funny how those things work out. It's the magic of the world."
Our conversation takes place over two and a half hours on Facetime, Gould's makeup-free face and lockdown haircut looking back at me while he talks quickly, bouncing between topics. He's self-conscious about his hair, touching it absent-mindedly as he sips from a Toy Story mug, his speech a collage of nerdy reference points. Darting from Twin Peaks to Spielberg to UFOs, his interests are at the forefront of his mind and have an evident influence on his work. While that passion betrays the cool exterior seen in meticulously-styled images of Creeper, it's not a surprise to anyone who's heard their music.
'Sex, Death & the Infinite Void' opens with the sounds of rain and a voice familiar to two distinct types of people: goths, who might recognise the voice of Sisters of Mercy's Patricia Morrison, and Disney nerds, who might recognise that she's imitating The Haunted Mansion's Madame Leota. "Hallelujah, for the devil almighty rains," her voice booms in a slow, deliberate cadence. Some might wonder how something so niche came about, but Disneyland fan Gould's friendship with Patricia and her husband, The Damned's Dave Vanian, has developed over recent months. "I was like, do you think you could do it like Madame Leota? She immediately started speaking in that voice. I was absolutely blown away."
The album's first track proper is the radio-ready 'Be My End', a fun, upbeat, pop punk love song. Like their debut album, 'Sex, Death & the Infinite Void' has an overarching story, but its 13 tracks, darting between genres and influences, are symptomatic of Gould's flitting attention span. They are all distinct, if part of a larger mythology ripe for interpretation. "All the silliness is made with people like me in mind. Nerdy little freaky emo kids," he laughs. The record is peppered with references, from Donnie Darko ("she's Christina Applegate/hopelessly beautiful in 1988") to Fight Club ("we met at a strange time in our lives)". The magic, however, is that Creeper have managed to make the incredibly niche, listenable.
Gould refers to himself as a storyteller rather than a songwriter. When I ask him to tell me the story of the record, he gives me two options: do I want the truncated, linear version, or do I want to know what led him to it? I choose the latter. As he tells it, Gould had some idea that he wanted to set his story in America, but wasn't sure where or how. One morning during a tour with Waterparks, after a particularly heavy night on a disused "party bus", he found himself brutally hungover. He left the bus to do a "horrible gin sick" in the snow, and in his haze, saw the American diner that would inspire his story.
He was in Dunsmuir, California, a place that he likens to Twin Peaks. "A real small town where everyone knew everyone," he says. Inspired by the science fiction book K-PAX, in which a man appears claiming to be from another planet, he dreamed up a "post-apocalyptic redemption story" about a boy, Roe, who is found in a mine. After telling the townspeople that the world will end in seven days, Roe meets Annabelle, a girl set to marry a rich boy. They kiss, and "Roe learns what it's like to be a human being," but the story doesn't have a happy ending. The husband-to-be kills Roe, but the event prompts the townspeople to repent. "The world doesn't end in an apocalyptic siren or a blaze of fire or the four horsemen, but it ends as they know it." On the fringes of his consciousness while he was writing, Gould saw himself in Roe. "I had a real problem with expressing emotion for a long time," he says.
While 'Sex, Death & the Infinite Void' is largely fictional, love song 'Cyanide' was written with a girl in mind. "I couldn't write, I was trying my hardest, but I couldn't get lyrics out. I lost all my magic," he says, but he found his muse. "I needed to write a song about this extraterrestrial falling in love with someone he shouldn't, and I was in love with someone I shouldn't be, so I needed to write a song for her. As soon as I did that, it came so quickly." The real-life story has a happy ending: Gould now lives in domestic bliss with Charlotte, the girl he couldn't have. Charlotte has worked with Creeper since 2016, doing their dramatic makeup looks and appearing in videos and their stage show. It all worked out.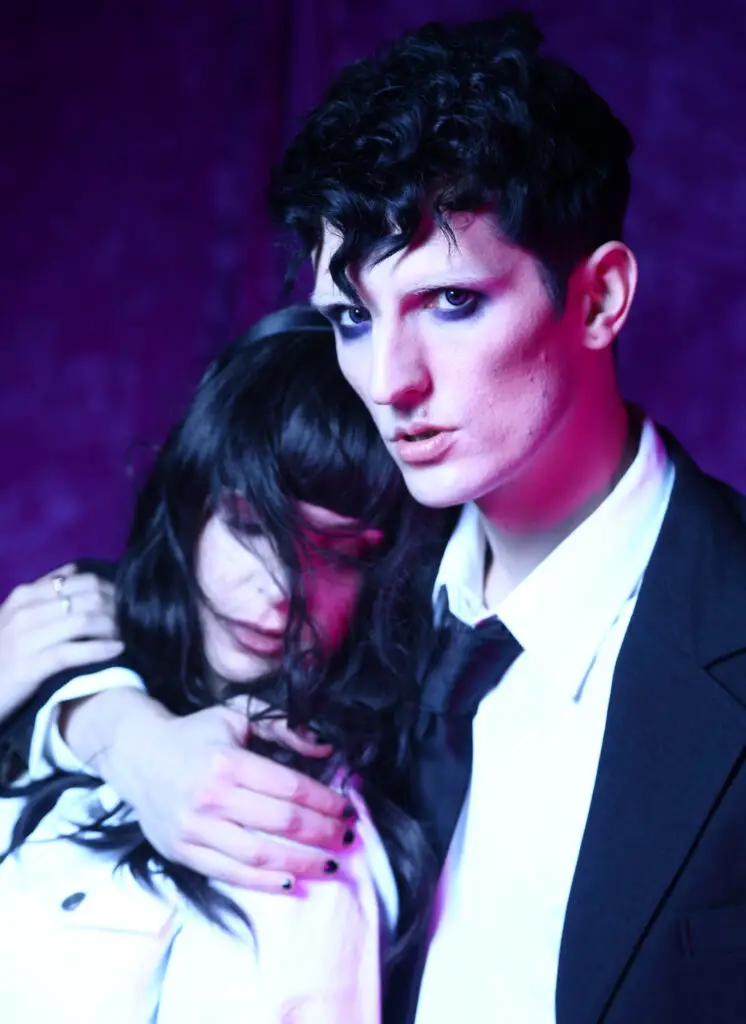 It's those personal touches that ground 'Sex, Death & the Infinite Void' in reality, giving it a tangibility it might have been missing. Closing song 'All My Friends' is a ballad written by Gould for Miles, "it's the hardest one to listen to. They all have reality in them, but it's mixed around this weird alien fantasy world, and then there's one at the end that's just about my friend being sick," says Gould. "A song to a real person from a sad place," he almost didn't include it at all. He recorded it in the last session of his LA trip, and I was invited to watch him wrap up and celebrate. The session took longer than expected, as Gould struggled not to break while he sang. While it was difficult, he wouldn't have it any other way: "All those memories, they're always going to be a part of this record. It's a catalogue of a time in my life I'm never going to forget."
Despite that heavy closing track, 'Sex, Death & the Infinite Void' is a playful, theatrical record that takes the magic Creeper played with on 'Eternity…' to new, ridiculous heights. Gould quotes Walt Disney, who once said, "it's kind of fun to do the impossible." "It always felt like this was an impossible record to put together. We were dealing with this ridiculous fiery chaos in our personal lives." They decided to double down on their most ridiculous ideas, and what they came up with was a very strange record: "We just weren't afraid that people would think it was stupid, because we think it's cool and fun." It's not unlike a rock opera, and Gould likens the album to a three-act musical, even introducing a narrator in the middle of one track–something that he promises will make sense onstage.
The press surrounding Creeper's mysterious year often focuses on the personal chaos that held them under with no promise of resurfacing. But perhaps instead, it's an arc of recovery: now on the other side, despite being stuck in purgatory and unable to tour, the band are happy. Miles has recovered from his mental health struggles, Gould has settled down. "We thought our world was ending, but then we got to a place where everyone had a massive redemption." He's keen not to focus on the negative, referencing the tale that his life has imitated: "Just when you thought you were out of it, the world as we knew it didn't end. We were forgiven for all of our sins and allowed to move on."
He's excited when he talks about where the band is now, and while he wants to be open about the struggles they've faced, he's keen to reinforce that it is possible to make art without suffering. "Maybe not enough is said about coming out the other side and being happy," he says. "Maybe we should celebrate that a bit more and try to normalise wanting to be healthy." While he doesn't want to tell Miles' story for him, he lights up when he talks about how far his friend has come: "He's been amazing, getting through recovery, working it all out. I'm really, really proud of him."
'Sex, Death & the Infinite Void' is a feat: of storytelling, of creation, and of survival. It's an exciting, tangled mess of a record that traverses planes of influence, each song standing alone while forming part of a larger mythology. It's a miracle, and it's one that wouldn't have been possible without recovery. While that's a story less told than the one of the dark, mysterious, missing year, it's one as important. Gould hopes that its release will break the curse that creating it set: "It's like Ghostbusters, we're going to release all the ghosts back to the world."
'Sex, Death & The Infinite Void' is out 31 July 2020.