Claudia Valentina is the 19-year-old pop RnB star with big dreams. From a young age, Claudia moved from her home of Guernsey to the bright lights of LA, where she found herself auditioning for parts in kids' TV shows. But it wasn't quite for her. Instead, she began to move in songwriting circles, getting introduced to Johan Carllson – right hand man to the prolific producer, Max Martin – who saw potential in her. It was here, that things started to change for Claudia, being advised to get some experience, she moved back to London where she found herself on the West End Stage as part of the production of Billie Elliot. Since then, things have moved at lightening speed, leading her to now: the release of her debut EP.
We caught up with the confident emerging artist to hear all about her journey so far.
You've lived in Guernsey, London and LA. When you were really young and living on a pretty small island, did you ever imagine your life would take these turns? Was being an artist always the end goal?
I guess I always had the same dream as I had now and I think coming from a smaller place inspired me more and made me more hungry to see the world and see what opportunities were out there. So being able to live in London and LA was amazing and felt even better after coming from such a small, quiet place. The dream was always the same and I've always had tunnel vision of the goal and never really questioned what I wanted to do.
What music did you listen to when you were younger and now? Who are your musical heroes?
Growing up I would listen to anything and everything and steal my brother & sister's iPods and listen to whatever they were listening to. My dad used to listen to lots of Michael Bublé in the car on the way to school along with Rod Stewart and Frank Sinatra, so we'd always sing along to them. Now my inspirations would be Rosalia, Rihanna, Drake, Frank Ocean but I still listen and take inspirations from all kinds of music.
You've been performing since you were ten years old. What does being in front of an audience – in any capacity – do for you as a person?
I think having performed my whole life has been really beneficial, as it made me feel super comfortable on stage and performing. Especially with Billy Elliot having to perform to thousands of people, three-to-four (sometimes even more) times a week for a year was just amazing. As a kid it was really weird as I was super shy in person and still can be now but being on stage has always been an outlet for me where I can let go and totally not care about what anyone thinks, which is weird because everyone is looking at you!
Was there one moment where this all started to feel really real? Or perhaps it doesn't yet feel that way?
I think that when I wrote '4:15' which is on this EP, it somehow slid into the industry and got cut by Selena Gomez and then from that in the space of a couple of months I was contacted by so many people in the industry, that I would never have got into meetings without writing and them hearing that song! In those couple of months I felt like my whole life changed. At the time I was unsigned and unmanaged, it was all a bit of a whirlwind but I would say that was the moment it all felt really real!
Tell us about the process of making the new EP. Was it a nerve-racking experience?
I wrote this EP in the space of a couple of years, it was never set out to be an EP as I was just working with lots of people to find and develop my sound. I had all the tracks before I was signed or even looking, it organically came together!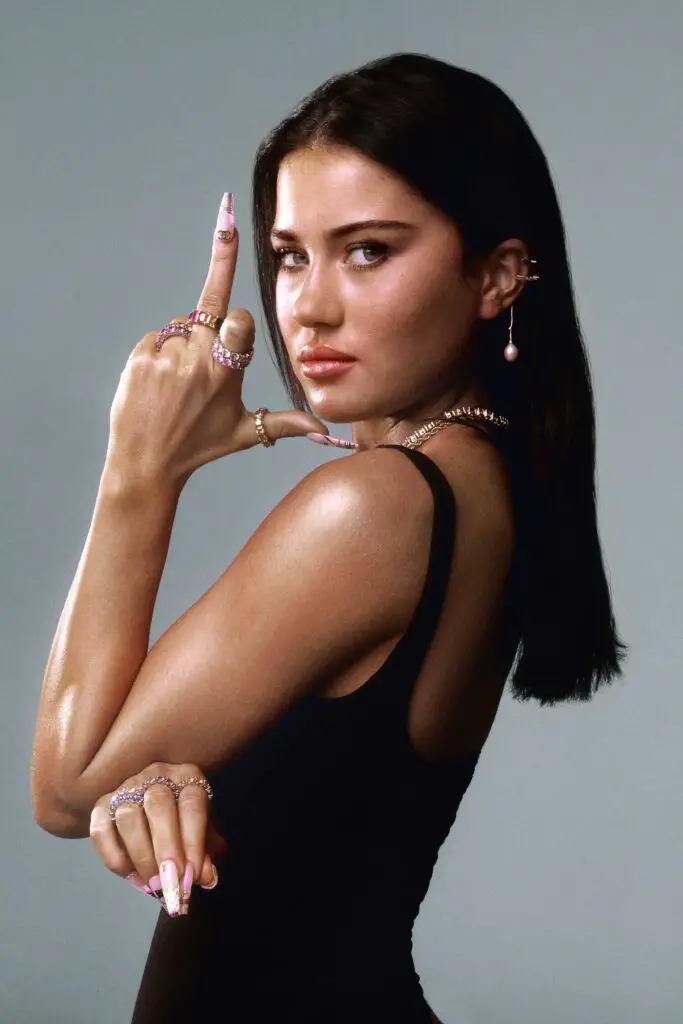 What were the biggest challenges?
Challenges for me I've always taken as a kick forward, I love to be challenged and it makes me work even harder. I feel like if it was easy everyone would be doing it and it wouldn't be as fun! Some of the biggest challenges probably were at the beginning when I was living in LA as it's a scary place when you don't know anyone and no one in the industry knows who you are and you're still trying to get respect from writers and producers to think that you're worth their time. So I think that was a challenge but they always make you stronger and more prepared for the future.
What do you want the EP to say about you?
This EP is just a taster of my personality and what is to come in future music, I've always felt very strongly about the persona that I give off and hopefully that will come across in my music. That is in general a bad bitch, doesn't take no for an answer, says it how it is and doesn't sugar coat it – so more of that to come!
What do you hope others will take from it?
I hope other people, both girls, boys and younger, older people feel confident and empowered about whatever they want to say. There are a couple of ballads in this EP which are super close to my heart but I do love lyrics that are super blunt and to the point which hopefully people can relate to.
People have been quick to point out the emotion in your voice when you sing – does it feel like a heavy experience? Do you feel vulnerable?
When I'm writing, I'm never holding anything back, I say it how it is and never sugar coat it. So of course when singing it, it's to my heart and emotional. I think being vulnerable is good, the more vulnerable and honest you can be in lyrics the better!
You have a song called 'Obsessed'. What are your current obsessions?
Current obsessions, if you ask anyone that knows me it would be oat milk, Juul Pods and truffle fries!
It's obviously a strange time for everyone. How do you stay motivated?
It's definitely a really hard time for everyone in the world right now, and people definitely have it worse than I have had. Although for me at the beginning it felt like it came at a terrible time, because I thought, I'm just releasing my first ever EP and we're in a global pandemic but I try to work with what's going on in the world and take everything as it comes, find new ways around it. I guess it inspires me to keep finding a way. Where there's a will, there's a way!
Which song from the EP are you most excited for people to hear?
I would say '4:15', because it has been on a really long journey with me, it was what opened all the doors for me a while ago and I'm grateful for that song because it gave me so many opportunities! Now after the long road it's been on it can finally be released so the world can hear it!
We couldn't leave without asking you about your nails… which are always looking incredible! Where do you get them done? And how do you choose the designs?
I have always loved incredible nails, the funny thing is because of this pandemic we started working with a nail artist called Michelle Humphrey who is amazing and was able to make them remotely to send lots of sets to shoots. We could come up with loads of different designs, I love incorporating my music into the nail designs! It's a really fun way to get creative!
Like what we do? Support The Forty-Five's original editorial with a monthly Patreon subscription. It gets you early access to our Cover Story and lots of other goodies – and crucially, helps fund our writers and photographers.
Become a Patron!