Introducing Charlotte Rose Benjamin, your new queen of highly relatable, often bleakly funny lyrics. "Pair my self-loathing in expensive clothing / At least I can do it in style," she sings on the sad lilt of 2021 single 'Deep Cut'. On the sticky indie of 'Heatstroke Summer', she declares: "Shower beer me / If you can hear me / I don't wanna die without a blue check / Baby I tried."
As well as making you cackle about your own insecurities and issues, Benjamin's songs feel like friends (or perhaps lovers, as she suggests on 'Deep Cut') sharing all aspects of life – beautiful, ugly, sad and happy. That's a feeling that will likely continue on her debut album 'Dreamtina', due out on April 22, and one that makes the New York-via-Martha's Vineyard rising star one to keep a firm eye on in the coming months.
Read on for more hints about 'Dreamtina', Benjamin's musical soulmate, her love of specificity in writing and more.
Hi Charlotte! You're one of our Future Five for 2022. What are you most looking forward to this year?
Such an honour. Thank you for including me!! My debut album comes out this Spring. It's pretty much all I can think about. I want to also see more of the country this year. I'm going to LA soon for only the 2nd time. We don't have anything lined up (yet) but I'm dying to tour the album after the release. After the past two years, I'm really longing for newness.
Tell us how you first started making music.
My parents just got all our old home video tapes digitized and there's so much footage of me at like 18 months old singing a song directly into the camera with the screen flipped so I could watch myself and then everyone in the room would clap. I think I learned really young that I could get attention that way. I don't know where my fascination with watching myself came from but obviously, it started very early. I think my motivation is still the same. I can be really shy. I live somewhere really deep in my head most of the time under layers and layers of self-doubt. Performing is an attempt for me to see myself the way other people see me. It's a way for me to try to feel understood.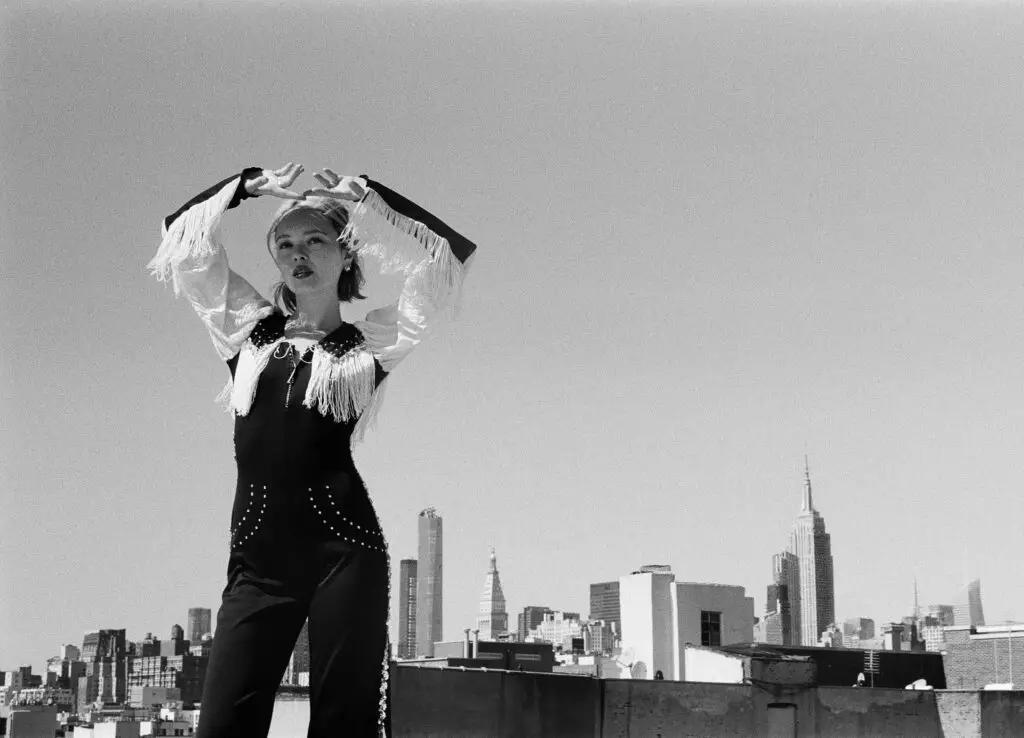 You grew up on Martha's Vineyard. How has that influenced your worldview and, consequently, your music?
I think there's a waspy country club vibe that comes to mind when people hear that I'm from Martha's Vineyard. That definitely exists, but most people who are privileged enough don't choose to live there in the offseason. I had a wonderful childhood, but it's an incredibly isolating place to live year-round and I think I have a little bit of resentment for how sheltered I was. There's a very specific music scene there. Carly Simon and James Taylor's entire extended family kind of run the show. That plucky New England Country Potluck style is very prevalent. My music has changed so much since I left but I think I'll always have a little bit of a twang in my writing because of where I grew up.
Living in New York must be completely different to your hometown. What drew you to the city? Have you found a good creative community there?
My parents moved to Martha's Vineyard from a loft in the meatpacking district when my mom was pregnant with me. My mom was in a dance company and my dad sang jingles for TV commercials. We would visit their friends in the city a lot when I was a kid. I love New York City in the corniest most cliche hyper-romantic way and I always have. I think I'm a lifer.
My life changed and my music got so much better when I met Matti Dunietz (drummer/engineer) and Nardo Ochoa (guitar player). We made the album completely on our own with my childhood best friend/bassist, Zoe Zeeman. I felt so free making this record. We'd reference different sounds, but we had very few conversations about genre or branding. It never felt like we were trying to mimic something we were just building off of the songs I wrote in my room. I've had a lot of blind date style sessions with producers and there's always a conversation about what's working in the industry and how we should try to make something that sounds like something that's succeeding. I absolutely hate that approach.
Your latest single 'Cumbie's Parking Lot' is based at a Cumberland Farms store and 2020's 'Party City' was named after the one-stop party supply shop. Do you find everyday situations and locations more inspiring than those that are more out-of-the-ordinary?
I actually have never made that connection between those songs! I was just writing about things that happened to me. Cumbie's Parking Lot was where everything happened when I was in high school: drug deals, sexual rendezvous etc. That's not what the song is about at all, but the Cumbie's Parking Lot just seemed like such a rich yet non-assuming setting for a story. And I think calling it "Cumbie's" is very New England, I like that about it too. Party City is about my first two years in New York living in Bushwick with my friends. I guess I've always been drawn to specificity in writing.
'Cumbie's Parking Lot' is in the same lineage as songs by iconic female artists like Liz Phair, Courtney Love and PJ Harvey. How have those artists helped you explore your femininity in your writing?
Discovering Liz Phair especially changed the game for me. In 'Fuck and Run' she makes wanting a boyfriend but getting repeatedly rejected seem actually so cool. Brutal honesty is very trendy right now in music which I love, but sometimes it feels like girls are still only really allowed to be honest in certain ways. We've only made room for a few more archetypes of honest women. I want to get to a point where I don't filter myself at all in fear of sounding dumb or weird or annoying. We're all very scared of being "cringe" all the time, myself included, and I don't think it's helping us make good art.
---
---
In 'Deep Cut', you sing the beautiful line: "But songs are like lovers and if it all was a record/We'd be the deep cut that no one remembered." What song would you say is your musical soulmate?
'Pale Blue Eyes' by the Velvet Underground will always make me feel something and will never be overplayed.
In 2020, you shared a "solo" version of the 'Party City' EP, which gave new acoustic takes on those songs. How did stripping things back change your relationship with those songs?
I think it was a really nice final goodbye to the 'Party City' era. When I started playing my own shows in New York in 2016 I would just play acoustic guitar in tiny rooms. I met [producer] Alan Bezozi at one of those shows at [Williamsburg venue] Pete's Candy Store and he went on to produce the EP. I wrote all those songs during that time so the majority of their lifespan was spent stripped down like that in intimate settings. The acoustic EP was my label's idea at the time. It was originally supposed to mirror a "remixes" EP with the same set of songs, but that never happened. I wasn't totally sold on the idea and was feeling really unmotivated when I recorded it. Now I'm glad I got to honour the songs in that way.
What have you been working on lately? Who's been influencing you lately? What can we expect from your output in 2022?
The album is mixed, mastered, sent to stores and sent to get pressed for vinyl! I'm releasing it without a label which is an amazing amount of work and money. But I made absolutely no compromises and I'm prouder of it than anything I've ever done before. Right now I'm working on booking shows, promo plans, and merch.
My brain is kind of in business mode, so I haven't been writing much. I'm letting things find me and taking notes on books, TV shows, movies etc. Slowly collecting ideas for whatever the next project is.
What artists do you think people should be keeping an ear out for this year and why?
My guitar player Nardo's band, Panther Hollow, is honestly one of my favourite bands of all time. We have a song together on my record. Everyone should listen to his album 'Songwiring' immediately.
Any resolutions – musical or otherwise – for 2022?
In 2022 I want to feel light as a feather. I want to be the busiest girl in the world to make up for the last two years. And I want to try to say exactly what I'm thinking out loud the moment I think it.
---
Get to know the rest of The Future Five for 2022