"Home can be anywhere", says Beckah Amani. Born in Tanzania to Burundian parents, Amani moved with her family to Australia at seven years old. Once on the continent, her home address continued to change, as her family moved from Perth to the rural countryside of Western Australia to the Queensland hinterland. "Because we were always moving around, I didn't have one consistent home to put down roots", Amani recalls. "What was consistent was my family, who I'm very close to, and the comfort in knowing that there would always be people and stories to connect me to each new place." 
Honouring people and listening deeply to their stories forms the heart of Amani's debut EP, 'April'. The project – smart, soulful and powerful in its sincerity – is a celebration of life, love and growing up. 'Waiting On You' and 'I Don't Know Why I Don't Leave You' are vibrant and gutsy tracks showcasing Amani's independent spirit and quiet conviction in her own self-worth, whilst 'April' and 'The Hills' are moodier and bittersweet, with Amani accepting that life is not perfect and, in fact, we move through most days "falling apart and falling apart / making it look like art" (from 'April'). Perhaps most of all, the EP is a love letter to music, one of the most important forces in Amani's life and "a blueprint of my family and who we are." 
"Music brought my parents together. I can literally say that it's in my blood", Amani shares. "My mum liked my dad – he played guitar, so she asked him to teach her. That was how they got to know each other. Music was a source of comfort for me – I grew up watching my parents playing guitar, harmonising and writing songs together in the living room." Amani's western music education came from her brother when they moved to Australia – he opened her world to artists spanning Queen, Tupac and Avril Lavigne. Amani discovered Ed Sheeran's 'The A Team' in her teenage years, which kick-started her love affair with songwriting as a storytelling form. 
'April' presents the story of a young woman trying to make sense of the world, told in Amani's unique songwriting voice and spirit. The EP is some parts a coming-of-age story about leaving childhood behind and stumbling through our twenties; in other parts, it's a vulnerable confession of Amani's generationally resonant anxieties: feelings of inadequacy, disappointment at the superficialities of "self-care" in a modern age of isolation and overwork, and even the climate crisis ("I don't want to go down like this", she sings of irreversible environmental destruction on 'Smoke and Mirrors').
Drawing on her lifelong fascination with the form, Amani is studied in songwriting. "Adele is one of my biggest influences – her writing is timeless", Amani notes. "It feels like she sits down with what she wants to write, and figures out how to say it in the most honest way so you can listen back years later and still relate." Amani worked in pursuit of that honesty and timelessness in putting 'April' together. "I sat down and asked myself truthfully: what was going on with me? I felt compelled to experience those feelings myself, to align my heart with what I wanted to say. I read a lot of books, watched a lot of movies, and had a lot of cultural experiences. It started with thinking and feeling, and I shaped the music around that." 
The intention in her music is palpable – even when it's painful, it is made and delivered to us with warmth, care and love. Singing of mistreatment and neglect in a bad relationship on 'Lebekah Leka', Amani channels the love and wisdom of her parents singing to her (the song title literally means "Beckah, let go" in her family's native Kirundi): "You're more than enough… We love you just the way you are". "It's a song about love and relationships but from the perspective of my parents, who are always there to remind me of my worth and that I am enough. I want people to feel cared for by my music, the way I feel cared for by my family."
Amani also credits her family, and their love of African music, for keeping her Burundian heritage alive. "For a while when I was a kid, I felt estranged from my culture. I faced a lot of racism growing up in Australia and sometimes felt a pressure to deny that side of myself in order to fit in. But every day, I would come back to a home life filled with our heritage. Most afternoons my parents sat with their guitars playing African folk music and singing from books of African hymns they had brought with them. As a family, we mainly spoke Kirundi. We kept our connection to our homeland through our music and language."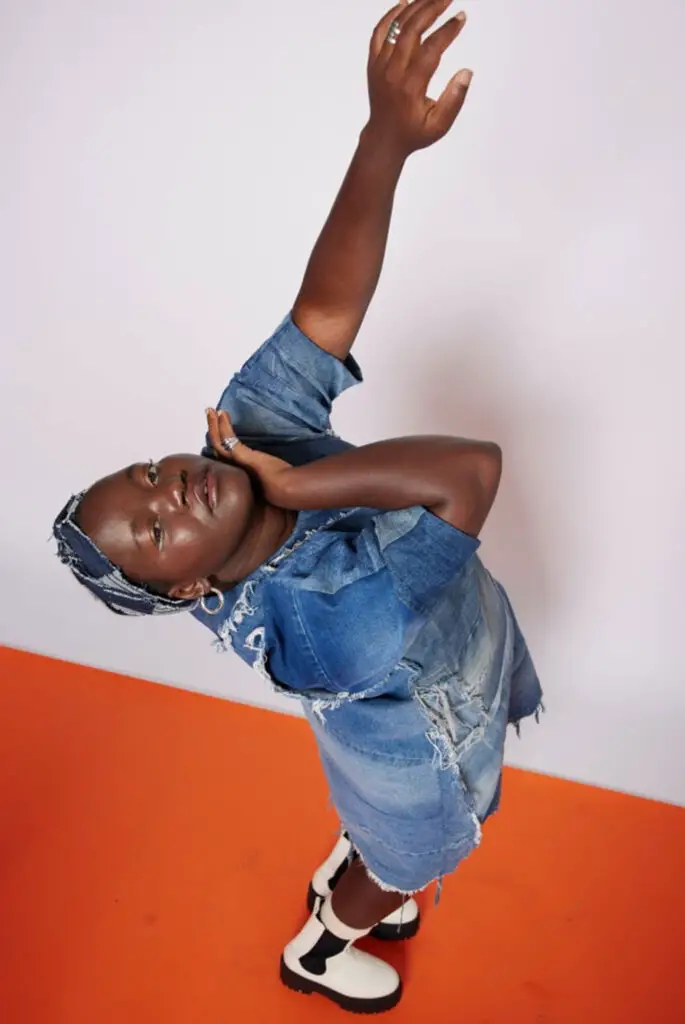 With 'April', Amani feels more emboldened than ever to honour her heritage in her music. "I'm so inspired by African artist Tems and the way she intertwines R&B with Afro music in a soulful and sensitive way", Amani says. She leaned into this fusion on 'Waiting On You' and 'The Hills' – with a reverberating beat and blended instrumentation reminiscent of Burundian folk, these are Amani's first songs officially written and composed in an African style. "I didn't want to be shoehorned into the "Afro" label, knowing the limited support the genre gets from the Australian music industry", Amani explains. "But I also didn't want to deny who I am, and wanted to start setting a standard for artists to express their heritage without second guessing themselves."
Now, as a young twenty-something musician, Amani is finding home in another new place: London. "I moved here in May this year", she shares excitedly. "Ever since I discovered Ed Sheeran, I knew that one day London would happen for me. So much different music exists, and is celebrated, in this one place! I've never experienced multiculturalism like it. I love going to a Nigerian restaurant and seeing people from everywhere under one roof. It feels very whole." Grasping for connection throughout her life by gathering and celebrating the stories of others, Amani is excited to write this new chapter in her own story. 
'APRIL' is out on October 21.