Last Thanksgiving, rising and refreshing new pop star Amelia Moore was playing an unassuming but silly game of Cards Against Humanity with her friend and producer. As they turned over cards, one, in particular, tickled them. "One of the answers that my friend laid down was the card that said 'teaching a robot to love'," the LA-based musician explains. "It was the funniest thing ever. After we finished laughing, I was like, 'Wait, that's actually kind of hard, I should write that down and have it be the title of a song or something'." 
That throwaway phrase ended up inspiring the whole concept behind Moore's recently-released EP, which also takes its name from that card. It's a record that playfully and emotionally navigates the idea of dealing with a partner who seems void of feeling, and drew from a "nightmare" break-up its creator ended up going through weeks after that fateful Cards Against Humanity match. 
"I was like, 'Why is this actually what it feels like? And why are all of the songs I'm making right now so perfectly fitting in with this title?'" she recalls, orange hair popping off against a bright blue chair that she's nestled in. The resulting EP is a bold interpretation of heartbreak that shifts from skittering, off-beat pop like 'Moves' to the layered vocals of the desperately sad 'Vinegar', each track in between tapping into a well of intense emotion. 
"I know you think it's a weakness to be in touch with your feelings," she sings on 'I Feel Everything'. Since she first started releasing music in 2020 with her metallic, nocturnal-tinged single 'Toxic', Moore has quickly become known as an artist who doesn't shy away from sharing exactly how she feels in her songs – and, as she notes on the self-explanatory 'I Feel Everything'. "I've always been as emotional as I am," she says with a slight chuckle. "I started writing songs at a very young age because I didn't really want to tell anybody how I was feeling, I just wanted to write about it. These songs are definitely therapy, for sure." 

Although the 21-year-old acknowledges that it would sometimes be nice to "be the person that isn't the emotional one", she feels the amount of negative emotions you go through equate to the amount of positive ones you can feel. "I would much rather be able to feel things at the capacity I do in a negative way because it just means [I can feel something positive to that level too," she explains. "You're only able to meet somebody in the capacity that you've met yourself and I feel like I've met myself pretty well." 
Born in Lawrenceville, Georgia, Moore was raised in a conservative Christian household and grew up singing in the church choir. She never saw herself becoming a pop star, instead imagining she would go into musical theatre instead. "It kind of happened on accident," she smiles. "I loved acting and I loved singing, but I just had this realisation at some point of 'Why would I want to pretend to be somebody else on stage and sing someone else's songs when I could just be myself and write my own stuff?'" 
And so she did just that, penning her own music until she met a woman called Dacia James Lewis, who invited her to take part in an artist training programme. "I got a job to pay for it myself because my parents thought I was crazy," she recalls. 
At 18, Moore left home to study commercial voice at University in Nashville and quickly experienced a massive culture shock. She'd grown up being homeschooled, as had her friends back in Georgia. "I show up to college and everybody believes something different, everyone's wearing different things, people are hooking up with each other, people are drinking – I didn't realise that existed at all," she explains. "After my first semester, I was just asking myself, 'Amelia, were they the ones that were raised differently or were you?' It was definitely me!" 
Being homeschooled, she says, has allowed her to have a different, unique perspective on the world that's encapsulated on 'Teaching A Robot To Love'.
"This project is the exploration of all of these feelings of falling in love for the first time and stepping outside of my shell and really figuring out who I am aside from growing up the way that I did, because I'm a completely different person," she says. "I'm assuming growing up in high school you have a bit more of an understanding of the real world and what life is actually like. As a homeschooler, I was sheltered and just had no idea about anything. This music is me figuring it out in real time."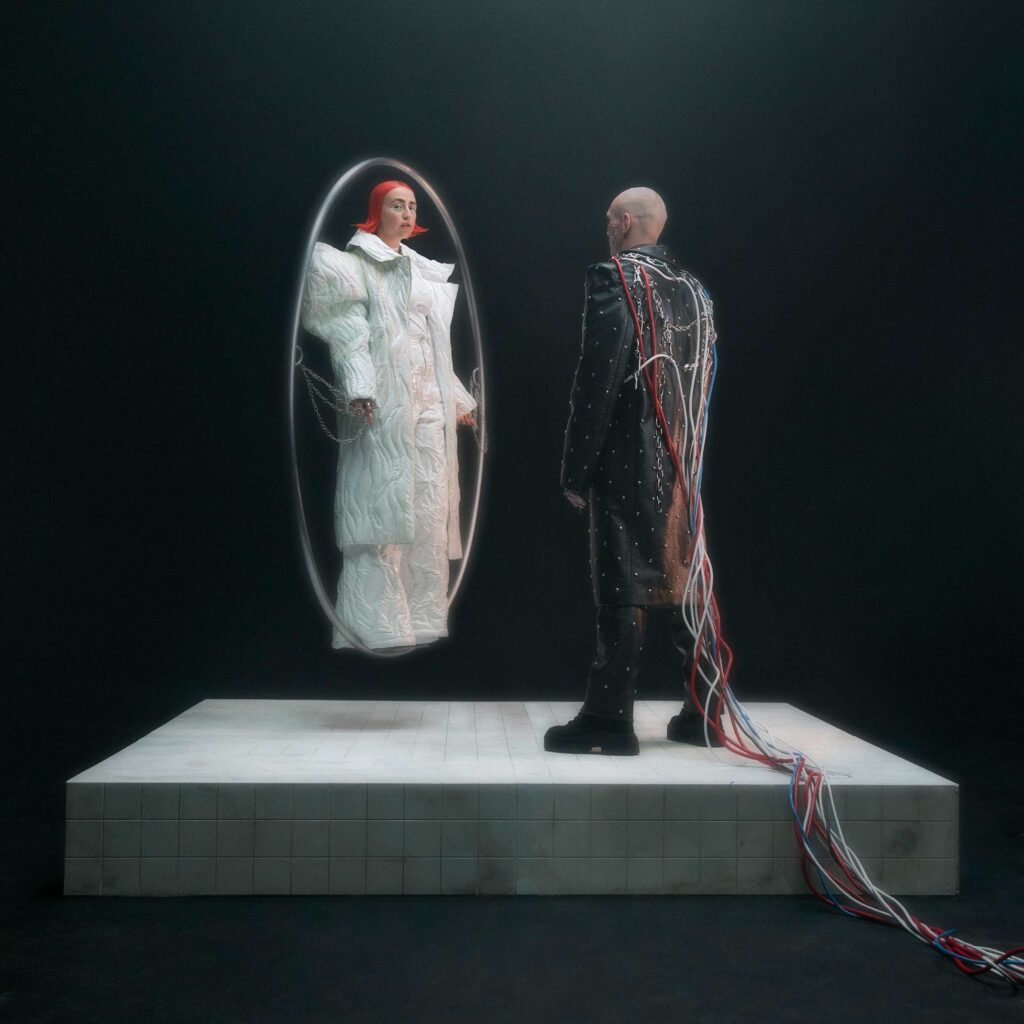 While she was still in her first year of uni, Moore visited LA for the first time, met her collaborator Pink Slip, "learned more in a week of sessions than a whole semester on campus" and quickly realised that was where she needed to be. She quickly dropped out and headed to the west coast, desperate not to waste any more time in a place that wasn't right for her. 
In California, she went through another culture shock – this time with the fake people she'd meet at parties. "You have a really good conversation with them and they're like, 'Oh what's your Instagram? Let's stay in touch'," she says with an eye roll. "I distinctly remember hitting it off with somebody and they handed me their phone so I could type my Instagram in – they saw how many followers I had, which was maybe 6,000 at the time and were just like, 'Oh, cool…' and walked away." 
The joke is very much on that person, though. When the pandemic hit shortly after Moore arrived in her now-home city, she turned to posting her songs on TikTok in a bid to get herself out of a pit of depression. The first track she uploaded on the app did better than she could ever have imagined, scoring her 100,000 new followers within a week. 
Despite TikTok's prevalence within the music industry these days, there's still some snobbery around artists that get discovered on the app. That's something that made the musician hesitate over sharing her creations on it at first because she "didn't want that judgement". "But once I realised how to make it work for me, I didn't care if anyone was judging me," she says. "I was like, 'This is working, people care about my music now. Say all you want, I'm going to keep posting regardless of what you think'." 
Now, she's on course to achieve her grandiose goal of reinventing pop, as reinforced by 'Teaching A Robot To Love', which is both accessible and infectious, but feels thrillingly new and interesting. "I'm really inspired by artists that bend genres and don't stick in a certain box," Moore notes. "People like Frank Ocean and Kanye who've always been really, really ahead of their time. I just want to keep pushing the boundary forward with almost abrasively honest lyrics and experimenting. I'm really excited to experiment with some R&B-hyperpop-sounding things – I want to be the first artist to really do that on an album and just make whatever I feel like making." 
---
READ MORE: Mxmtoon – 'There are so many different ways it can happen for artists now"