"My childhood was lonely and kind of depressing so, for a good portion of my life, the only thing that would bring me any kind of hope was music. I knew it was the key to my life."
If there's something immediately noticeable in Ambar Lucid, it's an unwavering sense of purpose: the quiet power of a 19-year-old who knows her own mind and what she's here to do. For a singer-songwriter whose music often stands out for its dreamlike and serene quality, you'd be forgiven for forgetting the level of fire and determination it takes to make it in the music industry, especially at her tender age. Ambar released her debut album 'Garden of Lucid' just last year, a record with a vulnerable, lo-fi sensibility and glossy production that planted the seeds of something new and refreshing, and watched it grow into a sprawling universe. But don't call that the beginning: she knew that music would be her only path before many kids have even landed on a favourite colour. "It's always been an intuitive thing. Thinking about music and thinking about singing would spark such big excitement in me, even as a tiny kid," she says.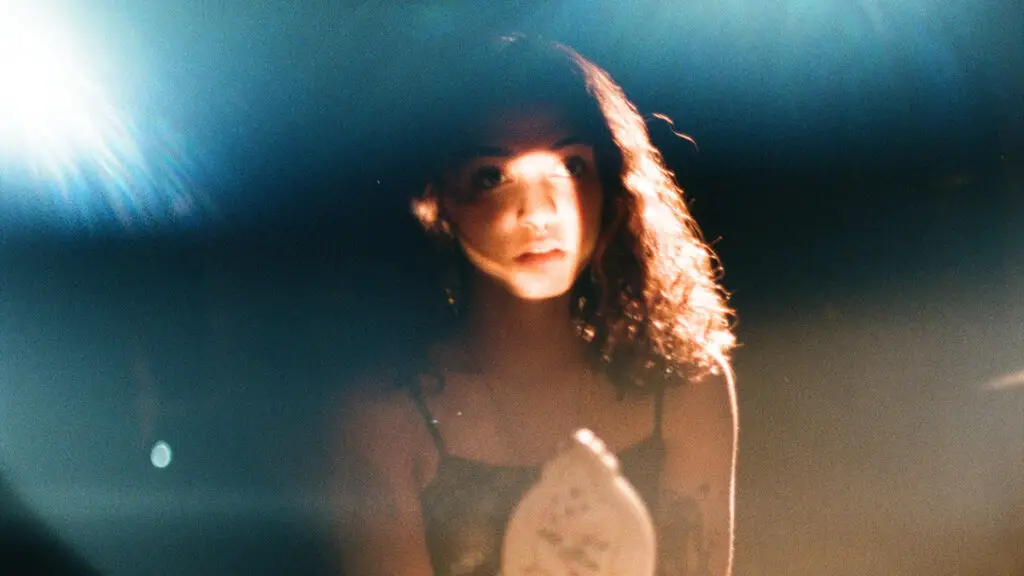 Music sustained her throughout her early teens. She taught herself guitar, ukulele and piano, began posting covers to YouTube and went through a quintessential teenage rite of passage by discovering Pink Floyd: "I remember listening to 'Dark Side of the Moon' for the first time – completely sober – and feeling like I was literally transcending. It's crazy that you can do that with music. That inspired me – like, I want to make people transcend!"
---
---
When you're trying to make transcendent music, spending your days in a New Jersey high school feels like nothing but a waste of time. Ambar is remarkably nonchalant while discussing how she convinced her school principal – and more importantly, her mother – to let her switch to online schooling so she could pursue her musical dreams in Los Angeles, but after a pause, the slight incredulity sets in: "Wait, how did I do that?!" (Ambar's powers of persuasion surprise even herself sometimes.) The industry attention she received after posting tracks, 'A letter to my younger self' and 'Dreaming Lucid' to Soundcloud in 2017 was one thing, she says, "but once my mom was finally convinced, I knew it was real."
Ambar's steadfast determination paid off quickly. She nabbed a spot on the Skate Kitchen soundtrack alongside the likes of Clairo and Princess Nokia and her online following grew in kind, now with over half a million monthly listeners on Spotify. She graduated from making DIY tracks in her bedroom – a generational trend she attributes to social media and teenagers' growing comfort in expressing themselves – to collaborating with promising young producers, The Wavys, in L.A. There were upcoming tours, too, before 2020's wave of destruction put a stop to that, but the pandemic still hasn't brought everything to a screeching halt. Ambar recently returned from Madrid – a trip fully arranged for work but one that quickly became a second homecoming, too. Even during a country-wide lockdown where Madrid was a shadow version of itself, Ambar became so immersed in the city that it was jarring when locals would clock her accent and call her American.
"I never feel American in America: I'm always defined as being from somewhere else. It's pretty wild that I had that realisation in a different country, like "Oh my god, I'm American?!"' she laughs.
---
---
At home – the New Jersey suburb where she grew up with a Dominican mother and a Mexican father – everyone addresses her as a Latina. Ambar has always had to navigate the relationship between her identity and bilingualism and this is never more apparent than in her music: where the two languages blend perfectly into one another across ethereal soundscapes. Ambar remembers being told when she was younger that no one would pay any attention to her if she sang in English because she was Latina, but it only strengthened her resolve: "That is straight-up bullshit. I wanted to incorporate both English and Spanish into my music to prove that I could." Does that feel like a quietly political act? "Maybe subconsciously," she says pensively. "It's good to prove people with stupid ideals wrong."
Just as her music acknowledges all sides of her national identity, Ambar's lyrics don't shy away from the heavy and light within us all either. She delivers some lines with a barely-concealed wink – like in 'Universe', where she declares: "I used too much of my magic … All the pretty sad boys want to fall in love with me" – but there's a uniquely sensitive soul on show too. Her latest single, 'Lolita', written almost two years ago, is a deeply affecting portrayal of a daughter's love, in the wake of watching her mother go through an emotionally abusive relationship.
"For a long time, I felt as if my mother was stolen from me by a soulless man," Ambar wrote on Twitter. "Experiencing an emotionally abusive dynamic myself allowed me to find compassion towards my mother. I was able to open my eyes to how a 'significant other' can strip you away from your individuality and completely distort your reality and make you feel like you're truly nothing. I never want my mom to feel like she's nothing ever again."
It's easily the most touching song she's released so far, with spellbinding vocals revealing her longing to protect her mother – a dynamic that is so rarely depicted this way around. "I promise you I'll treat you kind," she sings as delicately plucked acoustic guitar strings ring out to refute generational expectations.
"It's me acknowledging her pain," Ambar explains to me later. "It's me saying, "I know that you're hurting but I love you and it hurts to see you hurt"." For Ambar and her family have already weathered an unimaginable amount of hurt. When she was just eight years old, her father was deported to Mexico and it wasn't until 10 years later that she was able to see him in person again. Their eventual reunion became the basis for Llegaron Las Flores (The Flowers Have Arrived), a 20-minute documentary Ambar released in 2019. Having something so deeply personal committed to film didn't even feel real at the time, but she understood the ramifications.
"I never grew up with any kind of representation in that kind of subject so I knew it was so important for me to share this message because I was putting myself in such a vulnerable place. Literally, to let people know that there's someone out there who has experienced something similar to them."
As well as providing some much-needed visibility to these stories, the documentary became a vital part of Ambar's healing process. "I love my dad, he's a very nice person but the effect of being away from him for so long…" she pauses, looking for the best way to articulate that sense of distance. "Let's say you're looking at a children's book and there's a picture of a man and underneath that, there's the word 'father'. That's the way my brain had to process him being my dad because I didn't grow up with him and I didn't have the same wholehearted emotional attachment."
Ambar considers this experience a formative one when it comes to extending compassion to others, actively putting a little more effort into relationships because she knows how worthwhile they are. It's a disposition that only grows stronger with age. "When you're old enough to properly get to know your parents, you kind of meet them for the first time – it's one of the trippiest things! You really view them as people and you kind of have to accept the people that they are, as difficult as that can be sometimes."
This kind of empathetic wisdom has always shone through in her music, from early tracks like 'A letter to my younger self' through to 2020 releases like 'Head Down', a wavy anthem imploring people to look beyond themselves and notice "the universe is screaming, in desperate need of healing." Because music isn't solely a creative outlet for Ambar: she wants her work to serve a purpose for others. "I want people to be inspired to live the life they want to live. To be like "this is who I am and I'm going to stay true to that!" But it's also very easy to forget that our time here is limited and we can't ignore the suffering of others. I hope my music wakes people up and encourages them to be more self-aware, to recognise both the inner and outer experience."
As for what's next, Ambar is taking time to figure that out. "I don't know what the next record is going to look like but I'm definitely going to keep releasing more music." She's exploring new realms creatively, experimenting with new sounds and more than anything else, focusing on growth. "I think the best artists continue to evolve. So don't expect me to be the same because I'm changing!"
Check out more of the artists in The Future Five, created in association with Clarks Originals.