Like her or loathe her, Doja Cat is an artist rarely out of the news. Having gone viral in 2018 with the captivatingly-absurdist 'Mooo!' and then again on TikTok earlier this year when her disco-pop track 'Say So' became associated with a dance challenge, she's marked herself out as one of the most versatile musicians going, frequently switching things up whenever she's about to be pigeonholed.
Having admitted to her fans that she herself had become a little bored with 'Say So', expectations were high ahead of her performance at the MTV EMA awards. Creativity was a given, but very few were probably prepared for her to clamber out of a TV, The Ring-style, with sopping wet dress and hair, before breaking into an angsty re-imagining of the track that managed to recall Evanescence, Flyleaf and the meadow-scene from 'Twilight' inside its thrilling four minutes and 20 seconds. It was a pop-goes-punk masterpiece, but Doja's re-invention of her own track is something bigger than a simple boredom-busting switch up – it's an opportunity to show the world that women of colour have just as much right to play with rock as anybody else.
With the recent successes of Beabadaboobee, Rico Nasty and even Dave Grohl's pal Nandi Bushell putting conversations about POC-punk back on the agenda, it may seem that this scramble to recognise non-white guitar music is a direct result of this summer's renewed BLM effort, striving to create space across all musical genres. While this is undoubtedly a good thing, it overlooks the fact that women of colour have already spent years trying to justify our presence in rock's clubhouse. After all, we were there when the clubhouse got built a little – when Sister Rosetta Tharpe used her guitar to translate spiritual music to pop in 1938, she defined the rock'n'roll sound that would be adopted by Elvis Presley and everyone in his wake. We were there again when the 90s made stars of Skunk Anansie and Lush, and when third-wave emo sent fans scrambling back to MTV, we were the girls who'd already perfected the use of a chemical relaxer for a dramatic floppy fringe.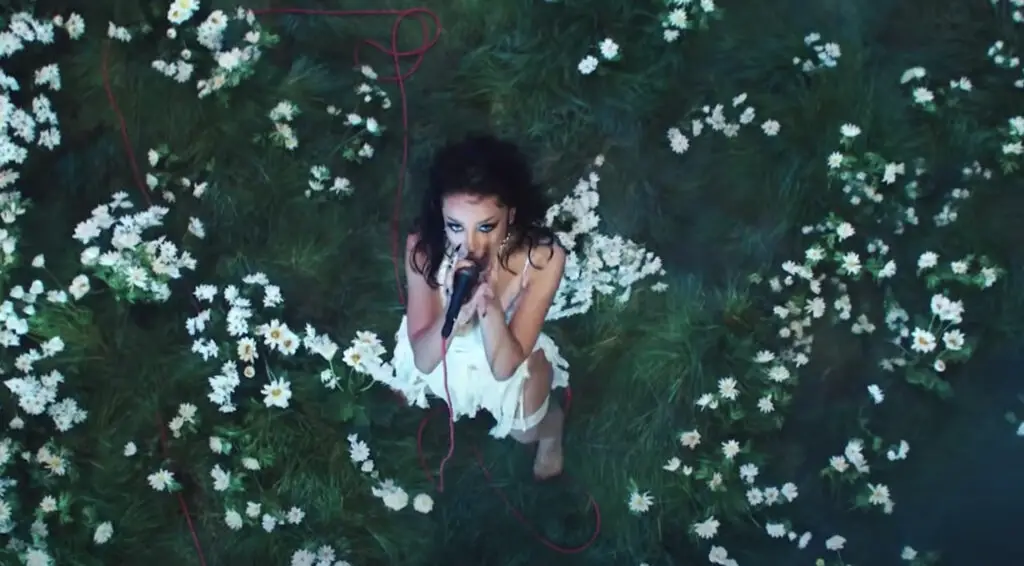 These involvements should have given WOC's presence some credibility, and yet somehow, we were always viewed as a curiosity – the proportion of people who looked like us on stage stayed incredibly low, and the people stood alongside us at the show would turn with quizzical looks to ask why we weren't at the RnB night down the road (true personal story). Emo, in particular, was a scene riddled with casual racism, part of the 'edgelord' Internet culture that boomed in the 2000s. For mixed-race kids like myself, there were extra layers of confusion – raised in households that championed all different styles of music as standard, it was weird to go out as a music fan and be made to feel as if you only half-belonged in one space and not at all in the other, constantly re-evaluating the side of your heritage that would be most 'appropriate' to show that day. Add in a hefty dose of whiny-vocalled adolescent misogyny and the punk-rock space can suddenly be a very unpleasant place for young women to be; using their stories as the muse for emotional catharsis but rarely passing them the mic for themselves.
As a teen fan, Hayley Williams provided (and continues to provide) a rare place of true allyship and solace, making it clear way before BLM was trendy that Black fans were welcome in the home of Paramore, without ever needing to paint herself as a righteous saviour. However, there remains a lingering irony to the fact that emo and pop-punk, sub-cultures set up to offer solace to society's outsiders, have a real problem with deciding exactly who is the 'right type' of ostracised loner to let in the gang, or that Nu-Metal, a genre which pinches so heavily from African-American rap, has historically been overwhelmingly white. For young fans, the contradictory messaging is highly confusing, and it sticks with you – Doja herself has had numerous run-ins with fan disappointment for getting herself involved in chatroom situations where her own internalised-racism and misogyny have shown in the ugliest of ways. It's not something to excuse, but it is certainly something to recognise as sadly common amongst POC who do not feel as if they have a natural place in the world. 
For all of those reasons and many more, there is something of hope to be found in watching that EMA performance. The world is slowly moving in the right direction – we have hope of a presidency where the vice position is held by a woman of colour (albeit not my fave, but small steps), and there are too many amazing musicians of colour performing in or experimenting with rock to squeeze into a tokenistic hit list. Jean Dawson, KennyHoopla and Bree Runway are set to have incredible 2021's after showing the world that Black folk can experiment with genres with as much 'authenticity' as any white act, while Meet Me @ The Altar, a pop-punk trio of queer women of colour, have hit a serious checkpoint in their desire to be the representation they never saw by signing to Fueled By Ramen, a premier alt-rock label that birthed the careers of Fall Out Boy, Panic! At The Disco and countless more.
That 'she looks like me' thrill is getting easier and easier to come by, but more than that, it's the feeling of knowing that should you want to rock, it's a place that's open to you. Streaming culture has made more of us into cross-genre fans than ever, and none of those doors should be closed to us because of perceptions of what colour a typical fan in that space should be. When Doja climbed through that TV, she climbed through a real barrier – here's hoping a few more of us feel inspired enough to follow.
---
Like what we do? Support The Forty-Five's original editorial with a monthly Patreon subscription. It gets you early access to our Cover Story and lots of other goodies – and crucially, helps fund our writers and photographers.
Become a Patron!