A year that brought us the Macarena, eBay and the catchphrase 'As If?!", 1995 laid the foundations for the world we live in today (what kind of school disco would it be if they didn't crack out those ridiculously infectious dance moves?). It was also a time when we were gifted with some of the most influential and iconic albums in music history that have only fermented like a fine wine. Pop on your party hat and wish a sweet quarter of a century to these remarkable records.
Released: 6 February
Shortly before they parted ways, Slowdive released their penultimate album 'Pygmalion', a broody yet commercially unsuccessful farewell, only to be appreciated much further into the future. Skulking out from the shadows in February, amidst a Britpop frenzy, the album's hazy, reverb-laden tracks bear an influence on the modern shoegaze bands that are circulating today and, upon listening, its otherworldly and beautiful composition makes it to be a belated classic.
2
PJ Harvey – 'To Bring You My Love'
Released: 27 February
The third offering from the melancholy music-maker, PJ Harvey adopted an almost mythological persona on her bluesy, desire-driven 'To Bring You My Love'. A far floatier, dreamlike approach in comparison to her previous releases, Harvey's evident yearning and cosmic influences, referencing her voodoo powers on 'Long Snake Moan', make for an album that is darkly introspective.
Released: 13 March
After a surprising rise to fame after the success of that song, Radiohead were a gaggle of twenty-somethings who were still thumbing around to discover a sound that truly reflected their sonic prowess. Both poignant in its most popular tracks such as 'High and Dry', and brilliantly guitar-driven with 'Just', 'The Bends' solidified Radiohead as one of the greatest, and the world waited in ample anticipation for what they would conjure up next.
4
Pavement – 'Wowee Zowee'
Released: 11 April
Yet another album that left fans disgruntled upon its arrival, 'Wowee Zowee' has surprised many by becoming a staple in its own weirdly wonderful way. With its nonsensical, often indecipherable ramblings, Stephen Malkmus' knack at devising a riff that will be running circles around your mind so much so that the lack of lyrical insight doesn't seem to matter is what makes it such a mingle-mangle of mastery.
5
Supergrass – 'I Should CoCo'
Released: 15 May
An energetic break-neck speed of an album that reciprocated the restlessness of the teenage trio, Supergrass' 'I Should CoCo' encapsulates the free spirited youth of the pre-digital age. With the iconic single 'Alright' nestled in its tracklist, which will never go amiss on a summer drive or a sofa advert, the fearless demeanor and buoyancy of the record has withstood a quarter of a century, and continues to exude pure cheekiness upon each listen.
6
Alanis Morissette – 'Jagged Little Pill'
Released: 13th June
The album that solidified Alanis as a household name, 'Jagged Little Pill' is a record that still resonates. With deliciously 90's-esque tracks that still dominate radio waves, such as 'Ironic' and 'You Oughta Know', the multi-Grammy award winning smash hit catapulted 21-year-old Morrisette into stardom. The emotionally charged lyricism and deep-rooted thematics is what makes it still so engaging; a young woman's introduction into the fickle workings of adulthood, relationships and addiction.
Read more: A love letter to 'Jagged Little Pill' at 25
Released: 13th June
Never short of absurdity, Icelandic songstress Bjork delivered her second solo album 'Post' in 1995, an eccentric and evocative offering that defined the beginning of a technological era within music. Her elegance and otherworldly imagination are evident throughout, yet her experiments with electronica are what makes 'Post' such an intriguing release, especially for its time. Written after her relocation to England, its whimsical look at the world through her eyes and a peek into what she believes the future held.
8
Blur – 'The Great Escape'
Released: 6th September
In a time when the tug of war for Battle of the Britpop was rife, with Damon Albarn clutching one end of the rope and Noel Gallagher grasping onto the other, Blur's fourth album, 'The Great Escape', was birthed to a swarm of critically-acclaimed reviews. Smugly sneaking into the number one spot with 'Country House' ahead of Oasis' 'Roll With It', the album was a hodgepodge of a fizzling era that, despite its commercial success at the time, is one that the band refuse to acknowledge publicly, with Albarn referring to it as 'messy'. Nevertheless, it is brimming with tunes that wouldn't go amiss at a karaoke night down the pub, and for that alone, it deserves its iconic status.
9
Oasis – '(What's The Story) Morning Glory?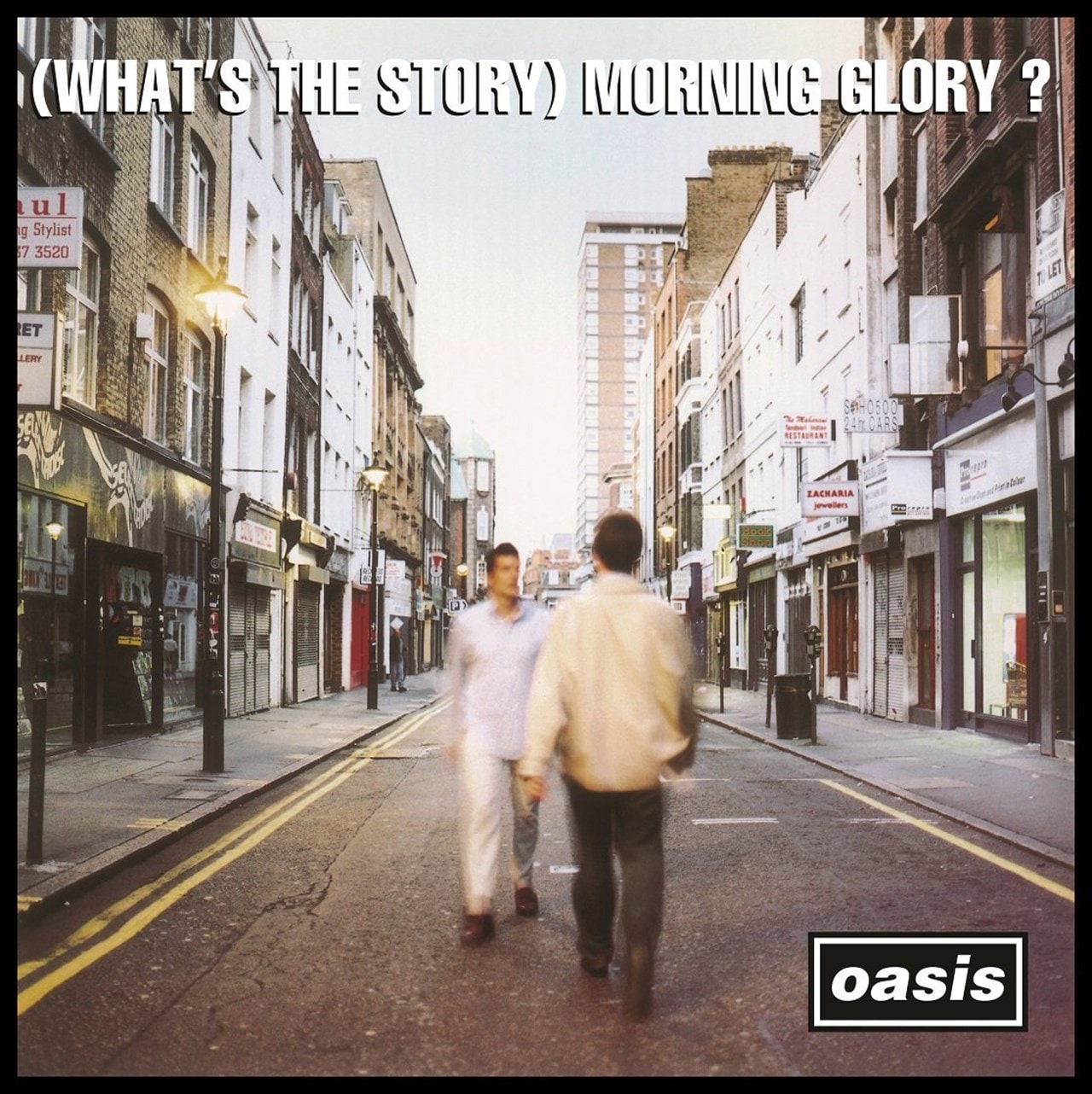 Released: 2nd October
One of the most acclaimed albums to ever grace Earth, '(What's The Story) Morning Glory?' was a generational defining record that envelopes everything it means to be British. The Mancunian five-piece, with their two finger salutes and rambunctious temper, had a knack to songwriting that was both impossibly cool yet undeniably catchy, and despite their first single release 'Roll With It' only edging the second slot on the billboard charts behind Blur, it was in an almost cheeky fashion that they had knowingly saved the best until later, with unforgettable tracks 'Wonderwall', 'Don't Look Back in Anger' and 'Champagne Supernova' engulfing the battle with ease.
10
No Doubt – 'Tragic Kingdom'
Released: 10th October
A band that was hit by tragedy even before their first show with the devastating passing of founding member and frontman John Spence, No Doubt had the immense task if deciding whether to continue. After backing vocalist Gwen Stefani took centre stage – following two albums that were plagued by drama within the group and a lack of distinct direction – 'Tragic Kingdom' was a far more exciting release that saw them snag the top spot of the Billboard charts twice, with the brilliantly bold 'Just A Girl' and their most famous hit, 'Don't Speak'.
11
The Smashing Pumpkins – 'Mellon Collie and the Infinite Sadness'
Released: 23rd October
Daring to release a whopping 28 song double album and potentially exhausting any artistic energy they had in them, fans and critics initially raised a concerned eyebrow at The Smashing Pumpkins' hefty feat. However, 'Mellon Collie and the Infinite Sadness', rich in its variety and inability to be pigeon-holed, serves as a rock album that refuses to be swayed into what you expect, and is a true testament to the incredible imagination and talent of frontman Billy Corgan.
12
Pulp – 'Different Class'
Released: 30th October
Boasting 'Common People' and 'Disco 2000' on its tracklist, 'Different Class' emulates British society in a way that is still as prevalent nowadays as it was in 1995. With the majority of the album written in a 48 hour burst of inspiration from frontman Jarvis Cocker, it was a blinding success for the band who had already been skulking around the Sheffield scene for seventeen years. Its analytical genius at the division of class, budding romance and everyday trivial decisions that unknowingly impact us was a refreshing stamp on the year of the raging Britpop war, and they snatched the crown in their own truly nonchalant fashion.
Read more: A Love Letter to Pulp's 'Different Class' at 25
---
Like what we do? Support The Forty-Five's original editorial with a monthly Patreon subscription. It gets you early access to our Cover Story and lots of other goodies – and crucially, helps fund our writers and photographers.
Become a Patron!