Some lockdowns are more productive than others. South-London band Sweat have coded their own virtual club night, SweatNet which has been hosting live hologram performances every Monday night. When keyboardist Gam fell ill at the start of lockdown, he took an online coding course. He had been into coding as a teen, but then the music took over and there was no time left for all that. Lockdown gave him the time, as well as a reason, to start coding again.
Clubs and gig venues will likely be the last places to reopen post-lockdown and even then, we're not sure if and when they will ever be the same as before. SweatNet, built over two days on Cinema4D, is missing some club night characteristics – the band agree that we're a long way away from VR clubs replacing IRL events – but it does feel a lot more intimate and realistic than Instagram live or Zoom parties. The user can move 360 degrees around the club, zoom in and out, post comments in the chat section and even buy DIY bags and T-shirts from a merch table in the corner of the club, with proceeds from the merch going to Black Lives Matter.
Sweat collaborated with typographer Sol Chadwick to create a unique logo you can see echoed throughout the space. This Monday from 8PM, SweatNet will host its last party before going on a brief hiatus. But the band have curated a closing night to ensure it goes out with a bang. Sweat will be performing their new single, and they are joined on the line-up by Lynks Afrikka and PVA.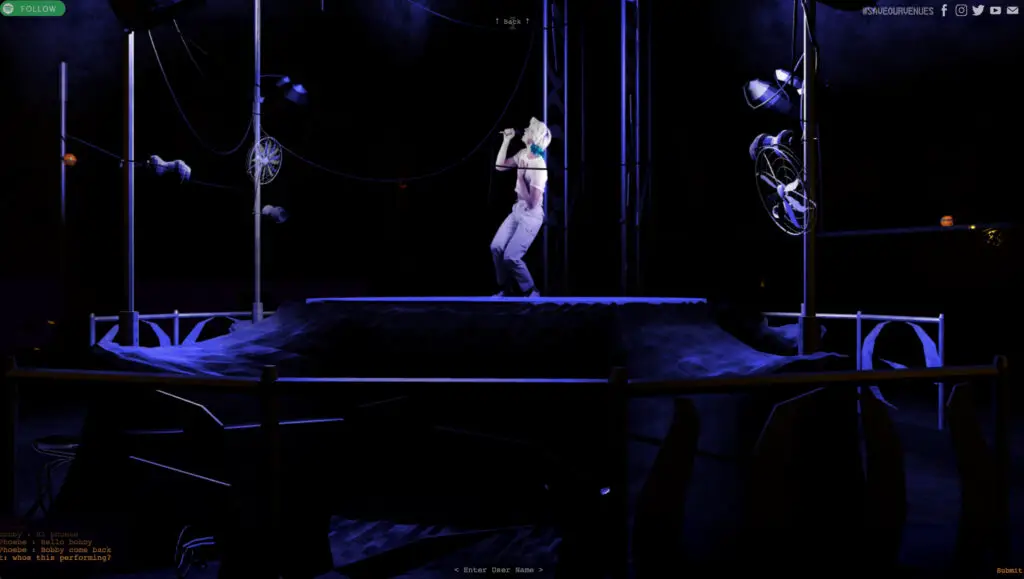 Anyone can enter the club at any time for free, but they welcome donations to #SaveOurVenues. VR clubbing is a temporary solution to the current situation, but the band are keen to get out and support independent venues as soon as we safely can. "In a way, what we've created is the antithesis of what we actually want," Gam muses. "When we come out of this, these venues might just be gone. They might have disappeared. It's beyond belief really. That's a version of the future that has the potential to be devastating."
"It's a bit strange," continues frontman Dante. "You find yourself in this position having created something which could, theoretically, make your reason for existing go extinct which is pretty terrifying." On the flipside, with VR clubbing and gigging experiences, "the sky is the limit," Dante explains. "You can literally do anything. You just have to figure out how. You can programme the lights perfectly and you can make something you don't normally get unless you're playing massive venues." You can control a lot more, depending on your coding skills, but SweatNet still has a sense of spontaneity that makes irl gigs so special. "We tend to upload it with literally one minute to go without having tested anything," says Dante. "We never really know what's gonna happen."
Another positive to emerge from virtual events is that they allow people to tune in and connect all over the world, which is something that's missing from local gigs in small venues. Nearly 10,000 people have 'entered' the club this month and its reach is global. "We've had people from all over the world coming on speaking," says Dante. "We see Chinese characters coming down in the chat and people are tuning in from Singapore and America. That's really exciting. You can't get that from a normal gig."
Dante and Gam still miss the physicality and community that you get from performing live to a room of people but launching SweatNet has opened their minds to the creative possibilities that could help generate a thriving live music scene post-lockdown. "We're always striving for something a bit more immersive and trying stuff out," says Gam. "We're on a journey and this has been a useful learning experience, even though it was a bit of a mad mission."
Head to SweatNet from 8PM on Monday to see Sweat and Lynks Afrikka live.