When Amber Bain wrote the lyric that would become the title of her second album, 'In The End It Always Does', she even surprised herself with its implicit wisdom. "I was like, 'Oh my God,'" she recalls over the phone while walking around London Fields in Hackney. "I just thought I was a little genius when I wrote that. I was like, 'Wow, I guess I'm a philosopher.'" 
The wise words were pulled from third single 'Sunshine Baby', and speak to life's inevitable beginnings and endings, recited with a tinge of hope that everything will always be OK in the end. "Lots of parts of the album are [about] the cyclical nature of things, and how you feel that you'll feel something forever, but you never really do," Bain explains. "So, it's kind of like having everything and nothing at the same time." It's a fitting mantra not only for her candid new album, but for much of the music Bain has released throughout the past eight years, which has seen her retrace intense bursts of love and heartbreak with honesty and generous specificity. 
It's surprising, then, that Bain has spent so much of her career reassuring people that she really isn't all that mysterious. The artist was an enigma as she emerged onto the scene because her early EPs – 'Pools To Bathe In' and 'Clean' (2015), 'Swim Against The Tide' (2016) and 'Saw You In A Dream' (2017) – were heavy with post-production distortion and twisted, androgynous harmonies, accompanied with inconspicuous cover art that never featured the singer herself. The ambiguous The Japanese House moniker, named after the Cornwall holiday home Bain visited as a child, could have also belonged to anyone (including Dirty Hit labelmate Matty Healy of The 1975, according to one theory). 
But 2019 debut album 'Good At Falling' was a spellbinding, dream-like window into a far more vulnerable side to Bain. Not only was it the most coherent and direct she had ever been, but she became more visible through the press cycle and in her album visuals. The cover for 2020 EP 'Chewing Cotton Wool' then featured a topless self-portrait of the artist, as she began to more openly ask questions about her gender and identity.
Four years since her debut album and Bain has experienced a string of significant life events in the interim, providing ample creative inspiration for new material – a move to Margate for her ex-girlfriend, buying a house, being in a throuple, the ending of those relationships and her eventual relocation back to London as she was finishing the record.  "It was this weird time of being very aware that I was about to experience a loss of a relationship, but also I was regaining a lot of life as well," she explains.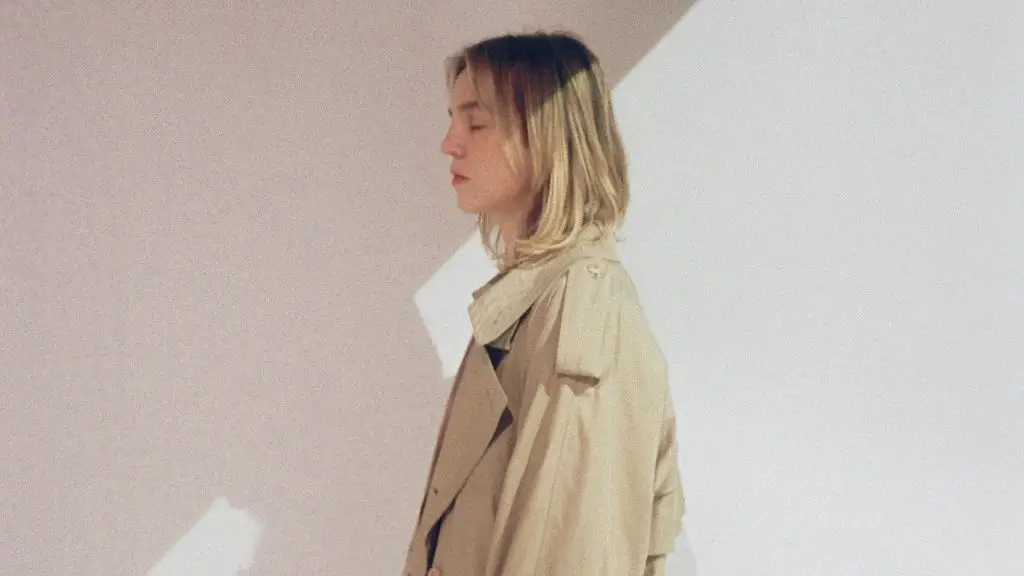 Bain would pen down lyrics in real-time, even sharing their progress with her partner when things were on the rocks. "When you're in a relationship that's falling apart, it's no secret, you both know that. And so it wasn't like a shock to her," she says of the songs' intimate reflections. She joined a couple that had been together for six years, but watched one person leave after only a short time as a three. "It was a strange way to start a relationship," she says of the girlfriend she stayed with. "Kind of amazing that we managed to keep it going for so long. Ironically, we kept it together for three years."
'In The End It Always Does' leans towards lighter, crisper indie-pop. Vocal effects are used in moderation, making the raw emotion in Bain's voice piercing and visceral, whether she's exploring sensuality on lively tracks like 'Touching Yourself' and 'Friends' – the latter being about threesomes – or bracing herself for the end on mournful yet quietly optimistic songs like 'Over There', 'Sunshine Baby' or the heart-wrenching 'One for sorrow, two for Joni Jones'. "I think that the melodies are so interesting on their own – there's still obviously loads of harmonies in there – but I didn't really feel a need to beef out the songs in any way," Bain explains. "This whole record, it felt like these songs are what they are, it is what it is." As for the change in sonic direction, the singer adds that her growth "isn't really incited by desire to evolve", or by what her peers are doing, "it's kind of just inspired by boredom".
The album's first single, 'Boyhood', is a buoyant, hopeful ode to identity. "It was always going to be this exploration of the things that shape who you are as a person, whether they're good or bad," Bain explains. "And that obviously ties in with gender, the kind of the childhood that you had, and if you're brought up as a girl, but you don't really feel like a girl, and trauma that everyone has that sort of embeds itself within you." The seemingly existential theme, however, Bain says is probably one of the "most positive things to write about, self-acceptance and change, and some sort of deep-rooted desire to find yourself".
Being more vocal about her gender in recent years has been a "coming out" of sorts, but it's still an ongoing journey. "I'm coming out as not having put a label on myself," Bain explains. "And I might do. I might change my pronouns, I might do this, I might do that. I might decide I'm completely gender-conforming in a year. I really highly doubt it, but I think it's good to speak about the fluidity of it."
It's not just gender that has become a more prominent topic of her conversations in recent months. As well as working with previous collaborators on the album – Healy and ​​George Daniel from The 1975 and Bon Iver's Justin Vernon – Bain introduced some important queer creatives to the process, including MUNA's Katie Gavin, who features on 'Morning Pages', and producer/ engineer Chloe Kraemer. "We ended up just talking for hours and hours," Bain says of their inclusive studio process. "It starts off with what a song is about, and then by the end of it we're talking about our own relationships and our dead dogs." By getting into a state of "raw, open emotion", it allowed them to create their most authentic work. "Sometimes I'm just like, 'Wow, this is crazy. The engineer, the producer, the artist are all queer women and that is absolutely insane'. Like, when does that ever happen?"
Bain recalls being strongly opposed to making being queer her "thing" in the early days, but now, she's more vocal about it than ever – and wants her own shows to be safe queer spaces. "I'm definitely engaging a lot more with being queer as my identity," she says. "​​I'm really hoping that my fan base has intensified in its queerness, and that I will come on stage and just be like, 'Woah, gay.'"
The circular album cover of 'In The End It Always Does' is a simple portrait of the natural lifecycle of love, loss and heartbreak. But Bain is trying to break away from that dizzying spiral. "There is a certain amount of repetition in life, a lot of that isn't just chance. A lot of that is because it's within you. You hold patterns and you hold things within yourself that create the same situations again and again," she says. "And the only way to change that cycle," Bain realises, "is to look inwards, rather than hope for outward coincidences".
'In The End It Always Does' is out now via Dirty Hit