Sophie Ellis-Bextor is sitting in her kitchen, the very spot where she and her family held their popular Kitchen Disco series during lockdown. The live streams became a safe space for fans old and new, as people tuned in to watch Ellis-Bextor belt out classics from the likes of Abba and Baccara, along with her own songs, all while dancing under a glittering disco ball. Sophie's husband, The Feeling bassist Richard Jones, performed alongside her, with their children (the couple share five sons) also making guest appearances. The at-home concerts soon took on a life of their own, spurning a greatest hits album and progressing into live shows once the world reopened. A themed cookbook followed. In a full-circle moment, Ellis-Bextor was asked to perform a special edition of the concert series in celebration of this year's Eurovision Song Contest. The 44-year-old headed to Liverpool to host her very own Kitchen Disco in the John Lewis department store and perform at the Eurovision village. She's still glowing from excitement when we meet a few days later. 
"From the moment I knew it was going to be in the UK, I really wanted to be involved in some way," Ellis-Bextor tells me. "It was blue skies and sunshine on the day, and the whole of Liverpool was in a good mood." Her welcome appearance at the contest has led to reports that she is a front-runner to be next year's UK entry. While that remains to be seen, the musician is more than happy to attend as a spectator. 'I'd quite like to go to Sweden and watch it there. I bet they'll do a good job, as well."
For now, however, Ellis-Bextor's attention is firmly on the release of her seventh studio album entitled 'Hana', the Japanese word for "Blossom." It's her third and final offering with collaborator Ed Harcourt. The record holds a great deal of sentiment and purpose, documenting a journey of adventure, loss, and renewal. "For want of a better word, it's quite a 'sweet' album. It's melodic. It's got quite a lot of synths, it's quite foggy in places, a bit psychedelic. It's a dream world I wanted to go into," she explains. "Thematically, there's a lot about sunshine… a bit of being gentle to yourself as you go into a new chapter. Then there's a song about aliens, just for the hell of it [laughs]." Tracks such as 'Lost In The Sunshine' and 'He's A Dreamer' certainly exude the warmth and dream-like qualities Ellis-Bextor envisioned during the creative process.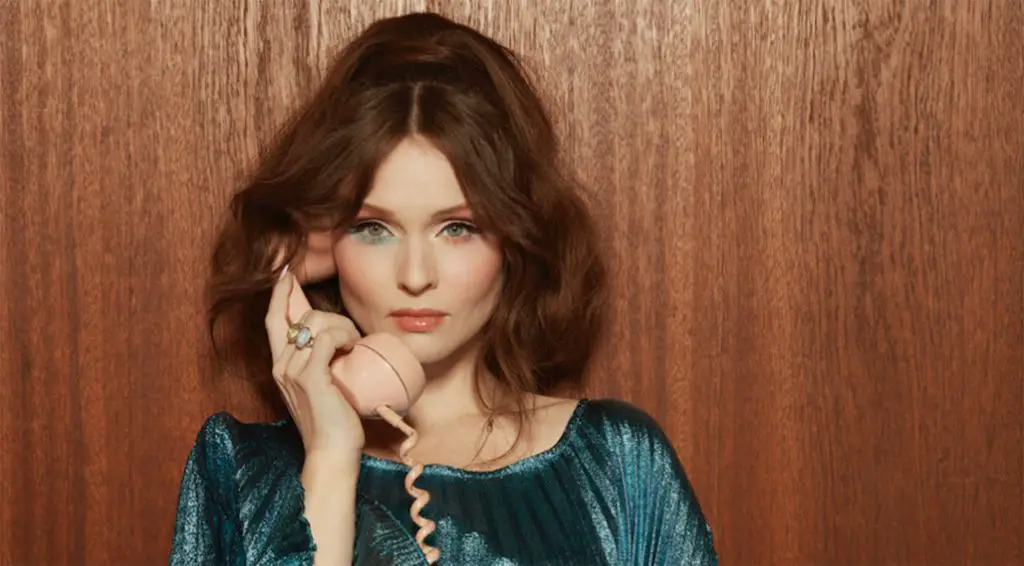 In early 2020, during the beginning stages of writing the album, Ellis-Bextor took a trip to Japan, which proved to be a transformative experience. "My eldest, Sonny, was supposed to go with my mum [TV presenter Janet Ellis] and my stepdad [John Leach], but my stepdad was being treated at the time for lung cancer, and when it came to it, he couldn't travel. I was drafted in last minute," she admits. "It was three generations, and there was an undercurrent of knowing it was a really special trip, with sadness around the edges, because of what was happening with my stepdad." Shortly after the family returned to England, the world went into lockdown, and the trip became the epicentre of the album's creation. "Japan was this rich, inspirational landscape to go to in our heads, which took on more significance when we suddenly couldn't go anywhere."
In July of that year, Ellis-Bextor lost her beloved stepdad, and the grief, along with a desire to celebrate John's life, added a whole new layer of retrospection to the album. One album track entitled 'Until The Wheels Fall Off' includes lyrics taken from a letter John left behind. "He said to my mum that he had all his best adventures with her and how they had travelled, laughed, and loved until the wheels fell off. I just thought that was really gorgeous," she recalls. "The song is a tribute to their marriage, because they were very happy together."
When it comes to her own marriage, Ellis-Bextor works closely with her husband of 18 years. "It's always Richard," she tells me, when I ask who gets the first listen of her new tracks, "When I was younger, I'd play all my demos to my girlfriends. Now, I'll bring the music home and play it to Richard and the kids. He'll play stuff to me from his band, as well. We're both really curious about what the other thinks."
Music is very much a family affair for Ellis-Bextor, who has her brother Jack as her drummer. The community aspect of having a band in the studio and on stage is a big draw for the singer. She credits this to her early days singing lead vocals in her band Theaudience. Despite enjoying success with their first record in 1998, they were dropped before a second album materialised. For Ellis-Bextor, the experience served as a reminder to enjoy her successes when they come. And she did just that when she featured on Spinner's hit track 'Groovejet (If This Ain't Love)' in 2000. "That song lifted me out of feeling blue and gave me back a career. I was learning about this whole new world of pop music and I realised that I can do a bit of everything. I can have my indie roots and lean into dance. I'll forever be grateful for that."
Reflecting on those early years, Ellis-Bextor notes that the music industry wasn't always the friendliest of spaces for female artists. "When I was writing my [2021] autobiography, I was looking back at old diaries and press cuttings, and I was like, 'Oh, it wasn't in my head. It actually was quite a toxic environment in lots of ways.' After I spoke about it, I found that a lot of my peers had felt exactly the same way," she reveals. The musician feels that people are now able to express themselves in a way artists previously were not. "I didn't really have the language to articulate what wasn't quite right. It wasn't binary — being treated well or badly — it was those things in the middle," Ellis-Bextor tells me. "We've got much better language now about what makes us feel good and what doesn't. We're encouraged to articulate those boundaries in lots of different ways."
For Ellis-Bextor, social media has played a big part in helping her reclaim her voice. "It's double-edged, but I like the fact that I can have a clear stream of communication between me and the world," she explains. "When I started out, everything had to go through all the press teams. You might hope to get something [a message] out there in an interview, but it might be twisted or you could be misquoted."
Moving forward, the musician has a busy time ahead, with a string of summer shows to support her new album. As for what comes after, that has yet to be decided. "The release of this album does immediately kick start something new. Ed and I decided we'd do three albums together and stop, and this is the final one," she notes. "I've got a bit of a pattern, whereby if something starts to get a bit familiar, I tend to pull the rug out and do something different. So we'll see what that looks like. I'm open to new ideas."
'HANA' by Sophie Ellis Bextor is out June 2 2023.