After a breakout career as the frontwoman of indie band Noisettes, and the release of her stunning debut solo album, 'Too Bold', last year, which saw her create a fusion of sounds based on traditional Zimbabwean music, personal lyrics, dub, and what she describes as a "futuristic" rhythm, Shingai has returned. Taking over the Southbank Centre for the final weekend of their Summer Reunion series, Shingai has curated a weekend platforming the South London community, grassroots music, and an eclectic mix of performers, including a workshop with roller skate collective We The NC.
She's also returned to the live music scene, with a recent show in Italy and around a dozen shows across the festival season. "The live space is such a holy, sacred dynamic space. Anything can happen. I'm going to bring some extra-cosmic beautiful forces of good, and bringing that motherland sunshine energy as well", she tells me, teasing her series at the Southbank Centre. We caught up with Shingai on what she's been up to, what we can expect from her contribution to Summer Reunion, and how Black artists are stereotyped in the alternative scene.
Summer Reunion is the first time the Southbank Centre has done something on this level. How excited are you to be a part of it? And what's your vision for your series?
Excited is an understatement! I've always been a fan of things like the Meltdown, so it was lovely to be asked. Since I got into music, it's been an honour to align with my community, and the majority of that has been south London. I wanted my curation to reflect that I've not only always been genre-fluid, but fluid in terms of art forms that I bring to my performances. I went to drama school, and I've done stuff with circus and I managed to incorporate that into the short film I did to accompany my EP 'Ancient Futures'. I wanted to pay tribute to the community that gave me the opportunity to fly in whichever format I wanted to. I grew up seeing amazing buskers, I saw Jerry Dammers from The Specials take over a pub in New Cross. I wanted to show that eccentric part of London, the eccentricity I was lucky enough to experience.
In the lead-up to the series, you've spoken about how the black female artist is expected to play a generic role on and off stage. Can you elaborate on that?
When I was with Noisettes, we couldn't get a deal here for about five or six years, and it wasn't until an amazing woman from Motown Records actually spotted a picture of me, found out that I was a musician, and flew us out there – it was a crazy whirlwind. We were rejected by the British industry to begin with, and then by the time we had investment from Motown, it started translating over here. And then a lot of the media, who had refused to give us a chance, were like, oh, "aren't you American?", and then my manager would have to remind them we were the band that they turned down three, four years ago. A lot of accepted stereotypes of Black American musicians end up being then what the British record labels and mainstream media expected brown UK girls to do. And… we ain't the same! Women of colour are expected to do R&B and only sing about breakups. We're expected to be driven by styling and genre, rather than what we actually want to write about, you know, and so there's just a lot more pressure to perform 24/7, because even when you're not on stage, you're still expected to perform a certain stereotype.
The music industry tends to treat Black musicians in the alternative scene as if you're an anomaly, but the issue is the lack of platforming, not talent.
Absolutely! I'm very, very supportive of the community being as just, you know, wonderfully diverse as it's always been. It's just that that diversity, as you said, hasn't been allowed to thrive in the mainstream.
The first night in your series is called 'Turning Heads'. What can we expect?
Turning Heads is about people you might not get to see in the spaces I feel people would really enjoy seeing them. Artists like Vedina Rose – she's from Brixton. I feel it's really important to show that these people deserve to be positioned alongside institutions like the Southbank Centre. It's important to share that space which is eccentric but also associated with formal programming. It's my attempt to give people the chance to see people who are equally deserving but may not be able to have those opportunities.
It's a great grassroots approach, platforming these artists and groups. The second event is called Shingai's South London Safari – how important is it to you to platform the South London community?
It's important to platform any community that has felt, in some way, underfunded and has had its aesthetics adopted or appropriated by mainstream culture. Any multicultural, creatively diverse spot in England deserves platforming, and England really needs to retain that spirit. People are asking if they really have a place here if they belong here. Look how many Black and LGBTQI+ and plus-sized people are going to America to act and do music. For a long time, England stopped feeling like a place that could still champion and celebrate cultural vibes that make it cool to the rest of the world. 
The final day, Shingai's Afterglow, sounds very exciting. The whole series is so eclectic, which is really cool. Baque Laur are performing – how did you come across them, and why did you choose them to be part of the series?
I'm paying homage to the rhythm and bass cultures that have laid the foundations of British pop. Most of the songs I have reference rhythms, it's what gets us dancing, and Sunday is usually a family day. Baque Laur are a nine-to-12-piece Afro Samba collective. All their drums are homemade and are used in so many different ways in Afro Samba culture, initiating ancestor vibes. They're very popular in Carnival culture. And Baque Laur are all female, diverse – some are from Brazil, some from Portugal, but they're all Londoners. On Sunday we've got this sound system after them, and a bring your own skates workshop as well. It's important for Sunday to arc it.
What do you want guests to take away from your series when they leave on Sunday night?
I would love them to have a whole arc of experience – Friday has got Charisse C bringing you that Afro Electronica vibe which I think has been a big part of my solo stuff. People will start on the Friday dancing, which is something we haven't been able to do for a long time, to a different groove, and then they'll be put in that mindset where they can really listen on the Saturday and enjoy artists playing beyond the song. I want to do five, seven, 10 minute versions of music from 'Ancient Futures', 'Too Bold' and Noisettes. I want everyone to jump on so everyone gets that experience of live music, and give them the full potential of what it could sound like for them. On Sunday you end by dancing to a slightly slower BPM and those bass frequencies will set you up for your Bank Holiday and the new week.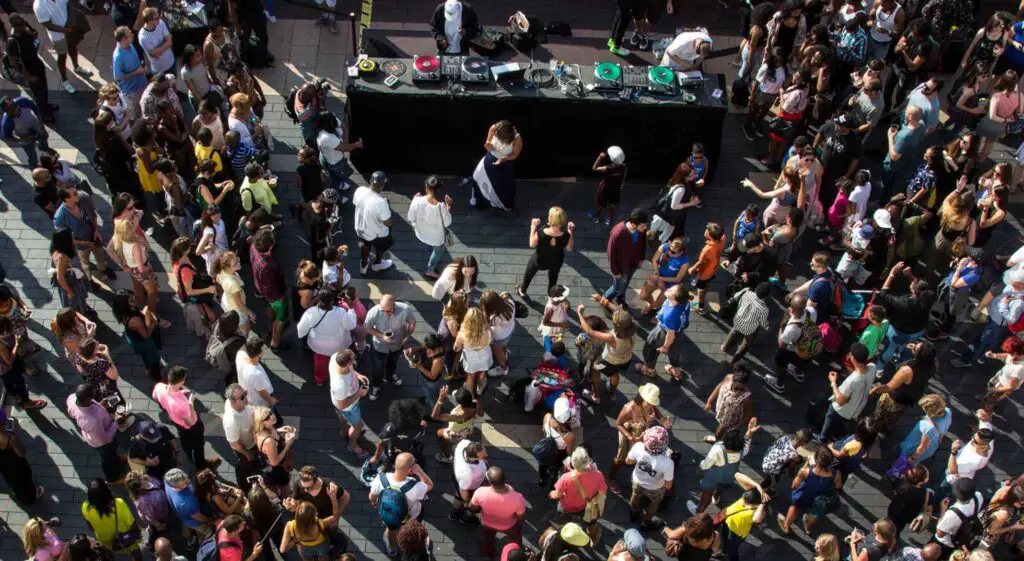 I read that your parents were Zimbabwean refugees – looking back to your EP 'Ancient Futures', which was influenced by Chimurenga music (a style with its roots in liberation), what would you say is the relationship between art and revolution?
That's an interesting question, I love it. They weren't refugees, but they met in exile – when my parents met, it was during the war for Rhodesia to become emancipated, and they faced a lot of similar experiences that a lot of refugees had. I'm a child of freedom fighters and grew up going through a lot of emotional trauma that a lot of people in the refugee community have gone through. I wrote about that more on 'Too Bold'. The song 'Ghost Town (Battlescars)' is about how my Dad never got over the trauma from the war, and he sadly passed away when I was nine. I found a way to turn a lot of trauma into music, so I could heal and be unapologetically unafraid to connect music to revolution. There's a feeling I've had since Brexit, and a lot of people in the creative community have felt the extreme divisiveness in the last few years. England portrayed itself as a place you could excel, and a lot of people who have come here from ex-British colonies and during The Windrush have seen that thrown back into their faces. But I'm also super optimistic, revolution isn't always about violence and millions of people marching up and down. Revolution means change, and I think we are living in revolutionary times.
Will your roots always influence your music?
Most of the genres I've folded into my old sound have roots in Africa. If that music has anything to do with soul, funk, R&B, UK Garage, then I'll have my roots in it. I've found a way to harmonise those foundational elements to keep on honing them in authentically. I'm unapologetically always going to fold in the roots of the music I grew up listening to in South London.
At the time you were in Noisettes, there weren't a lot of Black alternative artists who were able to take up space – obviously, another name that comes to mind is Kele Okereke. How does it feel now to be doing this series at the Southbank Centre, when we know that, generally speaking, so many cultural institutions are usually dominated by white male voices?
I feel like it's already massive that they have someone like Deborah [Yewande Bankole] heading up their programming team, and she's a woman of colour as well. Even working with people of colour seven, eight, nine years ago it wasn't as easy maybe to convey the reasons behind certain choices. It wasn't easy because you felt like maybe you were asking too much or didn't want to be difficult. It's such an amazing time to be working with institutions acknowledging us for our talent. A lot of these institutions have been built off the back of certain atrocities, so it's a massive time for atonement and art is always going to be a big part of how stories are told. It's the paintings you see hanging up in galleries that tell the tale of the victor. I feel like we're living in a time where atonement is really important. I feel like institutions at the moment should probably take leaf out of the Southbank Centre's book and do more of this. How can we grow if we don't have full participation of the people that actually pay their taxes to keep these institutions alive?
Looking back at your time with Noisettes, do you think you're able to make the music you've always wanted to make now?
There's just something about me and what I've always channelled in music which is something very vast, very layered; as if it could be the last bar we write and tomorrow something crazy happens! There's more creative freedom but I've still got that same essence of what I bring to a record. I really like to keep that channel open between the ancient, foundational energies and voices in music. I like to allow that music to go into a place that's on a futuristic level. There's a lot of people coming out into the open about challenging experiences in the music industry, and I feel like one of the issues I never want my music to be held back by is the lack of respect of musical lineage and the ongoing contributions by African women. Lots of people who have been othered. It feels like you're stepping onto a conveyer belt of broken dreams. You have to be aware of how you want to be an emancipatory force of good in a system that's very difficult to avoid.
What's next for you, Shingai?
I got to do three amazing collaborations with artists when I was in Zimbabwe recently. One of those songs is actually called 'No Fear', and it'll be coming out at the end of September.
---
Shingai Shoniwa is a guest curator for Southbank Centre's Summer Reunion, taking place from Friday 27 August – Sunday 29 August.