Raheaven might be laughing contemplating any backlash her lyrical candour could provoke, but really she's only semi-joking. Blame it on her Leo blood or on an instinct to lead that's been ingrained since childhood, but the north London singer-songwriter is way too self-possessed to lose sleep over the opinions of strangers. She applies a similar approach to more intimate acquaintances too, if last September's debut single is to be believed.
As soulful as it was sharp-tongued, '7AM' found the 25-year-old flipping perceived gender norms by kicking out a casual fling who's overstayed his welcome. "Why you still here, in my living room?" she demands in disarmingly silky tones, concluding unapologetically, "There's nothing left to say, just not that into you." It speaks volumes about how backwards society's views still are on the foregrounding of female pleasure that the prospect of a woman being so unrepentant publicly still feels – to some extent – a radical act.
By her own admission, Raheaven – real name Rahel Yohannes – has always been strong-willed. The only daughter of Eritrean immigrants, she grew up setting the boundaries for her four younger brothers by "making mistakes" and generally being "the worst behaved of them all." Though her parents were keen musicians who played in a band to raise funds for the Eritrean War of Independence, Raheaven was never pressured into performing, and pursued music off her own back, undertaking a variety of extra-curricular activities, including piano and steel pan lessons. But it was the discovery of 00s pop-R&B behemoths Kelis, Destiny's Child, and Nelly Furtado that set her on the course of becoming a singer-songwriter herself.
Unusually, she decided to defer her musical dreams at first, prioritising a degree in Sociology, and then travelling around India and Nepal upon graduating. "I just wanted to live a bit of life before starting a music career," she shrugs. "I could see what was happening to a lot of young, female artists in the music industry, and I knew I would never want to be told what to do, or what to wear, or what to sing about. Like, how do you even sing a song with conviction when you haven't experienced it? It might sound pretty but it doesn't sound true."
---
---
If there's one accusation you could never level at Raheaven, it's that the music she makes is in any sense inauthentic. Released in March, her debut EP '2Personal' is a no filter exploration of failing relationships, from the overkeen one night stand on '7AM', to the flaky lover of the title track whom Raheaven dismisses with a succinct "Fuck it, you failed the test." On stripped-back Maverick Sabre co-write 'Over', she's hurt – lashing out at an ex-partner in an attempt to retain some pride, delivering couplets like, "You were never ride or die / So I kept pieces on the side."
She sums up her thematic focus for the EP as, "Me showing four different situations from my perspective," conceding, "They're probably opinions and feelings that people may not typically ascribe to women. But I just want women to feel comfortable with the thoughts and feelings they might have: to feel that it's OK, and there's a song for it. And everybody else just needs to get used to it."
Though inspired on a technical level by other R&B singers, including SZA, Summer Walker and Jazmine Sullivan – as well as by the skilful riffs and runs that underpin traditional Eritrean music – Raheaven continues to eschew vocal training in the hope of preserving a more natural feel and actually cites rappers like Nicki Minaj and Flo Milli as being most influential on her creative output.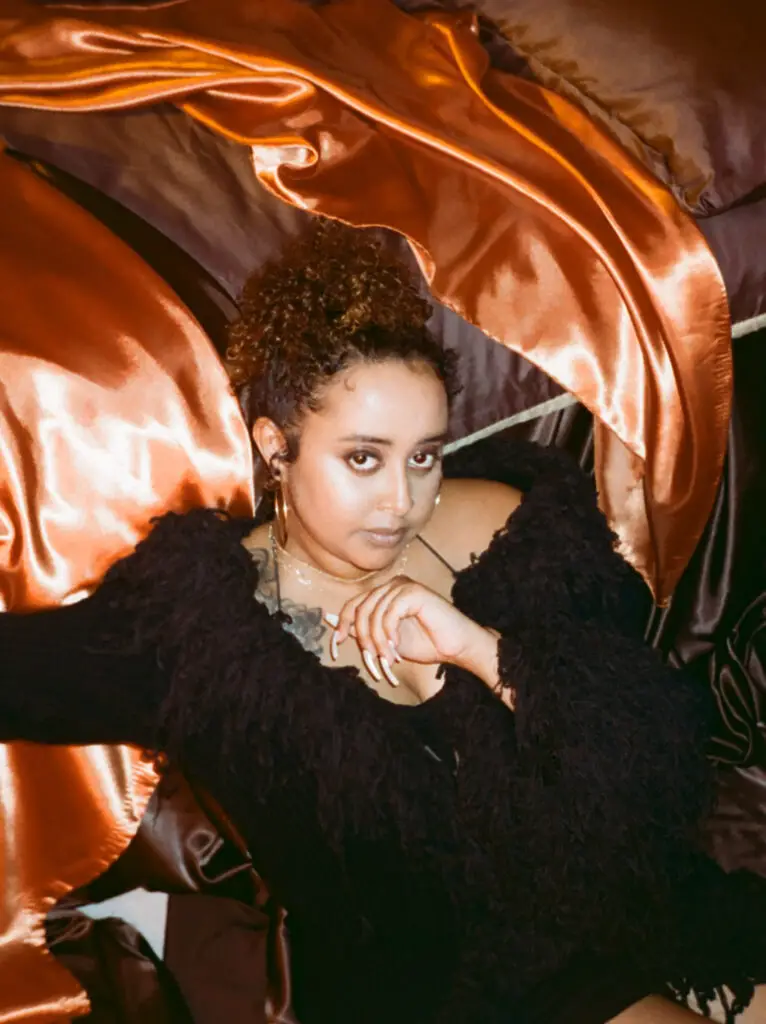 "It's mainly female rappers that speak from my perspective," she explains. "There's no singing equivalent of an artist saying the things that these rappers feel and say, so I took that energy on board with these scenarios, saying things in a straightforward way. Maybe that's uncomfortable for people sometimes but you're either going to laugh or you're going to get offended, so…"
Work on her second EP is already well underway and currently due for release in the summer, and beyond that? Well, she's simply working towards being "the best version of myself as a person." Unsurprisingly, she sees songwriting as being integral to her personal development. "[Writing music] is cathartic; a release," she explains. "And creating music actually gives me energy, like meditation. It's like frequencies are rebuilding my nervous system, and healing my chakras at the same time. So it's like life and death."
She suddenly looks a little sheepish and laughs, "That was a deep answer, sorry." It's a rare moment of contrition from a brilliantly unapologetic talent, so don't expect her to make a habit of it.