If you read any interviews with Phoebe Green in the run-up to the release of her debut album 'Lucky Me', you're likely aware of how she was feeling about sharing the record with the world – scared. They weren't just jitters that come with not having released a full-length record before, but fears stemming from just how deep she'd gone in its songs about her life, sharing some of her deepest, darkest thoughts and feelings. 
When she jumps on Zoom from her bedroom in Manchester nearly a week after 'Lucky Me' finally was out in the world, she reflects on her insecurities about the album with a laugh. "No it hasn't [been as scary as I expected it to be]," she says, a smile of relief spreading across her face. "People have been very reassuring and understanding – I feel way more connected to my audience now because I think there's actually way more of a shared experience than I initially realised."
As debuts go, 'Lucky Me' is a gem – a record that, despite its creator's qualms, unflinchingly delves deep, embracing uglier sides of life without losing a sense of self-awareness. It's equally as bold in its sounds as it is in its feelings, finding Green making the switch from indie upstart to inventive pop auteur with spectacular results. 
This album turns your lens on yourself and your relationship with you, instead of other people. How much did you have to get used to or allow yourself to open up fully in that way?
"It was really strange because it wasn't necessarily intentional. It was just a product of my environment at the time – I didn't start writing in lockdown, but all of the things I was experiencing were [things I was] processing during lockdown. When I was free, that's when I actually started dissecting these experiences and wanting to vocalise them. But I think because I was in such isolation – as was everyone – that I wasn't really thinking about interacting with people or the way I was perceiving my relationships at all, because there didn't seem to be any. I felt so detached from everyone that that wasn't the material I was naturally creating." 
In normal times, do you find that your inspiration comes from interactions and things people say to you?
"Yeah definitely, because I'm such an overthinker as it is and I will analyse every single social interaction to such an extent that it came so naturally to me to write about it. It's way less vulnerable to be an observer – you don't have to really tap into anything to think and talk about other people. It's still a projection of yourself, but it doesn't feel as scary or exposing. When I was younger, I wasn't as in touch with my feelings – I didn't have to be and I didn't want to be. I think as I get older, that's something that I'm really trying to work on – actually acknowledging the way I feel about things. So it's been helpful for me to be able to write about it."
The album feels like a journey of learning how to open up and learning how to embrace emotion. What's that journey been like for you?
"It's been hell. I hate every second of it. It's definitely made me feel a stronger sense of identity. When I was growing up, I was so embarrassed of how hysterical I was. I felt everything so deeply and because I wasn't really seeing that around me, I felt like I had to shut it down. Like, 'stop crying at every film you watch, that's not normal'. I really tried to numb my emotions for such a long time."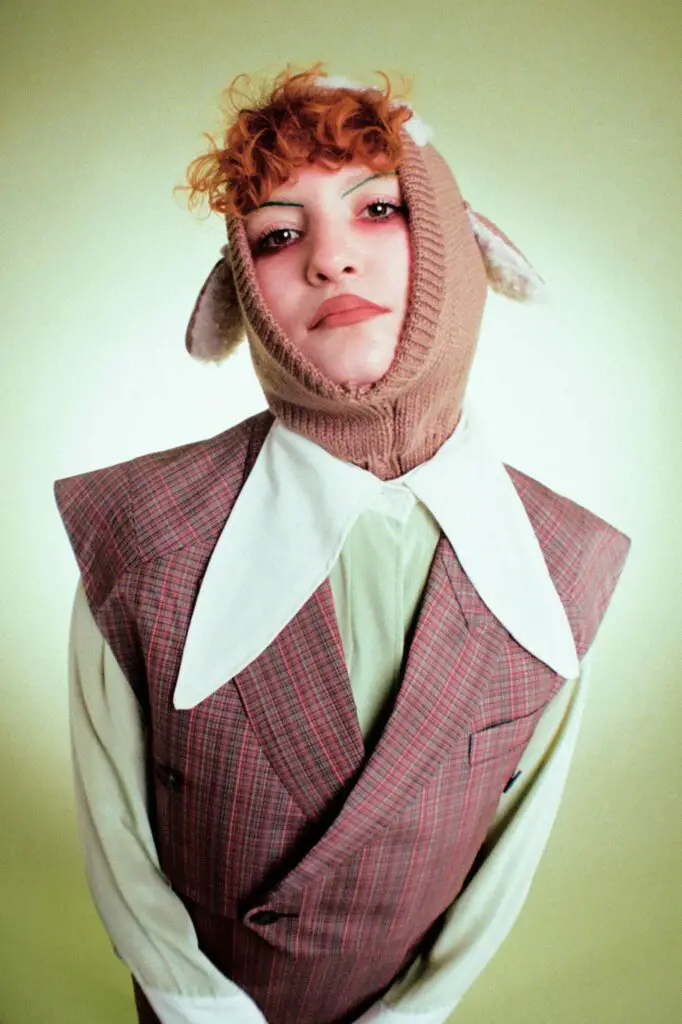 Do you feel more proud to embrace that side of you now?
"I think so. I still find it really challenging to be vulnerable. It's a weird thing to say, but it seems so much more normal to express emotion when it's about something external. Especially with mental illness, it's so easy to invalidate it because you feel crazy. It's nice to be able to validate myself now and be like, 'OK, I feel this way because of this and I'm not just overreacting to everything'."
Given this album is so personal, what would you say is the biggest thing you've learned about yourself through making it?
"Probably that no matter how unbearable my emotions feel, it makes me a better person to myself and to other people if I acknowledge them and process them in a healthy way, rather than bottling them up for other people's convenience and then just exploding. I don't know if it was intentional, but the tracklist is very much each is almost peeling back a layer until I'm just completely vulnerable and open."
On this album, you deal with things like guilt, fear and trauma, but you also balance that with being very self-aware about your privilege in society. Why was it important for you to acknowledge that privilege?
"It's so tricky to navigate feeling bad in your own head and validate your own emotions when, circumstantially, why the fuck would I have a problem? I think I always felt just very embarrassed and ashamed that there is always someone worse off. I do have it pretty good – great upbringing, love my family. But that doesn't mean that things aren't gonna happen to you and aren't gonna ruin a lot of things that you have worked to build for yourself. So I needed to acknowledge it for myself so that I could stop invalidating everything that I've gone through, despite the privilege."
You have the album title, 'Lucky Me', tattooed on your hand. Why did you want to get that tattooed on you?
"It's just a constant reminder. It does really bring me out of dark head spaces a lot of the time. But then also, I do just think it's funny." 
If this album is about opening up and learning to let go in a way, what is the song that had the biggest impact on you being able to do that?
"I think 'Diediedie' emotionally was like, 'We are going to talk about the worst things that have ever happened to have and then everything's gonna be easy'. You write that and then it's done – you don't let it bleed into every other song. But since I wrote that song, I was like, 'OK well, that's not my whole life – I can write about fun stuff too'. Then I think writing 'Make It Easy' was so important for me to do because it made me realise I can write cool pop music and it doesn't have to involve a guitar or be super dark. That was the song that kickstarted the upbeat new sonic environment for me to exist in."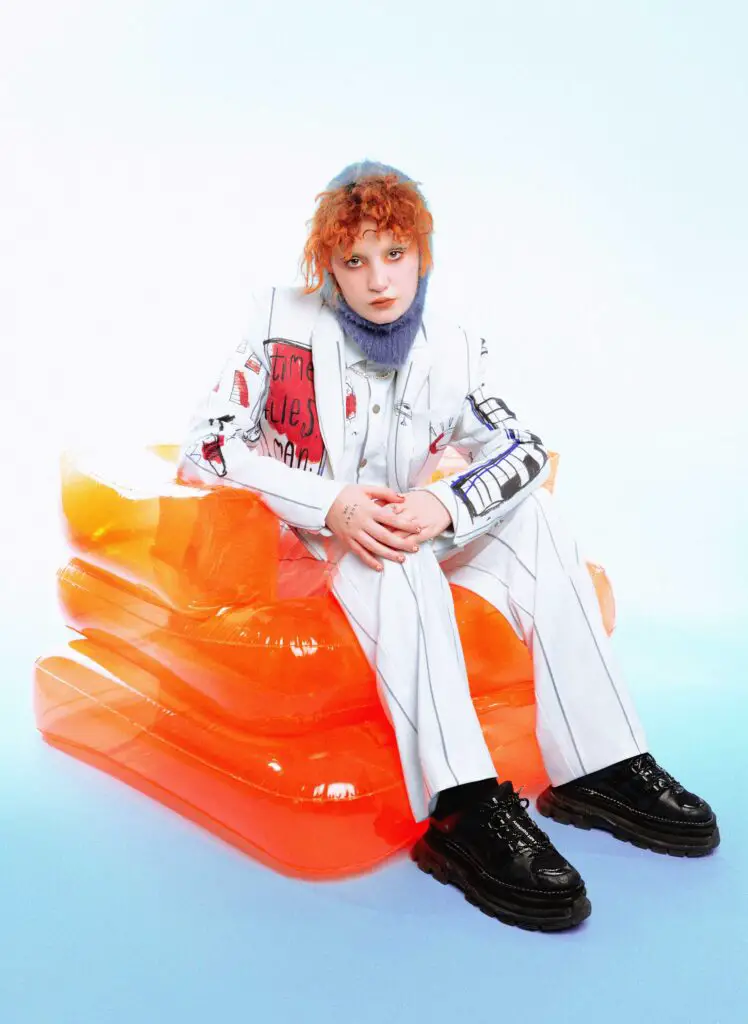 You supported Self Esteem on tour earlier this year. What did you take away from that experience?
"So many things. Being so unapologetically yourself is so terrifying, especially when the music exposes so much already. [So learn about] not shying away from that and being bold about it and bringing humour to it and just being super connected to the audience. Especially with singing these songs, I was like, 'I can't talk to the audience, I have to have my eyes closed the entire time because it's so scary'. But Rebecca is so fucking on it, so good. Even the band as a whole, it was so inspiring to see people love each other so much and still be so professional. It was such an incredible tour."
You've got your own big headline tour coming up later this year. What can people expect from it?
"I'm definitely taking a lot of time on trying to figure out support acts because I want there to be a lot of representation. I don't want it to be the same gig everyone has been to a million times. I just want it to be a really interesting line-up that will appeal to different tastes, but also have a consistency. I think I want the set to be a bit theatrical, but then I'm like, 'I do not have millions and millions of pounds, I cannot go crazy with this'. But I just want the orange inflatable chair to be involved that's in all of the press images. I need that chair. I need it. It's my comfort chair." 
READ MORE: Get to know Ash Lune's sugary pop