Hailing from the Isle of Man, siblings Lily and Jack Wolter, make jangly, euphoric shoegaze music. Better-known as Penelope Isles, they formed in Brighton, and are frequently joined by new members Henry Nicholson (bass) and Joe Taylor (drums). Unlike many young musicians, Lily and Jack had early support from their parents, who treated them to "cello lessons, saxophone lessons, singing lessons, piano lessons, drum lessons and bass lessons", as Lily describes on a Zoom call. "They were really supportive of the band and there was never a moment that they did the whole 'get a proper job' thing." Jack adds.
Recently, the band has seen some personnel changes, which Jack describes as "a bit of a whirlwind", explaining that they're still finding their rhythm. Now, Penelope Isles have released their second album 'Which Way To Happy', a kaleidoscopic, dreamy, psychedelic record. We spoke to the sibling duo about the pressures they face to make political music, the claustrophobia of recording during lockdown and the music scene on the Isle of Man.
You were previously in a band called Your Gold Teeth – how did that come about?
Jack: I came back to the Isle of Man from living in England and I was like "I need a bass player" and taught Lily how to play bass.
Lily: You were 22 and I was 16. It was such a cool thing to do as a 22-year-old guy to want their little sister, aged 16, in a band. I was 16 years old hanging out with older dudes having the best time. It really kind of shaped me, as a young lady.
What's it like to be in a band with your sibling?
Jack: Absolutely horrible! Annoying, stressful. Nah, none of that's true. Me and Lily are really close friends as well as siblings so we've travelled to amazing places together, we've met some amazing people together.
Lily: I don't think either of us can imagine doing it without one another. 
You've spoken about the changes you had in terms of your band's structure. How did that feel?
Jack: It was obviously really sad, the members are like your family. You spend so much time with them. Becky was the first to leave because it wasn't for her anymore. She wanted to start a business back home, which she's smashing. It's exciting as well because we've moved forward as a band. Mixed emotions.
Lily: We toured together so intensely for five years. In 2019 we did over 100 shows in one year. As a unit, we were really tight. Even things like loading and unpacking the van. It was just like "check, check, check, check" – we had it down.
Jack: We're not a well-oiled machine like we used to be.
Lily: Swings and roundabouts because our band is up to notch, musically.
Where do you feel most at home when you perform live?
Jack: That's a cool question. Germany is one of my favourite places to tour. It feels like home even though you're so far away.
Lily: I feel most at home when we do a Brighton show but that's because all our mates come here. We did play an Isle of Man show once and it was so rowdy. Everyone was like "Jack! Lily! Oh my god!", just going crazy. I think lots of people even had their backs to the band! Just having a great time.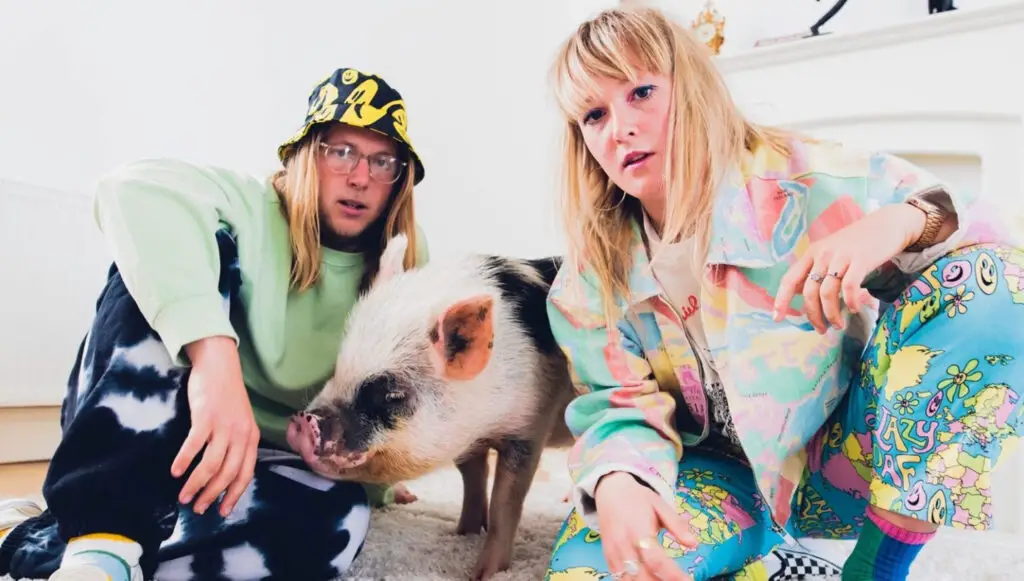 You created your second album in lockdown, which you've described as "claustrophobic", and it led to a lot of drinking. Is there still a tortured artist stereotype that you feel like you need to conform to? And have you cut down on the alcohol now?
Jack: Me and Lily are actually really hungover right now.
Lily: We couldn't even make it half the week. It's so bad. I don't think there's any conforming, we just love a good time. We were in this tiny cottage in Cornwall, thinking we could go surfing, to the pub, to our parent's house for dinner. But you couldn't do anything. We just drank quite a bit.
Jack: There was this haggard, stagnated lake and it had this broken boat on the side that you could pull out. All four of us would get on it after spending ten hours in the studio going crazy, and we'd just drink on the boat.
Lily: We'd row ourselves into the middle of the lake with a bottle of whiskey and a guitar. We'd scream and sing our hearts out because there were no houses for miles.
'11 11' was recorded in one take, and Lily was crying during the recording. There's so much vulnerability on the track. Do you feel exposed by it?
Lily: I wanted to show that vulnerability and get how I was feeling fully into the song. I love when you can hear that in music and hear how sad someone is. You can really hear it from Elliott Smith and Jeff Buckley.
You were both dealing with your own heartbreaks at the time, weren't you?
Lily: Yeah, I wrote it when I met my first boyfriend and we were long distance. It's kind of a bit of heartache because you love someone and don't get to be round them all the time. Me and Jack actually finished the lyrics together and we were going through similar stuff with our partners at the time. We had each other's backs.
Jack: It's a special song, it's probably my favourite on the record.
Lily, you're a woman taking up space in a very male-dominated scene. Have you dealt with many barriers so far? And do you feel a pressure to set an example?
Lily: I almost dread when I get asked a question about being a woman in the industry because I feel like I need to talk about an experience or I need to say something to set an example that's inspiring for other women. Maybe that says something about the whole situation. Only you now asking me that question has sort of made me realise that I do feel that way.
In a perfect, ideal world you wouldn't feel that pressure and you could just make music and have fun. The alternative scene has a lot of bands fronted by men.
Lily: I've seen a lot of bands that have a woman fronting the band but she's not playing an instrument. I feel like I've been taken more seriously than other women because I play an instrument. It's like there's a next-level thing you've got to pass to become a "real musician".
Are you a political band?
Jack: We're not massively political. Obviously, we stay in touch with stuff because it's really important. A lot of our friends are really passionate about it. We listen to people we trust. 
Lily: Our views are left wing. 
Would you ever make political music?
Lily: No, and we bloody almost had to do that the other day because we've been working with an ITV show trying to recreate these punk songs and we were just like "aah shit".
Jack: Brexit has massively punched us in the face. There's definitely been moments when we've written songs over lockdown that's not directly political but obviously, we've been affected by decisions people above us have made.
Your first album, 'Until The Tide Creeps In', received strong reviews. Did you feel anxious about following up with something equally as good or better?
Lily: We just automatically were like "let's make a better record", sound-wise, production-wise. Really fine-tune the details; no laziness. There was an attention to detail when it comes to the sound. We wanted to make something next level.
Jack: We'd just been touring for ages so we were really excited about recording.
Lily: We don't really think about reviews. We just want to make our songs.