Orla Gartland isn't interested in writing breakup songs. "I got that out of my system," she said, with her last EP, 2020's 'Freckle Season,' but for her first full-length album, out this summer, she wanted the songs to be centred on her. "I don't really want them to be about anyone else," she said. "I want them to be about my brain and my stories and my experiences."
For this reason, Gartland's latest music focuses on internal insecurities that many people experience, by diving into situations with vulnerable specificity and self-awareness – whether it's comparing yourself to others in 'More Like You' or being at a party and realising you're playing a role in 'Pretending'. It's refreshing, relatable and cathartic.
Gartland didn't build the album around any specific themes, but it ended up being a coming-of-age record, plain and simple. "It's such a specific experience of being in your twenties and being at a time where adulthood is coming for you, whether you're ready for it or not," Gartland said. The songs also tackle identity, and, "growing into the person that you will be and that you want to be."
The album is a culmination of years of Gartland's work. She's been uploading original songs to YouTube since she was 14 and self-released her first single, 'Devil On My Shoulders', in 2012, at the age of 17. Born in Dublin, but now based in London, the indie-pop artist has released three EPs: 2015's 'Lonely People', 2019's 'Why Am I Like This?' and 'Freckle Season.' She also co-wrote the BTS song '134340,' and her song 'Did It To Myself' was featured in the TV series Normal People. 
Gartland's songs have honest, almost confessional lyrics. "Please don't be so perfect right in front of me/I think of all the things that I will never be," she sings on 'More Like You.' She prefers writing about everyday details over epic melodrama, an approach that informed both her 2019 track, 'Inevitable,' and her next single 'Do You Mind,' which speaks to how self-contained and insular her work is. "To me, that's so much more sad than high drama," she says. "Just really everyday normal, slightly mundane things that you have and then don't have."
Her latest single, 'Zombie!,' talks about the frustration and sympathy that comes from being around people who don't express their emotions, and also the pressure men are under to conceal their feelings. The song is dynamic and unpredictable; the verses are almost bursting with energy, followed by a big pop chorus and delicate moments in between.
Gartland co-directed her last two videos, for the singles 'More Like You' and 'Zombie!," along with Greta Isaac, who does art direction for Gartland. The video for 'Zombie!' is more elaborate, with quick cuts and zooms reflecting the energy of the song. It also, naturally, features lots of zombies, but not your typical horror-movie zombies – "Somewhere along the way, they became these sort of zombie soft boys," Gartland laughs. The initial plan, she explains, was for the video to show her running from a group of zombie men, but she decided to change it following the murder of Sarah Everard.
"After the Sarah Everard case in London, me and [Isaac] went back to the drawing board," Gartland said. "We were like, It feels tone deaf to have a music video right now about a woman running from a bunch of guys."
What they ended up with served the intentions of the song better: Gartland helping the zombies instead. "I was trying to save them by allowing them to feel their own emotions," she says. "I really had this kind of mission about me and I was going to be this kind of punky, Girl Scout-type, self-appointed village weirdo, rescue ranger."
Not only is Gartland hands-on when it comes to her music videos, she also plays a big role in the production of her music. Gartland's tracks are pared back and every sound is intentional. They're minimal, but with dynamic and dramatic layering, in a way that mirrors the tightness of the videos. Gartland said that on a day where she was "reaching impressive levels of boredom," she started recording sounds around her flat and studio, a move inspired by Sylvan Esso.
"I probably looked really weird," she said. "I would just be tapping a spoon and being like, 'Ding!' and catching that. And like tapping on the door and catching that."
She took those sounds, manipulated them, and used them in place of drums in a couple of her songs. "I think that stuff is cool, because anyone can have access to all the sounds in the world now," she said. "But if you can make something that's original, no one else can really have that specific sound."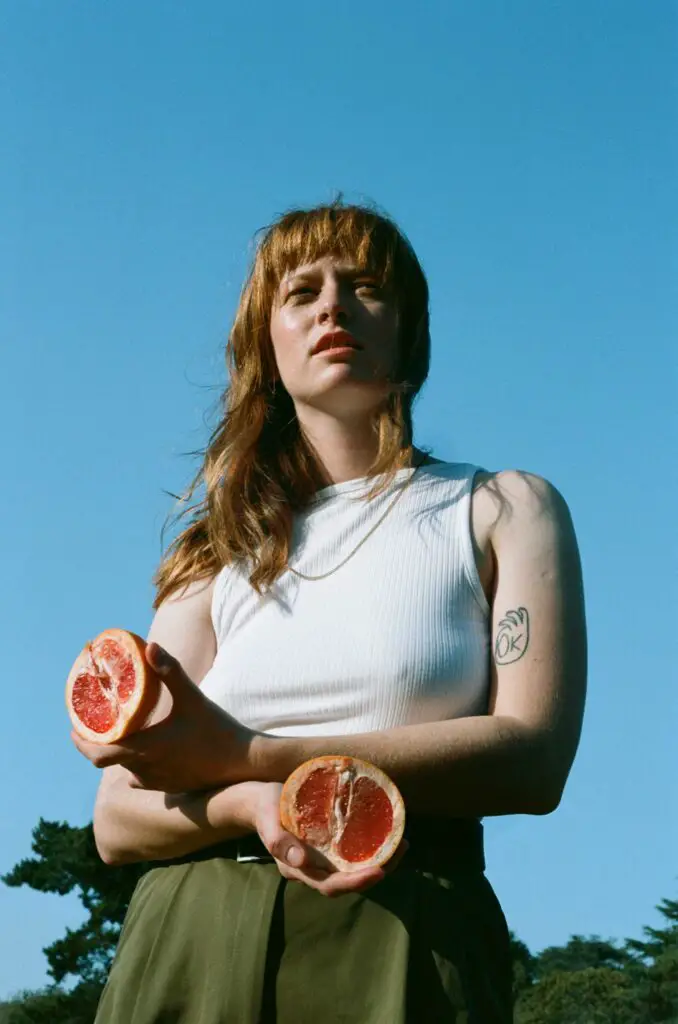 Gartland couldn't have reached that level of experimentation, without first becoming her own producer, a role more and more women are claiming, despite having done the work for years. Music production is an incredibly male-dominated space, even though, as Gartland points out, many women are producing – they just don't give themselves the title.
"I've definitely been a producer for longer than I've been willing to own that title or even introduce myself that way," she said. "Since growing into that role a little bit more and growing in confidence in that role, I've definitely enjoyed just geeking out on days like that."
When Gartland did co-writing sessions earlier in her career, others didn't really encourage her to take on a production role but she started on that path as a way to better execute her vision.
With so much creative control at such an early stage of her career, Orla Gartland's debut album is shaping up to be something uniquely and unapologetically her. We can't wait to hear more.