Nick Waterhouse is a man of many magnetisms, and the California native's fifth studio album 'Promenade Blue' (released via Innovative Leisure), beautifully captures the art of letting-go or "moving-on", in a way that marks a renewed sense of freedom. 
As the world braces itself for an unknown future to come, sometimes core-belief and creative chance is all it takes to truly, sit-back and enjoy the ride. In the words of Van Morrison: "You can't stay the same. If you're a musician and a singer, you have to change, that's the way it works."
"My aim with making records, and why I fell in love with records in the first place is that they're able to make you escape, without it being fantastical" says Nick Waterhouse having just returned from making a coffee; it's 10am his time and our chat's the first task of the day.
An artist who transcends both classic, and contemporary influence, Nick Waterhouse has deservedly become a soul-encompassing go to, for musical exploration – a characteristic charm that's fully exemplified in the gloriously anthemic, nostalgically rich 'Song for Winners', from his 2019 self-titled record.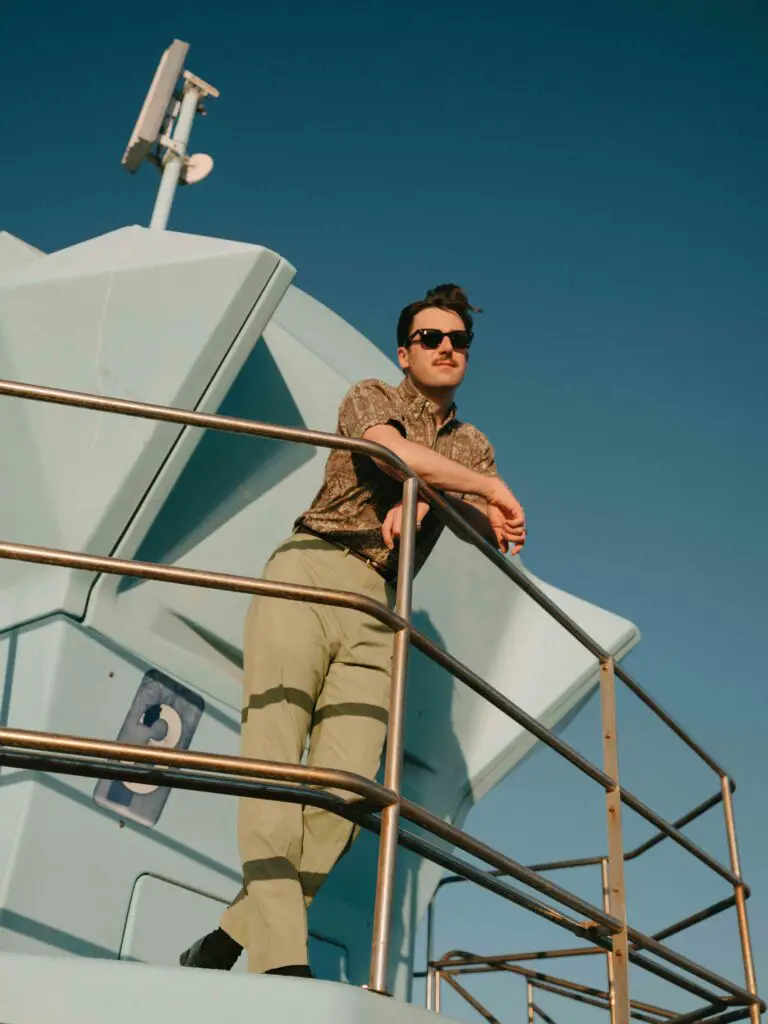 Where previous works subtly paired 'feel-good' with deadpan lyricism, a decade spent working as a self-described "real musician", meant that 'Promenade Blue' ('PB'), would manifest as an impressionistic observation of "people and places" which sits "a little backwards looking", ahead of its time; an accolade of Waterhouse's love for the traditional 45rpm format 
Recorded in Memphis, an "out-of-town" first for Nick, 'PB' was initially due for a November 2020 release but was inevitably pushed back to April 2021; a move which resulted in an enchantingly accidental, documentation of a pre-COVID existence which Waterhouse credits to his fascination with artist John Berger's, 'Ways of Seeing'.
"I adhere to his attitude and analysis of how material conditions affect how art is made" notes Nick. "When I work on records, I always believe in leaving 25% to chance – once I've built the perpetual motion machine, I try to leave it alone and let the direction go where it'll go." 
"I had all this momentum from the last album and I really felt like I was hardcore in the swing of figuring out how to get a record made every six-ten months" he continues. "When I work on a record in the studio I get tunnel vision [and] become unaware of the outside world… But every time I left the studio the outside world would get weirder… we were just trying to get the basis of a record complete."
Music has a way of uniting "notes of shared energy" and as far as communal tastemaking goes, Waterhouse's formative years spent working at San Francisco's 'Rooky Ricardo's Records' was a gateway experience unparalleled to most; which, when paired with the memory of his uncle's love for the Rolling Stones, resulted in his spending of lockdown in the company of Keith Richards' autobiography. "I didn't grow up a huge Stones fan but when I was reading that book he just made me feel like we would've been best friends when I was twelve. I identified with him much more than I thought I would."
Much like the Bluesy heart-strings of The Rolling Stones or Mose Allison (another hero of his), perhaps the key to Nick Waterhouse's timeless influence is his ear for combining the humorously authentic sensibility of 'The Blues', with the honest slapstick of Frank O'Hara.
"People perceive me as incredibly serious," notes Nick, "so I figured I'd ramp up the humour. I think having something that's both tender and deadpan in the same space makes everything more lifelike – and that's what music is to me." 
Having established his voice within the perimeters of traditional techniques – be it sharing an amp with his bassist to evade a backline, making his drummer play with "brushes and mallets to prevent him from playing loud" or, a legendary twenty email thread with his band and members of the Allah-Las on the subject of "things sounding better quiet" (it gets things swinging), Waterhouse continuously pushes the boundaries of musical encompass, to the 'nth degree. 
With an appreciation for shared-knowledge and vulnerability in creativity, conversation moves to the societal fear of appearing musically un-informed. "I don't have another genre of interest to migrate to" Nick acknowledges, "I get framed as a nerd or obsessive but I live for the group process of what making a record is. When it's working, you're tearing a hole in the space time continuum because the energy of all these people are aligning way more powerfully than the individual."
So what makes a Nick Waterhouse record quite so observationally human?
"Sometimes I feel my records are like Truffaut movies – they're a little loose and I set people up to do things in opposition to each-other. But, I know they'll behave in their own way and I'm just trying to accent how that will come across." – an exemplified sentiment from an artist who much like Truffaut himself, traverses timelessness, and whose work will only keep on getting more essential, when left to his own devices.
Nick Waterhouse's 'Promenade Blue' is out now