Creeper's multi-instrumentalist Hannah Greenwood was on stage on the Saturday of Download Festival in a wedding dress. On Monday at 8:00 am, she was back to work as an administrator at a maternity ward.
"It is a bit of a reality check when you come home, and then you've got to go back to work," she says.
Many musicians often have to take on side jobs to support their creative careers. This need has increased during the pandemic, as musicians who earn a significant amount of their income from live shows lost access to that revenue. As a result, some, like Greenwood, had to look for additional work.
"It was quite a relief to be able to get out of the house and go to work and communicate with other human beings that were in the same situation," Greenwood says.
Her bandmate, Sean Scott, started working for the NHS when he was 16, first in the kitchens, later as a theatre support worker and then a healthcare assistant, working in the intensive care unit before switching to the emergency department. 
"You're used to every day being different," he says. "It's the front doors to the hospital, so anything can come through. You can go from quite a mundane day to having some of the most ridiculous stories, and you don't know how humans have got themselves in that situation."
Six months after he began working in the emergency department, the pandemic started.
"For me, the stress came from anticipation and not really knowing," Scott says. "We kept hearing about waves, like the first wave, when is that going to hit the hospital hard?… What day would I walk into work and be like, 'Holy shit, it's absolute fucking chaos now?'"
Creeper are gearing up to release their EP, American Noir, on July 30. The work for both the EP and last year's album, Sex, Death and the Infinite Void, was mainly completed before the pandemic started but the band did have to do an additional session in November to finish up the EP.
Scott is part of NHS Professionals, a staff bank of temporary workers, which allows him to book individual shifts online and cancel them on short notice. It also makes it easier for him to go on tour than for Greenwood, who spends most of her holiday time working for Creeper.
"I think for musicians and anyone who has to earn a wage as a side earner or their main earner, so that their main hustle can survive, there's a lot of opportunities for flexibility, especially within the NHS," he said.
Dani Winter-Bates, vocalist for metalcore band Bury Tomorrow, also works for the NHS, alongside his bandmates: bassist Davyd Winter-Bates (Dani Winter-Bates' brother) who helps with vaccination programs, and drummer Adam Jackson, who works as an operations manager. Dani started working as an administrative assistant when he was 18. Since then, he's worked as a secretary, a PA, a clerk, a greeter, in analytics and various other roles. "I've worked every single administrative job you could ever possibly think of," he says.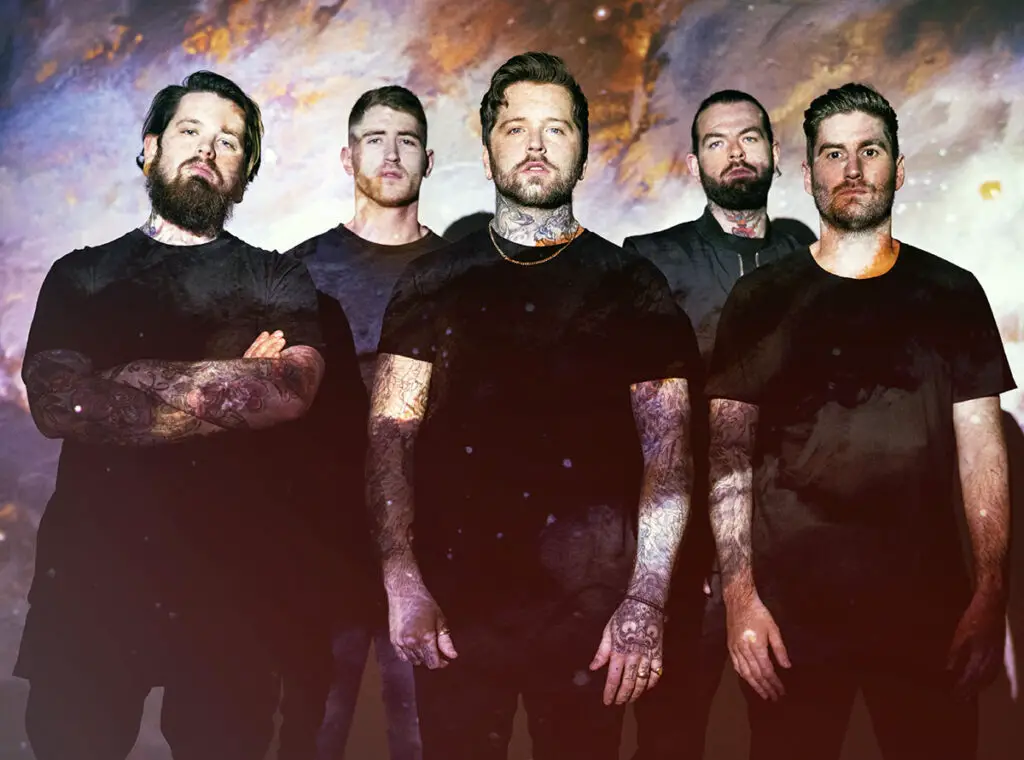 Winter-Bates started working on staff wellbeing, right before the pandemic started, "creating safe spaces for staff that were going through obviously, the most crazy and traumatic time that they've ever probably been through in their working lives." In September, he became a Freedom to Speak Up Guardian, helping to support staff with any issues they may have at work from discrimination and harassment to patient safety, as well as becoming one of the heads of wellbeing for six organizations this March.
"I was granted, luckily, a whole load more time," he said. "I wouldn't have been able to do the stuff that I did if I was functioning in a band at that time. It wouldn't have happened. And so I'm glad of it, to be honest, especially at that time that everything shut down, and I could really knuckle down and focus on something that I felt really, really mattered."
At first, juggling his band and his NHS job wasn't hard for him until he became more invested in his NHS job. "I think that's when the difficulty stepped up slightly more because you want to put as much effort into both," he says. Most of his annual leave goes into touring.
"I was always compartmentalised," he says. "I was like, 'Here's the band. Here's the NHS." like, 'This is Dani in Bury Tomorrow. This is Dan Winter-Bates in the NHS.' And it was always like that for years and I wouldn't overtly talk about being in the band."
That separation started to become difficult. "I wasn't able to be me," he says. "And I think I made a concerted effort to then move into a role that was about enabling people's lived experiences, about being an advocate for mental health, talking about it openly and honestly."
While writing the lyrics to Bury Tomorrow's 2020 album Cannibal, Winter-Bates was organizing safe spaces, where people could come for free and talk about mental health. It was at that point that he decided to address his personal struggles in his music in a more direct way. "I just remember thinking, every other part of my life, I've pulled together to be one thing, so I'm not having this juxta between stage me and NHS me, but the only thing I hadn't done is my lyrics. I'd always hidden stuff in metaphors," he says.
Winter-Bates values working for the NHS. "I really love working for the NHS. I'm very passionate about it, and always will be, and I always will work for the NHS," he says.
As for Greenwood and Scott, Creeper is their priority at the moment. "I think a lot of us always feel like touring's like [being] the Lost Boys from Peter Pan," Scott says, calling to mind Creeper's Peter Pan-inspired debut album Eternity, In Your Arms. "You never really grow up. Me and Hannah have to go and do these very adult jobs where literally people's lives are on the line. And then we get to go and be goofs and run around on a stage and be really theatrical."
However, they hope to continue to work for the NHS or at least return to it later.
"Both of us are now in positions that if we ever did decide to leave Neverland and grow up and want to do stuff, we've at least got this experience on our CV," Scott says.