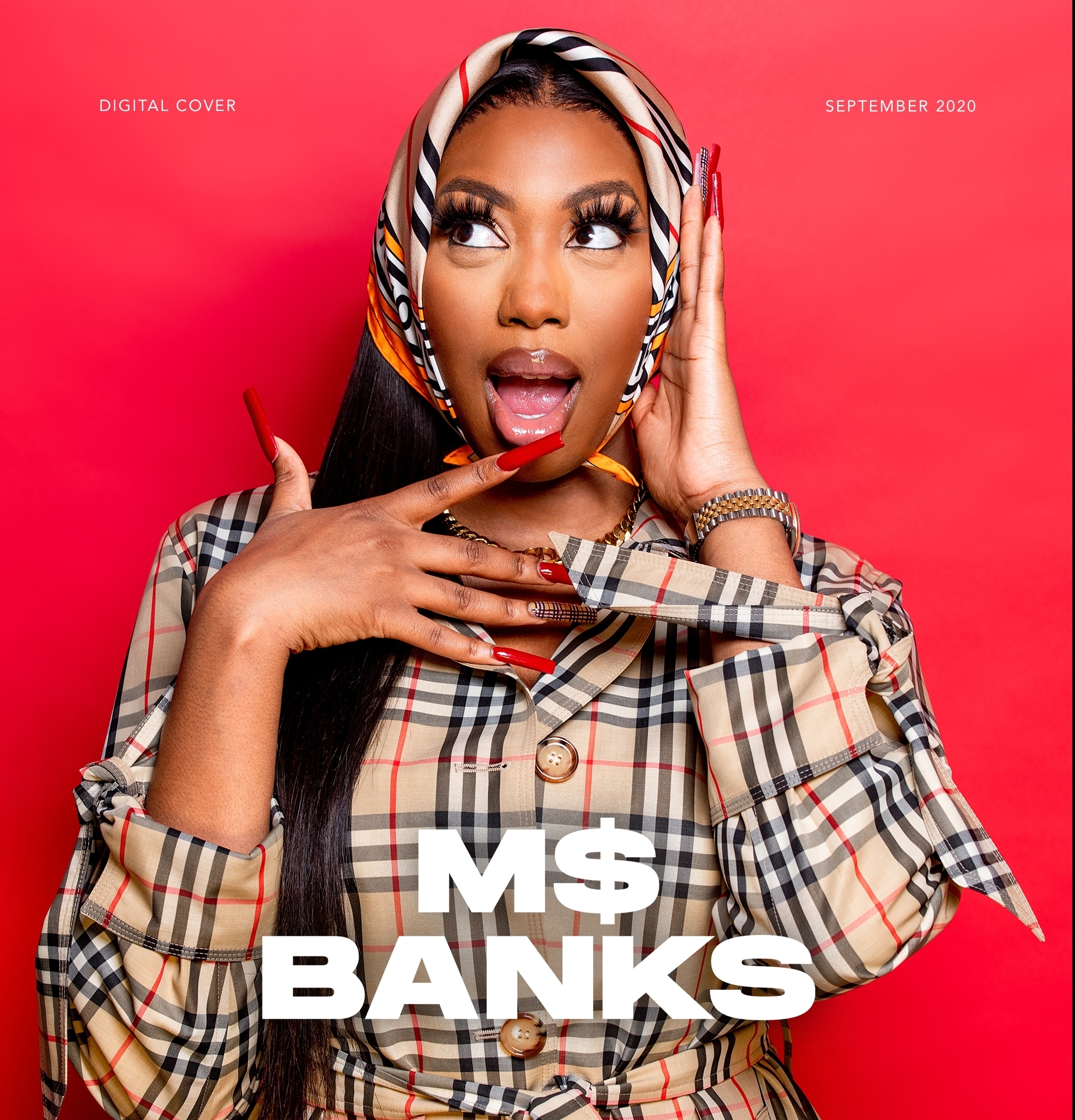 MS BANKS
---
Ms Banks is one of the fiercest names in UK rap. As she prepares to release a new project, we chat to the Cardi-and-Nicki-approved artist about female empowerment, self belief and why she's got south London to thank for it all.
Words: Natty Kasambala. Photos: Sarah Louise Bennett.
---
"Burberry, baby!" Ms Banks says with a gentle chuckle. She's just finished shooting her first cover shoot for The Forty-Five, one that sees her draped in the signature tartan that symbolises a new era for the rapper: regal, classy and an absolute boss. Born Thyra Oji, Banks, despite being a high-energy, braggadocious MC, is softly spoken and notably calm away from the mic.
Set to come before the end of the year, even the name of her upcoming project 'Banks Statement' is purposeful: "To me, a bank statement is like proof. It's the proof you use for bills, when people need to know how much money you're making, all that… and I feel like this tape is going to be the proof for me. I'm making a statement and showing you that I'm here to stay."
And though she can't say too much about it – lockdown has meant the rollout is still a little TBC – the laser-sharp focus is clear on the tracks we've heard so far, a clear statement of intent that the 26-year-old south Londoner can match the energy of any of her peers: "I don't feel like I'm better than anyone because I believe in humility but I think that I'm chosen to do this."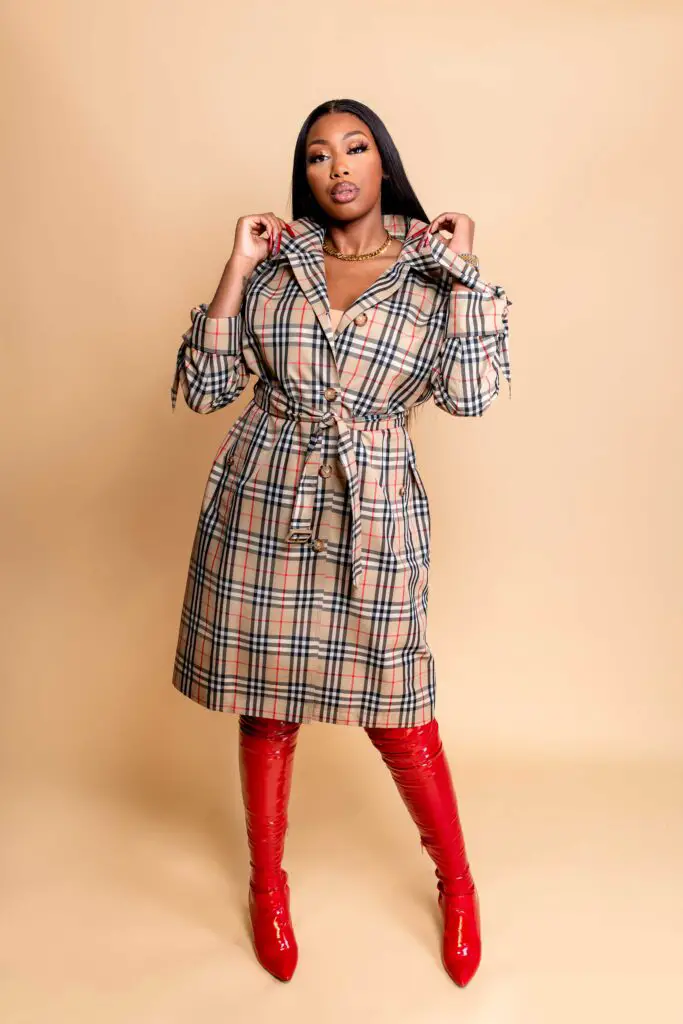 Throughout our chat, Banks alludes to, but deliberately does not dwell on, the past. It's more akin to a mine she harnesses only as a reason to keep pushing forward and to gain perspective, "I've been through so much and I'm still here standing, being me, being honest."
At the start of her career, she explains, she was living independently and yearned to secure that sense of stability: "I remember saying to my friend you know, I wanna get my house, get my car, basically I wanted to be really settled before I started [making music]. Because I was living by myself at quite a young age, I was living in a hostel when I was 18."
Born and raised in Camberwell on Brandon Estate, she began writing lyrics at the age of 11. But it was only later, on the brink of adulthood, that she knew she wanted to pursue a rap career. Once settled on a plan, in her head success was kind of a given. "To be honest before I started I thought it was gonna be a breeze. I thought I was so sick, I'm gonna come out and blow up straight away, no longting." But the cloud of naivety didn't last long, she tells. "And then as I started I realised OK, it's not really like that, it's a lot of work and there's so much more to it than just being able to rap good."
But rather than lose confidence, Ms Banks got stuck in with it all – from viral freestyles and TikToks to an impeccable rotating wig game – she's excelled at everything she's put her mind to, all tackled with an unparalleled work ethic. And it's worked. For the last three years at least, she has been omnipresent within the UK rap and pop scene as well as internationally in the US and Africa, working with the likes of Tinashe, Juls, Little Mix, Naira Marley and most recently The Streets, alongside dropping her own long-form projects on an annual basis.
Banks has established herself as one of the most exciting and consistent rappers in the UK today, "I get a lot of good opportunities so I just try to balance it out but I like to stay busy," she says. "Naturally I've just got a lot of energy and I love what I do." One of her favourite recent collaborations is with Nigerian rapper Falz on an infectious party track called 'Bop Daddy' which she dubs "a big tune." Her ability to seamlessly blend her diasporic influences into something fresh, enabling her to become one of the main voices of the Black British ascent into popular culture. Her own single 'Snack' featuring Kida Kudz soundtracked countless parties and coined one of the most prolific Instagram captions of last year.
The present state of the industry only makes her more excited for the future too, citing the success of Dave and Fredo, Stormzy and Nines' bagging a No. 1 album just weeks prior: "Imagine, the most people in the UK are listening to the Nines' album. Out of everyone in this country that's listening to all of the albums!" She pauses for just a second to emphasise the significance of that. "Everyone is living their truth and still being supported and doing the numbers. The more people break through and push these boundaries and top the charts, the more accessible they're making it for us. It's nice to see, the power is in our hands."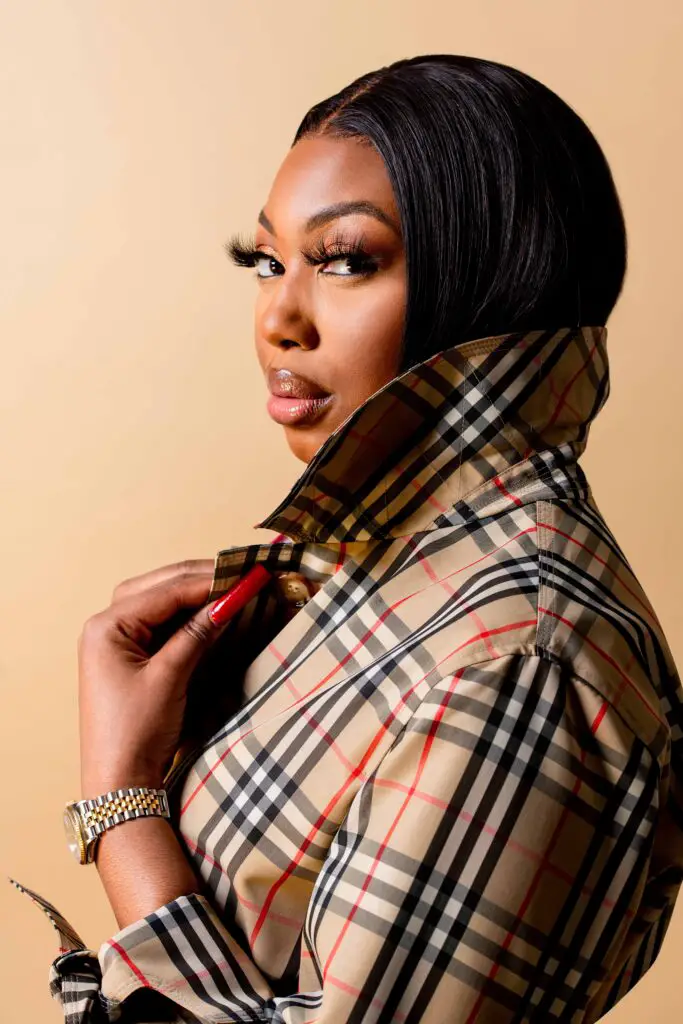 And her own promise has been recognised internationally too. Having supported and garnered fans in two of the biggest rappers in the game today, Cardi B and Nicki Minaj, Banks speaks highly of both: "Cardi B is the same Cardi, she's very raw and I love that about her. And Nicki was amazing, she's someone I've looked up to for so many years. She's just a star and I'm glad I got to be in her presence."
She's attuned to the current movements in the US rap scene with regards to women taking up space and winning, citing Alabaman rapper and resident Mean Girl, Flo Milli (Banks' soundtrack of choice for our photoshoot) as one of the artists she's most excited about at the moment. In fact, in the wake of the controversial storm that surrounded Cardi B and Megan Thee Stallion's global smash 'WAP', it's hard not to draw parallels with the power of reclaiming female sexuality within Ms Banks' own work. 
On her latest single 'Novikov', Banks flips the table on gender norms as she raps about taking her man out for dinner at the expensive restaurant in Mayfair, before bringing him home, in her own words, "just to eat the box". The equally punchy visuals see her performing powerfully atop and around fine-dining furniture, encrusted in diamonds and styled immaculately. She finds the unimaginative, misogynistic resistance to her sexual expression perplexing, as any forward-thinking person would: "I just don't understand why. Why can't I? Maybe I'm not attractive to you, or you don't think as a woman I should say how I feel, why is that? I really don't get it."
Another layer to peel back is that Banks is the child of a Nigerian father and Ugandan mother, raised in what she says she would definitely describe as a traditional African household. Based on the information provided and drawing from personal experience and anecdotes, it feels near impossible to picture her parents co-signing music of the nature we're talking about. And so I ask about the cultural tension between freedom of expression and living in a word where your parents will inevitably hear you rap about cunnilingus. She admits, "I still feel that till now. But I just want to be free in my music. And obviously with due respect, I'm an adult. If I want to tell a man 'eat me up, f*ck me good, suck my toes', I'm gonna say it."
Circling back to the more general reception, she adds passionately: "But in the same breath also, that's not the only side to me. When you have a song, you only have a moment, so you can't really say all the ins and outs." Explaining further, Banks says she's not necessarily advocating for one night stands or reckless behaviour – although if you're into that, that is your business. "People just start to feel like because you're talking about sex or you're proud of your body, they just disregard everything else."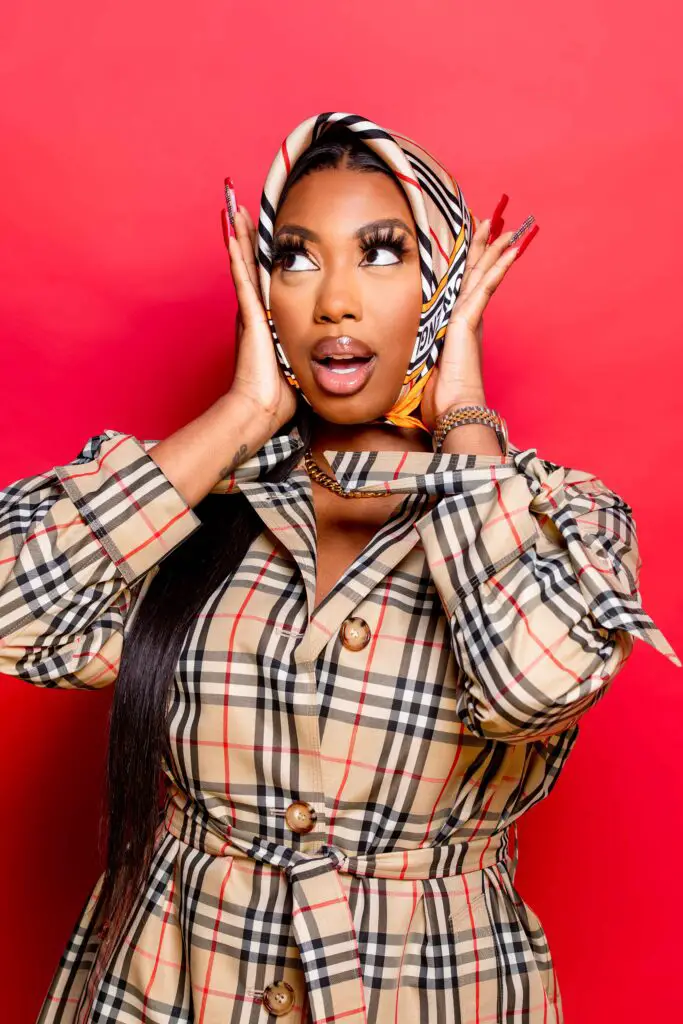 In actuality, while Ms Banks' music is dominant and unabashed, her songs are more of an outlet for the things left unsaid on a day-to-day basis: "Music is the place where I'm allowed to express myself, I don't get to say things I want to say on every normal day." The important distinction here being that being overtly sex-positive and commanding in your public persona does not automatically translate to the same exact energy in private.
She cackles a little incredulously as she confesses, "I don't think I've ever said to a guy, I want this or do that. Nah, never…" On why that might be, she contemplates for a minute, "I feel like it's hard to demand stuff from men, but I do think every woman should be satisfied." In many ways, her transgressive lyricism is Banks' attempt to manifest and normalise that behaviour for women. "We're in the same boat," she exclaims playfully, "I'm just saying it so you don't have to!"
Her position as a beacon of representation is not lost on her, in that sense and in more: "It's always been my job to empower young, black women." And she reckons – rightly so – that she's doing a decent job of it.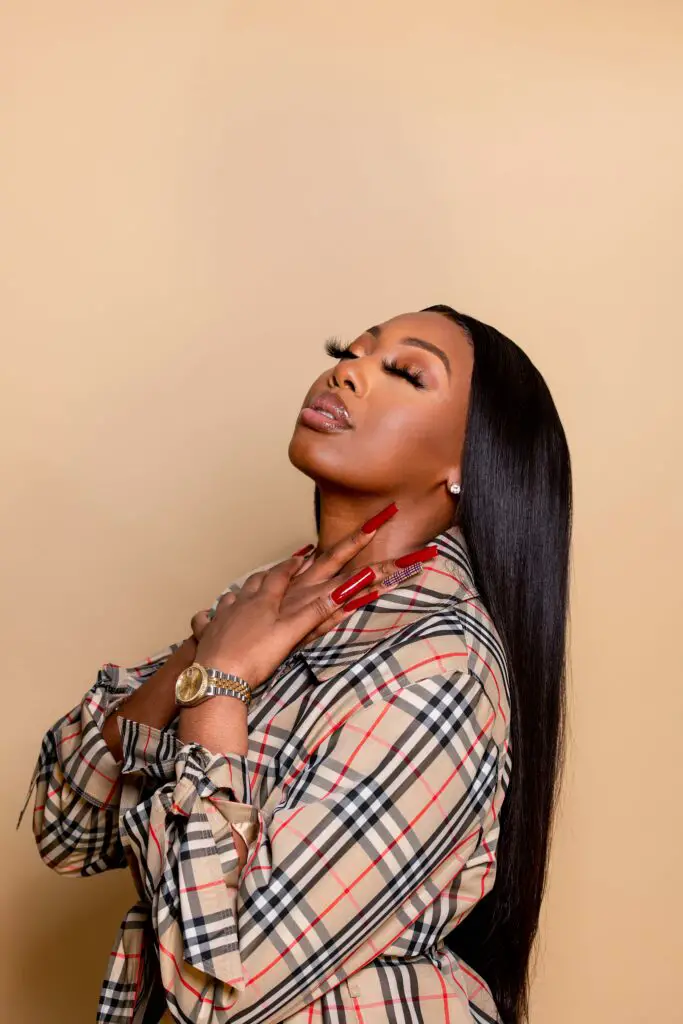 "Just to be able to see me, knowing that I've come from south London and I could have been a statistic, I've been through struggles but I'm still chasing my dreams. I still love myself, I'm still confident in myself and hopefully that gives you the drive to go for whatever you want to go for in life."
Banks is also clear on what she'd tell her younger self if she had the chance to: "Just don't listen to the outside world, you know? Sometimes people are not gonna believe in you but you need to keep believing in you." Standing tall at around six feet barefoot, ("I was 5 '8 when I was 12"), there's an inherent prowess to the wordsmith that makes it hard to imagine she ever had doubts. When asked how much of her energy as an artist she attributes to growing up south of the river, the answer is short and sweet: "All of it." She repeats the three words twice more before unpacking.
"The street-wise, the hustle, my taste in food, in men, all of that," she lists. "The swag, the way we talk, that's all south London. I feel like there's a little side of me that's really soft and calm and nice, and that's something I've naturally had in me since I was a child but everything else? Everything else is south."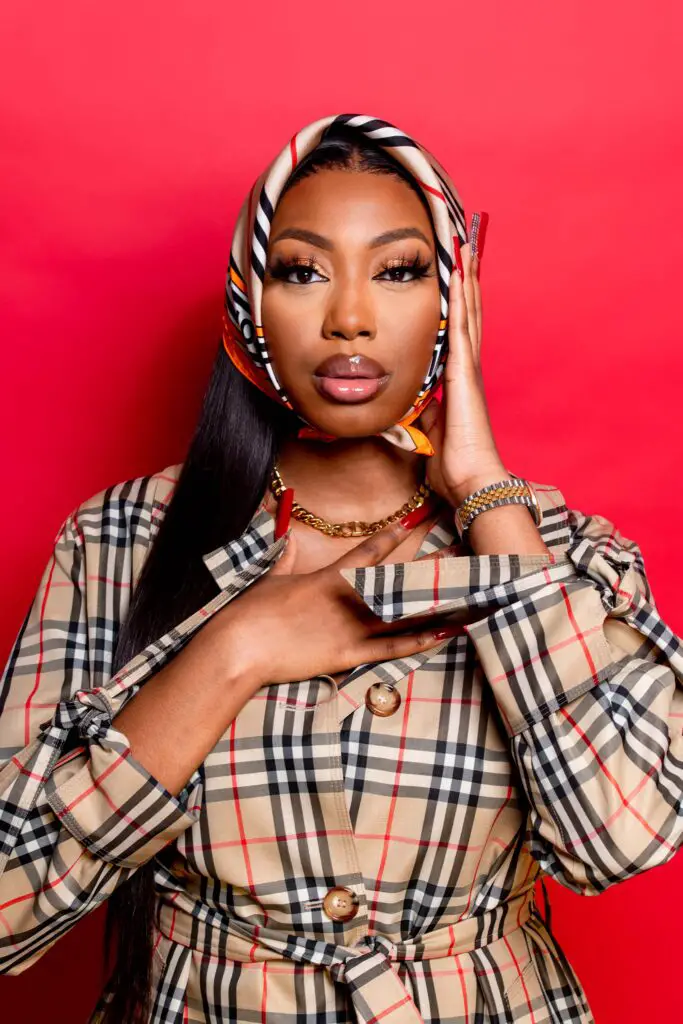 Running down her favourite things about growing up there, number one is being surrounded by her family, runner up is Bagel King, and third place is just the sheer amount of talent: "It gives you that drive to go hard because you see so many people from the ends blow up for all these different things, whether it's music, football, or other friends in politics and doing work with the community."
That southern drive is what led her to jump straight in and chase her own goals, though that wasn't always the plan: "I wanted to get all my stuff sorted before I became a rapper, so I could flex! Which actually didn't happen but I'm glad I didn't wait for that."
Instead, working towards music consistently for the past six years, is what allowed her to sustain herself and even reach beyond her field of vision: "All the way through, every year I grow and I blossom in so many ways. Not only just how I look – I'd like to think I've glowed up – but mentally, spiritually and physically, I've grown. When I look back I don't even know how I had the confidence to do the things I had been [doing]."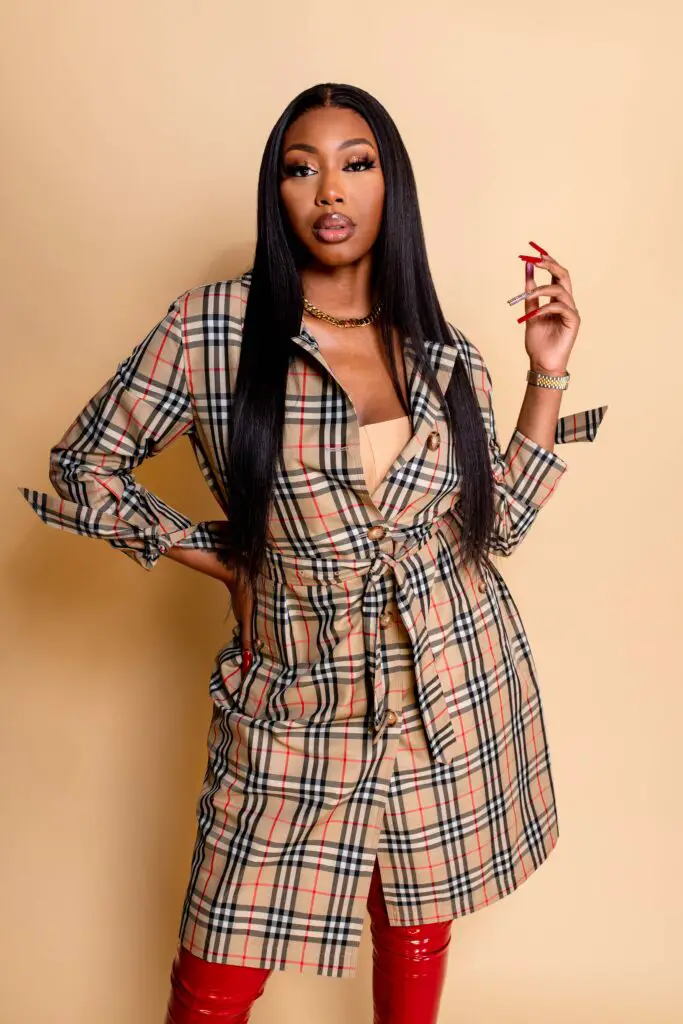 Yes, she notes, her teeth are a bit straighter now, her lace-fronts are a touch nicer, she's got trained professionals to beat her face too, but ultimately, it's an unspoken conviction that comes with experience, and that will continue to multiply ten-fold as she career progresses even further. That's part of what makes her journey such an invigorating one to witness, as well as the beauty of living in the now.
"I don't think you should ever wait until you're ready. Just go for it. If there's something you love and you know it's something that's gonna make you happy, go for it. Even in the smallest of things…" she pauses here mid-flow to check if she's talking too much before being encouraged to continue. "OK, say for instance, you want to start a business and you know what your business plan is but you don't have the funds for it, you should still start your plan. Because when the funds do come, you already have the plan to back you up. What's gonna be annoying is if someone pops up and they can fund your dreams but you don't have a plan. A lot of us are waiting for that cheque, waiting for that confidence, waiting for, I don't know, we're just waiting!" She laughs briefly before concluding, "I just want people to understand that you don't have to be perfect to pursue your dreams. You just have to feel the fear and do it anyway."
It's in moments of advice and big discussions about life that Ms Banks is at her most animated, speaking passionately about strength as a necessity – not a choice. Her aura resembles that of a secure and knowing friend who genuinely wants the best for you – whoever you might be – and hopes that in some small way by her fighting through her own pain to live her most authentic life, freely, that you might be inspired to do the same.