"For years, I have been in this mindset of 'I will pull through anything – I'm tough,'" Karen Marie Aagaard Ørsted Andersen says over a Zoom call from her home in Copenhagen. "And that's fine, there's a part of me that's 'tough' but there's also a super vulnerable side and I think in order to function properly, or at least give the best that I can, I need to have both sides present."
The Danish singer-songwriter and producer, known more commonly as MØ, has had a whirlwind few years, beginning with the success of her debut album 'No Mythologies to Follow' in 2014. The following year saw the arrival of her massive Major Lazer and DJ Snake collaboration 'Lean On', which was named by Spotify as the most-streamed song of all time, eventually overtaken by Drake. But with 'Lean On' and the numerous collaborations that followed, as well as her own releases, life seemed to be in pretty constant motion for a good number of years. 
On the day of our chat, Karen is eagerly awaiting the release of her third album 'Motordrome'. She has her newly dyed bright red hair tied back under a cap and seems comfortable and at ease in her surroundings, as she elaborates on the trying period that preceded the recording of the album. For so many creatives around the world, the forced pause caused by the pandemic was both a blessing and a curse – the latter for obvious reasons but the former, in occasionally more niche and unexpected ways. 
"For many, many years, I've been travelling and working non-stop," Karen reflects, "and I think for the last three years before I took this break, it was just like I had been running from myself a little bit. I knew that I hadn't really checked in with myself for a while and that I was changing, but I wouldn't really admit it. The result of that was that I had this experience of burnout and panic attacks and my voice was broken. It was like hitting a wall, I guess."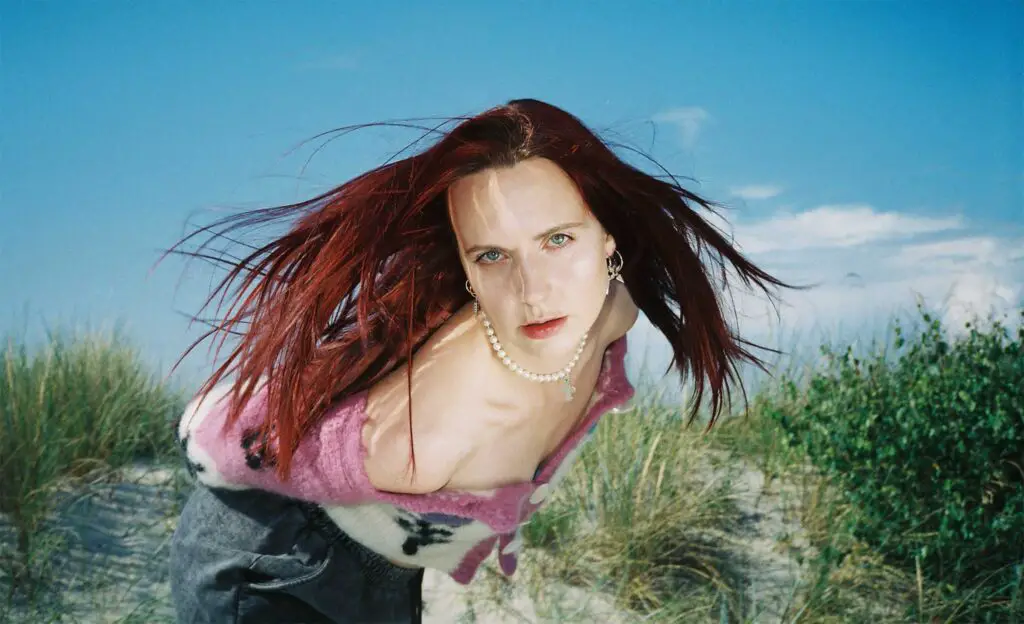 Admitting that she felt a bit defeated as a result of what she was going through, Karen explains that this in turn led to the beginning of the whole album process for 'Motordrome' and the realisation that she needed to stop in order to continue in a meaningful way. "I've had some really busy years but I think it's important to say that I was loving every second of it. I just wasn't checking in with myself. It was such a rush and I think that's also why it wasn't possible for me to stop because I was like, 'I'm literally living my dream, just keep going, I don't want to stop!"
Her return to Denmark and the arrival of the pandemic ultimately gave her the space she needed to reconnect with herself and digest everything that had been going on in her life. And a big part of that was giving into this vulnerable side that she had suppressed for so long due to the nature of her career and the need to remain "tough" through it all.
"I think it definitely represents me in a pretty true form when I was going through these things," Karen notes when asked about the making of 'Motordrome'. "It was also a little scary to be so vulnerable, in a way, but I also believe that you can find great strength in being vulnerable, and daring to go into those subjects."
'Motordrome' is an album that encompasses MØ's trademark pop brilliance while taking things to a slightly darker and more personal space, both sonically and thematically. It's also an album centred on Scandinavia, due to the influence of her surroundings in the Danish countryside in her writing and also the contributions of the mainly Danish producers that Karen found herself working with, instead of her usual collaborators in LA.
It's a record that soundtracks a very specific time in Karen's life, while also traversing familiar and relatable themes like patriarchal power structures, ritualism, renewal and self-forgiveness. But in its make-up and overall storytelling, it additionally depicts something that so many have faced, especially over the past two years; burnout, exhaustion and general self-doubt. As Karen explains, the album's title is a nod to this.
"When I stopped touring, or when I had this realisation that I needed to take a step back and figure it all out again, I was experiencing my brain and my thoughts spinning around in loops and going so fast," she says. "I was talking to my mom about it and she said that it made her think about what they have in circuses, ​​the 'dødsdrom' or globe of death in English. I just thought it was a really cool word but then I realised, it does describe how I'm feeling right now and it's a good image in terms of how I have been feeling over the years."
It's a very common and often talked about state of being; that if we stop for any amount of time, everything will suddenly disappear. "I think a lot of people who are successful or on top of things feel like they need to keep going," Karen adds, "and it's fine to keep going for a while. But it made me really think that it's so important to not work from a place of fear, but to work from a place of excitement. That it's okay to be insecure, but just be honest about it, maybe to yourself most."
The album's lead single 'Live To Survive' provided the first taste of the new record last year; producer S.G. Lewis providing an element of disco to the track's fiery soundscape and message of empowerment. "I think 'Live To Survive' was the first song I wrote for the album where I was starting to get this feeling of 'no, I'm not going to let this bring me down. I'm going to get through this. And I will turn this sadness into power – this will make me stronger'. That was the feeling that I needed to express and I thought that it was a nice way to start the album campaign."
As well as hinting at the album's overarching themes, 'Live To Survive' also highlighted the musical direction of this new era of MØ. "I rediscovered my love for dark 80s-inspired synths and guitars and kind of sad, but uplifting pop songs," Karen says of the album's musical influences. "I think it fitted my mood as well and the kind of vibe that I was in. I wouldn't say it's a spiritual album, but it's about connecting with your inner flame in a different way which just allows you to enter a bit more of a magical world."
The Ariel Rechtshaid-produced 'Kindness' followed 'Live To Survive' as the next single, a track that Karen felt was important as a thank you of sorts to her fanbase. "It was to honour the idea of community and people building each other up because that was one of the things that I found when I stopped working all the time – the power of social network and community. I always knew this, but during those years when I was just working all the time, I forgot and I didn't prioritise it enough. [My fans] have been there for me through everything and they're just so kind, supportive and inspiring. So I really wanted to write a song that talked about that."
The fans' reception of this album is important to Karen, perhaps more so than on previous projects. "One of the things that makes me really happy is that people seem to say that they really feel like they can feel me in [the record]. I think they find it authentic and that means a lot to me," she explains. "Not to talk badly about [previous album] 'Forever Neverland', because that was just a different time in my life, but I was a bit more distant from myself in that album. And so for some reason, it just makes me super excited to hear that people think that I seem a bit more present in this one."
Now that the album is out in the world, Karen will be looking ahead to when she's finally able to share 'Motordrome' with her fans in person. She has some dates coming up in February with Imagine Dragons, followed by US dates in April and then UK and EU dates in May which she's especially excited about since the latter had to be postponed due to increased COVID restrictions.
"It will happen, but it's that thing where my brain almost doesn't understand that it will actually happen. I don't think I'll understand it until I'm standing there. But I'm so excited because playing live – that's really when the songs come alive in a new way. And it's like, I understand my own words and my own songs better when I see people reacting to them in a live setting."
"I am very hopeful and positive," she continues. "I think that's just maybe a choice that I have taken to be honest. We're still in a pandemic but I'm taking it day by day. I'll keep myself positive until further notice."