Not many of us wake up each day in the blissful Provence countryside under a roof adorned with Renaissance paintings of naked angels playing trumpets, however, that is exactly where Laurel finds herself. Not only is she blessed with the most idyllic rise and shine imaginable, she is also one of music's most exciting breakthrough acts. Some people truly have it all.
After a relocation from LA to France, where she lives with boyfriend and creative partner, Elliot Arndt, of avant-garde duo Faux Real, the British-born artist is switching up her sonic style as well as her home base as she prepares to release her electrifying new EP 'Petrol Bloom' this week.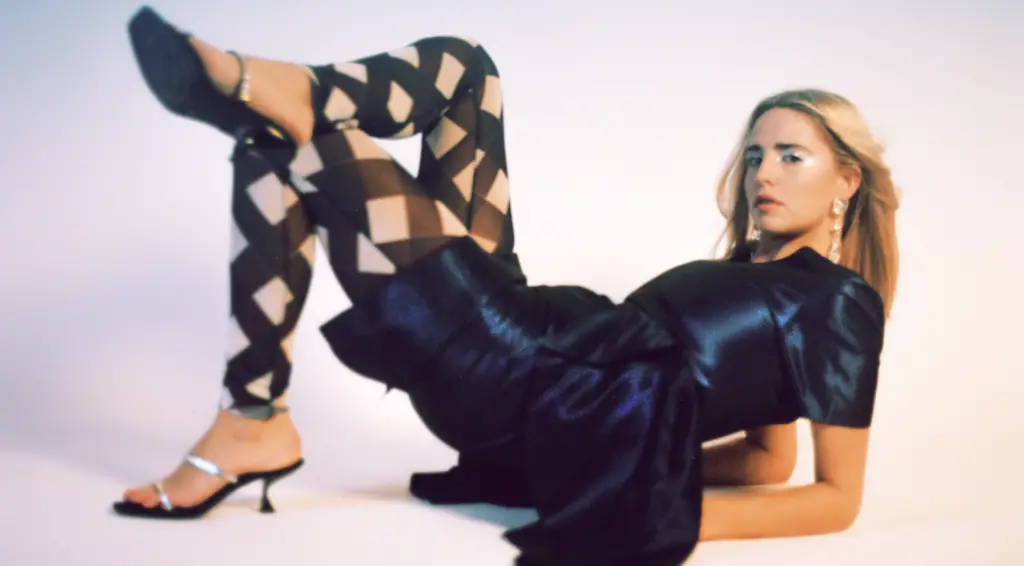 At 26, Laurel is no stranger to the music industry, having performed professionally since she was seventeen. "I've always loved singing", she reminisces, "I think there was a classic Britney moment when I was four years old and I was like 'Oh my God I wanna be her!'. As I grew up, that evolved, but singing is all I ever remember wanting to do".
Although the days of perfecting the 'Oops I Did It Again' dance routine in her bedroom are far behind her, Laurel's love of pop never faded. Over the last few years, she's cultivated a career with a blossoming discography that reads like her diary entries; personal and artistic growth evident with each release.
"I find making music to be very cathartic, especially if it's to do with unrequited love", she smiles, "If I've written a song about somebody and we weren't ever together or it didn't go anywhere, it's been so nice to let that out into the world without actually having to tell that person, knowing that they're probably going to listen to it. There's something really special about letting go of these emotions that you wouldn't usually say out loud and instead of hiding it, you just tell the whole fucking world".
After the release of her debut album 'Dogviolet', which she wrote, produced and mixed, Laurel began to push herself out of her comfort zone, yearning for something colourful and striking that marked a new creative direction for the singer-songwriter. The fruit of her artistic endeavour arrives this December in the form of 'Petrol Bloom', an EP that feels like the cooler, wiser older sister of the previous.
The first of a two-part release in collaboration with producer Chrome Sparks, 'Petrol Bloom' is a far more exhilarating, cohesive offering that shows Laurel at her finest, with tracks such as the 80's-esque 'Scream Drive Faster' and the stunningly synthy 'Best I Ever Had' proving her transition from indie sweetheart to slick pop star.
"I played around with the name [of the EP] for quite a while, and the original name was inspired by a Charles Bukowski poetry book called 'Burning in Water, Drowning in Flame'. I decided to take the idea of fire and water from the title, and there's the idea of perpetual bloom; to me, that's the fire but in a more artistic way of saying it, the bloom was an important word to have on there as I've been blooming to myself, both as an artist and a woman, for a while. My first album was very organic and produced in my bedroom so quite unpolished, but I still think the songs are similar. It's still Laurel; it's very story-like and depicts my life in the same sort of way, but we've taken it to a new world, sonically".
Not just one to exhibit her life through song, Laurel released her first book as an accompaniment to 'Dogviolet', aptly named 'The Mutterings of a Laurel'. An excerpt of several diary entries which she scribbled throughout the process of writing and recording, they are a whimsical insight into her inner workings, and she teases at a second edition to coincide with her upcoming EP. "Exploring other art forms keeps me feeling sane. Music is so fun and I love it, but there are definitely times when something you do every day and rely on to make money can sometimes become quite stressful, especially when there's pressure involved usually just from myself. I think with my book, I found another outlet that was pure creative expression, so I'm super keen to keep finding more outlets, and at home I do a lot of things that I might not release. It's fun to keep trying out new things and exploring new avenues".
As the day of 'Petrol Bloom''s release grows closer and the second of the couplet due early next year, what can we expect from Laurel next? "I just want to keep making music! I'm releasing this EP and then the other EP, and eventually it will be album two and I'd also like to release a new book. I just want to keep creating, and as long as I have the money to do that, I'm going to be very happy".
'Petrol Bloom' is out now.
Like what we do? Support The Forty-Five's original editorial with a monthly Patreon subscription. It gets you early access to our Cover Story and lots of other goodies – and crucially, helps fund our writers and photographers.
Become a Patron!