Loyal admirers of Khruangbin, the three-piece band from Houston, Texas turned burgeoning global phenomenon following their 2015 release 'The Universe Smiles Upon You,' rarely agree on how to classify the band's genre. This suits the outfit just fine, who attribute their amalgamated sound to the various influences they absorbed in their sprawling hometown metropolis.
Mark Speer, the band's guitarist, describes the Houston he grew up in as having a healthy underground scene. He darted between punk, metal, noise, and funk circles, taking in as much of the musicscape as he could. Laura Lee, the outfit's bassist, spent time in "not-up-to code venues", taking in stoner metal musings – a period of her life she describes simply as "sweaty." Meanwhile, Donald Ray "DJ" Johnson Jr, Khruangbin's drummer, felt most at home in Houston's gospel world, digging for funk and R&B records in his spare time, and occasionally catching sets at The Red Cat Cafe, a favorite venue for local jazz musicians.
But their musical worlds collided in three places. First, there was their shared respect for local Beatles cover band Beatle, which played (and still does) high-energy sets for equally manic and eager crowds every Thursday at Houston's The Continental – where Lee once bar-tended. Then there was St. John's United Methodist Church, where Speer and Johnson first met, a particularly critical crossroad, as the eclectic church scene – which attracted high calibre musicians (including Beyoncé) from across the city – acted as the nucleus which allowed very different artists such as Speer and Johnson to converge. And finally, their quiet, easy consensus that their music, and music in general, just "is".
Indeed, if someone were to draw a Venn diagram of the band's early influences, which ranged from experimental and gospel roots to traditional Thai music and West African rhythms, it would rapidly start to look a lot like the scribblings of an insane person. Each member metabolised the music they had found, and boy, had they found a lot. Yet Khruangbin somehow comes together, like some sort of futuristic machine, where a patchwork of sounds is stuffed in, and something highly original is churned out.
How does it work? Their friendship is what binds them, according to the band, and has done since the beginning. Bassist Laura Lee, the band's de facto figurehead, was all but a novice when Khruangbin first formed, and it has made all the difference to hone her craft around such like-minded people as her bandmates and other long-term collaborators.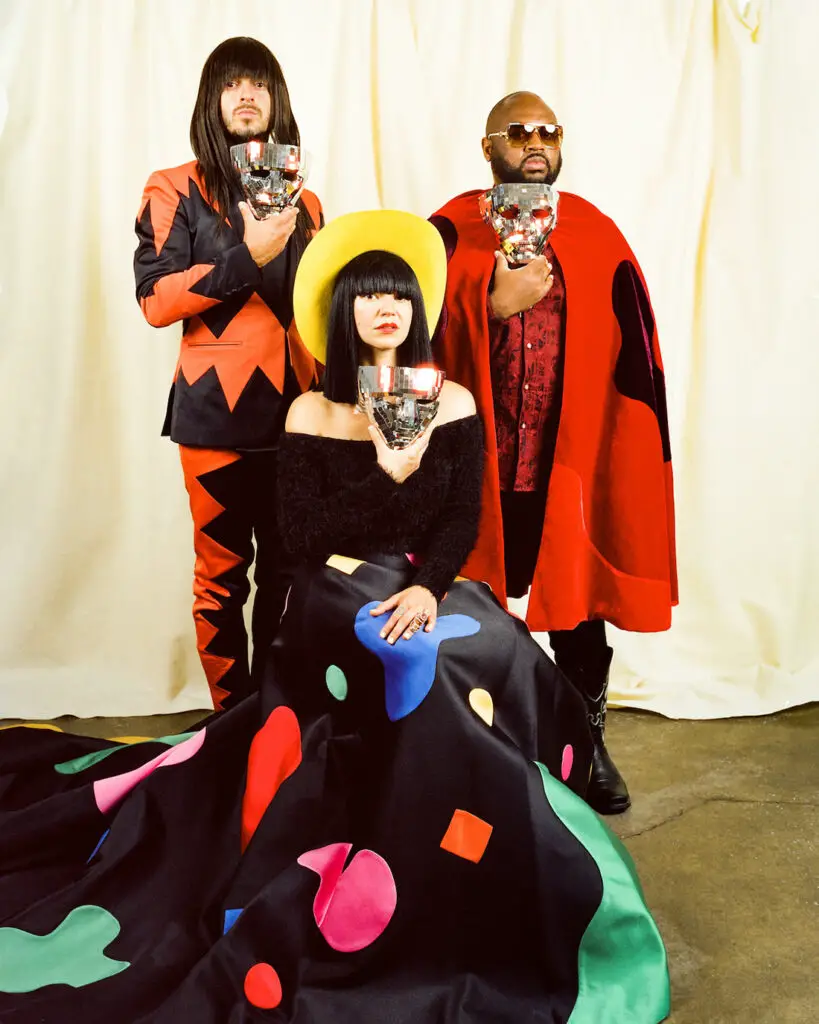 "I found the friendship, then I found the band," says Lee. "At least for me and my own relationship to Khruangbin, I get to see my evolution as Laura Leezy (her stage name). Not only as an artist but as a player. Right now we're rehearsing our new songs which are more complicated than our old ones. If I look at the evolution of my basslines, I can see how sweet and naive my first ones were, now that I play more complicated things. I know in writing this last album I wanted to make them more complicated because I wanted to be more advanced. It's all equally great, but I love to see that happen, and how the friendship between the three of us has allowed me to flourish as an artist and human."
This long-cultivated sense of personal and artistic trust underpins the band's latest endeavour, 'Mordechai Remixes,' a remix compilation of their 2020 album, featuring artists like Kadhja Bonet, indie-soul creator Ginger Root, house legend Ron Trent, Harvey Sutherland, and Soul Clap. The remix also provides a satisfying cyclicality for a band that got their start back in 2014, when D.J. and producer Bonobo made his mark on the artist-curated album series 'Late Night Tales' (from the independent imprint Night Time Stories) and an as yet unknown Khruangbin appeared on the lineup by way of their single, 'A Calf Born in Winter'. The track quickly gained a momentum of its own, putting the band on the radar of the masses. 
As a famously insular band that nurtures long-standing relationships with collaborators, such as with sound engineer Steve Christensen – and the mythologised barn where they have written and recorded the majority of their records – they weren't going to hand over the reins to this project without some deep thought.
"It's like a family. I think there are certain things you want to explore outside of the box, but if you have people you love and are loyal to them, you go farther with people who have your back," says Lee. 
With an eye towards exploring more uncharted, electronic territory, but most importantly tapping people they have long admired, the band released the stems to the chosen few, and then "let the artists be artists."
"When you hand over your stems and your raw tracks, it's like you're being exposed," says DJ. "You're giving people access to move things around, and hear any mistakes you might have made within a take. The comfort comes from choosing artists and remixers that we like. We love what they do and their sound and we want to see what they come up with."
One of the first tracks they received back was from Kadhja Bonet, whose reimagining of 'Father Bird, Mother Bird' provided immediate reassurance to the band that they were on the right track, in that it was nothing like they had expected. As musical collagists by nature, that's exactly what they were after.
"We never imagined the song being taken in that direction. I don't know if she even used the stems, she did her own beautiful thing. And that's what you get when you work with different remixers and that's what you want," explains Johnson.
The visual aspect of this release was its own collaborative affair. The cover artwork was a dual effort between Speer and Argentinian painter Paula Duró, while the gatefolds were designed by Lee, which she created as "thank you cards" to each artist who took on the project – a final personal touch befitting of such a hands-on band.
Khruangbin now have an extensive North American tour before them which looks a lot like their pre-pandemic life-the road dogs were almost perpetually on the road the last few years, to the extent that Speer would have welcomed the break afforded by the lockdown if the circumstances had been less world-pandemic-y.
"This certainly wasn't the break I was hoping for, but it was a break. I would have loved to be with my stuff and make music holed up in a cave, as I do, but when the lockdown hit I wasn't."
With festival sets at Newport Jazz and Bonnaroo, plus multi-night stands at Stubb's in Austin, Red Rocks in Morrison, Colorado, the Greek Theatre in Los Angeles, and the Eastern in Atlanta, all of which have already sold out, the band are looking forward to getting back to live performances which they are known for giving their all to. Still, for them, nothing compares to time spent in the studio.
"There's something so beautiful about the hour, experiencing it just for the moment and bringing it to life, but it's the album that you're gonna have till the end of time," says Lee.
Reflecting on their near-vertical trajectory from gigging musicians to globe trotters, celebrating the end of 2017, 2018 and 2019 with gigs in major world cities, the reality of it all is still hitting the three.
"It's all very surreal and weird. I'm sure some people have dreams of being famous, but I don't know if I had those. I always wanted to make it, and by "make it" I mean play music and be creative for a living. But, this is weird. It's weird to be a popular band and hear yourself in coffee shops and Target."
Indeed, the nomadic quality of their music has served them well: nestled between Young Thug and Deftones at Bonnaroo, they seem to be everyone's cup of tea, or rather as DJ puts it: "We're the side dish that goes with everything."
"We're rice," says Laura.
"Everybody loves rice," says Mark. 
'Mordechai Remixes' is out August 6 via Dead Oceans.