"So much of this experience feels like pretending I'm not in this experience," laughs Katie Von Schleicher, as a burst of sirens peal past her sunny, and lightly cluttered Flatbush apartment. Like the majority of the world, the Brooklyn-based musician is currently on lockdown, and is faced with the slightly surreal experience of releasing second full-length album 'Consummation' as everyday life is on pause.
Though she's lived in New York since 2012, Von Schleicher grew up in Pasadena, Maryland – colloquially known as "the Dirty 'Dena," she adds – with her five half-siblings; all of them went to the same local high school, and frequented a tiny local bar called The Victory Lounge. "It's this tiny trailer-type bar," she explains. "They served my brother there when he was thirteen. You would have to wake up the bartender because he would be sleeping on a cot in the back. Consequently, in the last few years, it has said 'Blue Lives Matter' on the billboard," she adds. Blue Lives Matter is a controversial countermovement in the US, originally started in response to the anti-racist Black Lives Matter movement.
As a teen Von Schleicher discovered the music of Spoon, Elliot Smith, and Wilco (hints of Smith's dark poetry are particularly visible in Von Schleicher's own writing) but prior to that, she was obsessed with the pop powerhouses: Whitney Houston, Celine Dion, and "the divas my mum liked." Years later, their influence flickers – albeit vaguely – in 'Consummation's soft and volatile shadow. Houston particularly took juggernaut pop – with Trojan Horse melodies that invaded people's eardrums – to an exceedingly dark place. 'Saving All My Love For You' and 'I Have Nothing' are about as devastatingly bleak as pop can get; belted ballads about all-obliterating devotion. "I think there's a whole world to explore in terms of that connection," Von Schleicher nods. "My friends and I were playing this stupid reductive game of 'guess the lyrics' over text message. Phoebe Bridgers or KISS. Red Hot Chili Peppers or Elliott Smith. And then I did Celine Dion or Adrianne Lenker [of Big Thief]. It was actually kind of hard!" she says. "The lyrics were fairly abstract and dark, and different from how I imagined they would be. I remember being at my parents' house with all these cassettes of Whitney, Celine – I used them to learn to sing."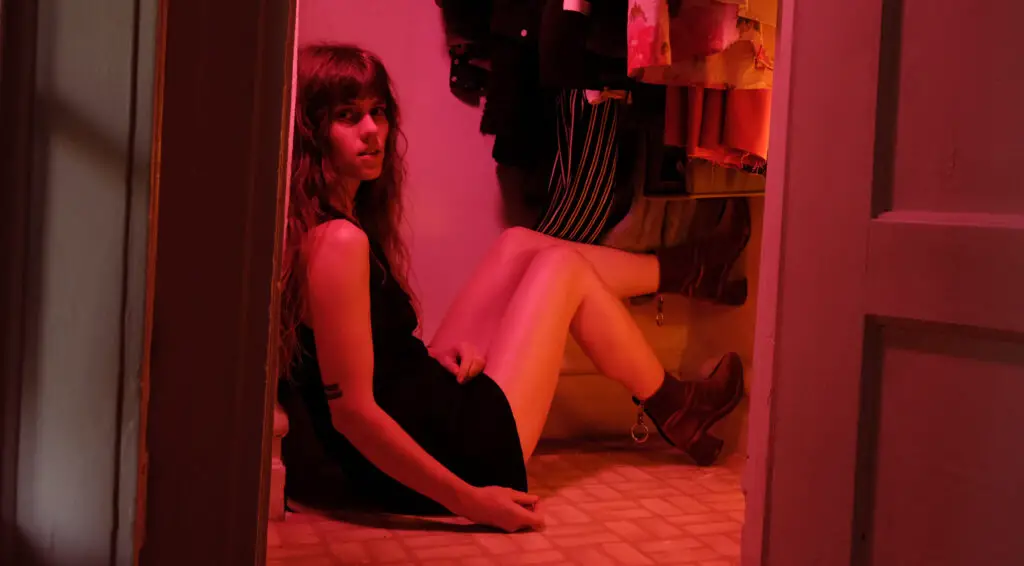 Von Schleicher hasn't just been reappraising the music of her earliest influences; in writing the follow-up to her 2017 full-length debut 'Shitty Hits', the artist also found herself reframing how she views Vertigo – Alfred Hitchcock's classic film noir thriller. Shot through a disorientating dolly zoom, the film shows the perspective of a detective called Scottie who is terrified of heights and cures his agoraphobia by asking a woman called Judy to reenact the events which led to his phobia in the first place; during the dramatic end scene she accidentally falls to her death. Rewatching Vertigo two years ago, Von Schleicher noticed a second story buried within the classic; a narrative of men using women as interchangeable props to overcome their own demons. "That film could be made today by a woman, and have a whole other meaning," she says.
The idea of an alternate story directly inspired 'Consummation' – and Von Schleicher began writing the album as the #metoo movement was gathering momentum. Meanwhile, her own personal circumstances felt far away from the outpouring of stories she was hearing from other women. "It was a confluence of events," Von Schleicher explains. "#Metoo was happening, and I was also in a relationship that wasn't healthy. I felt super isolated emotionally, and what I was going through or feeling felt inexpressible in some ways," she says. "And then, simultaneously, there's a movement going on for the expressible. That time felt so freeing and troubling. I felt anger that I didn't know what to do with. It was a strange dichotomy. The liberation, the sense of fuck it, I'm going to say what I want to say – compared to my actual life where I wasn't maybe doing what thought was right."
"I remember having dinner with my sisters and my sisters in law – so five of them – and it turned organically into everyone discussing experiences they had. Finding out how much we have all carried, particularly within the #metoo movement, and what do we do with it? Where does it come out? I thought about my grandmother. I loved my grandfather but he was super stubborn and a know-it-all. He would tell my grandmother something, and leave the room, and she would just look at me, and wink and smile. From this early age I got the sense that women have this well of knowledge and power that we can't exercise in daily life gracefully, and so we keep it to ourselves."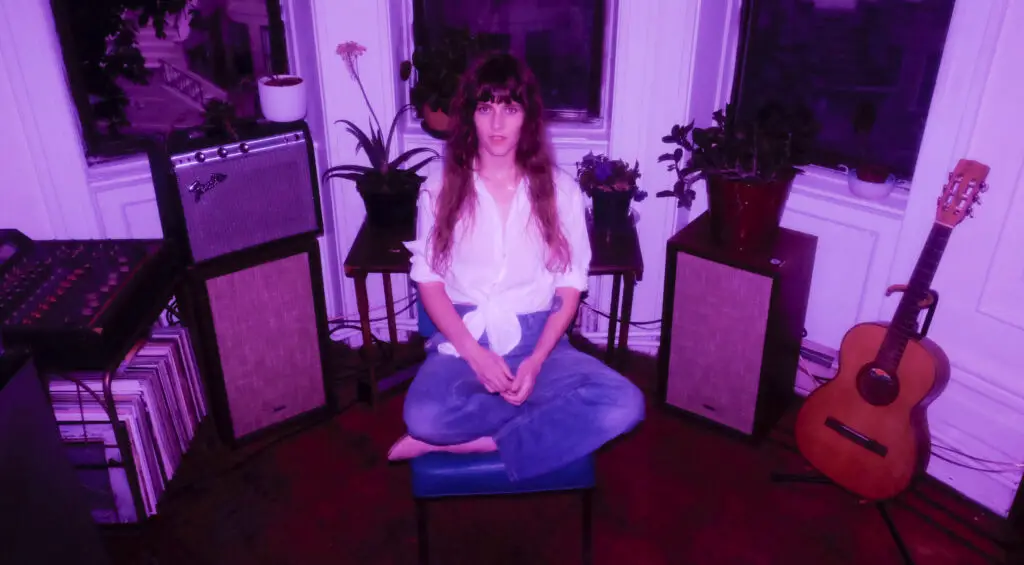 This period also brought Von Schleicher closer to her mother, she explains – her mum is featured with her on the artwork, seen below. "The layers of meaning are something I hesitate to peel back, but they're clearly there – I mean first of all [my mum] has the perfect hair, she's had that hair colour since I was a kid. There's those Vertigo undertones. There's the blue. I overlaid a very transparent still from [John Cassavetes' 1974 film] A Woman Under the Influence as well. There's something about two women embracing across generations, some part of her is the woman from Vertigo who has now aged. There's some part of mother daughter relationships. Not to tie it all to a hashtag because that's awful, but #metoo was a cyclical time when I felt closer to my mum than ever, and also more curious about her."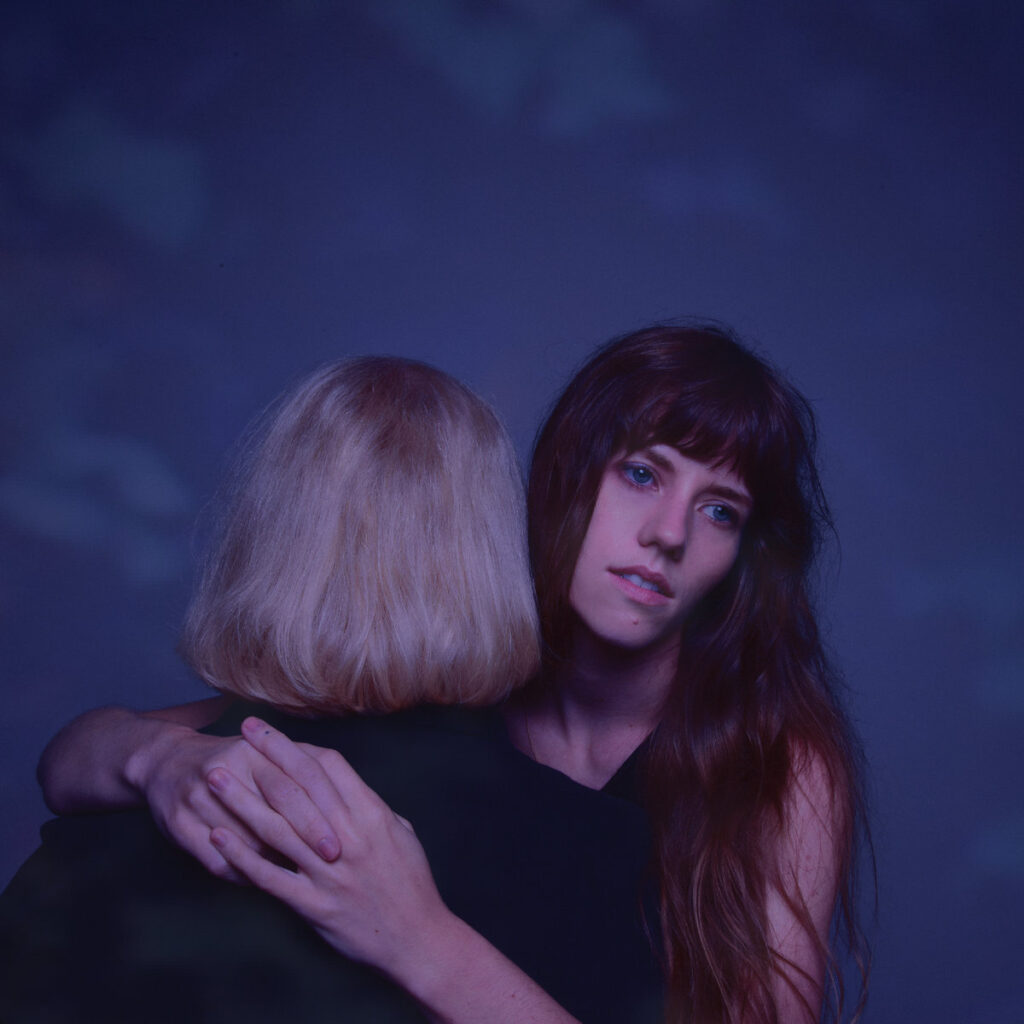 In what way? "It's so complicated," she starts. "She says what she thinks. She has an anger that I related to in that moment. An anger that cannot be expressed in a socially acceptable way. She tells me anecdotes about her life, getting straight As, putting herself through college – and her parents told her it was because professors liked blondes," she says with a weary chuckle. "She got married really young to a man who was abusive. Her formative experiences sound really isolating, and I could relate to her because I couldn't express the way I was feeling in a way that seemed graceful or comprehensible to me. It made me think about her."
In part, 'Consummation' is an album that grapples with this same inexpressible anger; wanting fiercely to express something, but lacking the words. "I can't conceal my rage," Von Schleicher sings on opener 'You Remind Me'. "Let me know the right words, then I'm gonna say it loud," she sings later, as a disorienting, pneumatic racket flickers in the background. "I want to know the shape you're in, I can't contain it." Jarring with the unease, Von Schleicher's vocals are deceptively soft; her rich, chamber-pop melodies glimmer invitingly. This tension, she says, was deliberate. "On my last record ['Shitty Hits'] I was more full-throated, and I wanted to try to sing a little differently on this one. There's that dichotomy again between gracefulness and anger. I express the anger quietly, seethingly, calmly, while the music doesn't have to be that at all."
"I think that angry women get denigrated," she says. "I found that the desire to express anger, but in a really graceful way; the kind of smooth, calculated, expression of rage or anger that is so effective. I feel like if I get angry when I'm talking… I don't like how I express myself, I don't feel like it's convincing or useful," she concludes. "Maybe musically it's an easier or better form to do it?"
Katie Von Schleicher's album 'Consummation' is out now