Nowadays, you don't have to be creating music for an eternity before you get your first hit. All you need is a whole bunch of passion, some dedication and you're good to go. With many of your favourite stars going viral in a matter of months, at first glance, the success of Dallas' Kaash Paige – born D'Kyla Paige Woolen – seems like another one of those stories, helped along by a certain app. But on closer inspection you'd realise that even before graduation, the Texan could boast a million streams on SoundCloud, a thriving party business, and had multiple labels chasing her. With the past 12 months successfully turning this D.I.Y sporadic into a fully-fledged artist, Kaash Paige is R&B's newest It Girl.
If you're not familiar with her by now, you might know Kaash from her track 'Love Songs' which has been all over TikTok and seen the kind of success that we now know to follow. But despite its recent viral status, 'Love Songs' has actually been around since November 2018 and quietly bubbling ever since.
Never one to go hard with promotion around her own music (except from her first song, 'DND', when she asked for the odd "retweet"), the now lucrative smash was discovered by an A&R "on SoundCloud, going through [the site] with his girlfriend", Kaash tells us via Zoom. Stumbling across 'Love Songs', he liked what he heard – a Doja Cat-inspired, ethereal track that's all about assessing if your crush likes you back – and Kaash was signed to Def Jam then and there, before she'd even walked across stage to pick up her high-school diploma.
Now, over a year later, Kaash Paige is a well-known name, with her debut EP, 'Parked Car Convos' (2019), and debut album, 'Teenage Fever', loved by millions of fans across the world. Blending all her favourite things about hip-hop with the sultry, whimsical ways of modern R&B, Kaash creates music to "match her vibe" of being 19-year-old, reflecting on a rebellious adolescence, reminding her younger fans to "Be you; fuck anybody else's opinion [because] it's your happiness over everything".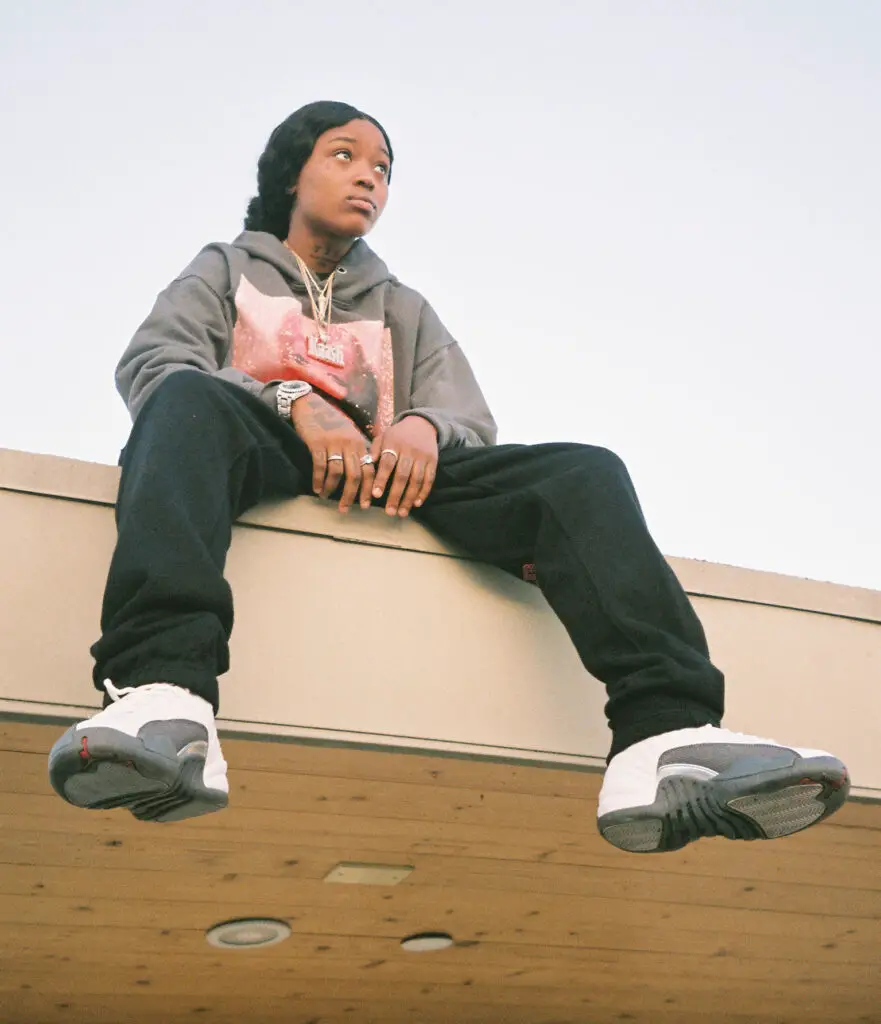 Paige's masterful debut was a tasteful reminder of why "just living life and having fun" is important in that period just before you're fully grown. With 'Teenage Fever' – released this August – Kaash "gathered up a project of all the emotions that I went through as being a teen." A clear transition from the Cool Kids Club into adulthood, she hoped to make a song for every emotion she felt in the last eight years. Her middle and high school years were full of arrogant peers who made her "feel little", she wanted to remind other teens "to have fun when you're listening to 'Lost Ones'. I want you to get it popping with whatever you're doing. Just really think outside of the box and get creative."
And Kaash's creativity doesn't stop at making some dope music. Yes, having both a dad and a step-dad heavily involved in the music industry can be a good reason to follow suit. (Seeing her father's "little set up in the closet" and "hearing beats and stuff playing out the room", she became "super nosy" and was always interested in how he was creating.) However, Kaash, by her own admission, was inconsistent when it came to making music, often preferring other extra-curricular activities.
In school, Kaash loved sports, especially track and soccer. But when she wasn't on the pitch, she was ruling the halls as her school's resident party girl, crafting her alter-ego 'Kaash My Checks'. Paige started throwing the wildest parties in her hometown of Grand Prairie, charging "like five [dollars] before eight, after that it was $10". Having this raging Van Wilder inside her, she always wanted to keep an element of fun in her artistry. She even threw her own album release party with A-listers like [Rae Sremmurd's] Swae Lee coming over to rock out in LA. But the partying isn't just for her celebrity friends: it's vital that at a Kaash Paige show, she gets the crowd brazen, "crowdsurfing, throwing tees, and playing some Waka Flocka".
When it comes to influences, Chicago drillers like Waka Flocka are high on the list, but Kaash is also drawn to the mellower sounds of "Drake, Frank Ocean, SZA and Erykah Badu", all key figures in shaping her dreamy, escapist music. ""Psychedelic R&B makes you feel super good and at ease," she tells us. "So when I make this type of music, when I listen to it, I just feel like I'm in a Twilight zone."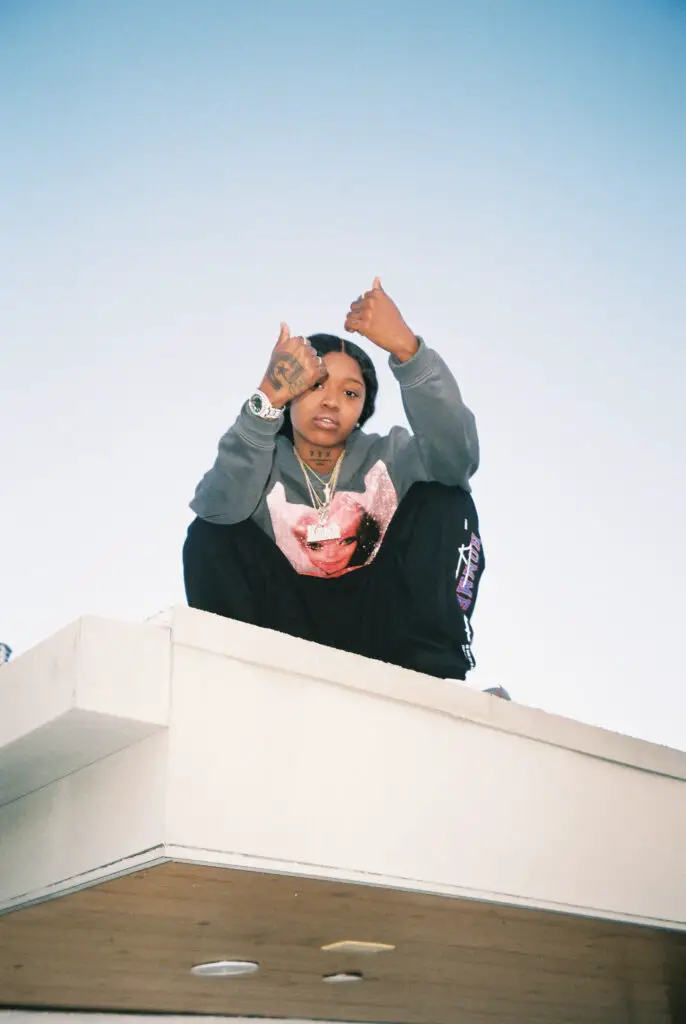 Now fully in the Def Jam family, the days of uploading tracks from her bedroom might be over – but Kaash hopes to "bring back the SoundCloud Kaash Paige" this autumn. "I just want to start dropping on type beats again," Kaash starts before reminiscing how much she misses scrolling through instrumentals, like she did for 'Love Songs'. "I feel like that will put my mind at ease. Whenever I first started music, I used to go to YouTube and type in 'Brent Faiyaz type beats' or 'Childish Gambino type beats' and I would sing on them. So I want to do that again; just drop little, lo-fi songs and stuff on SoundCloud."
Kaash's process hasn't really changed – she's still making the same lo-fi music with her producer buddy Sonic – so it was quite the surprise when Travis Scott came calling to feature on her track, 'Euphoria'.
"I remember that day like it was yesterday! I was in New York, so irritated, and I had got a call. They were like, 'Yo, Travis Scott wants to jump on 'Euphoria' and Don [Toliver] wants to put it on his album,' and I'm going insane. I'm like what? Travis who, Travis Scott?"
It's not just stateside that Kaash is making waves. Some time ago on Snapchat, fans of both Kaash Paige and Headie One were elated to see Tottenham's own bumping the 19 year old's second single '64'. So after reaching out to each other, Kaash dived head first into making a hit with the UK drill heavyweight: "Everybody was like, 'Yo, Headie One's listened to your music'. But I don't know who Headie One is so I went to go check out his music and I was like, 'Ah bro, he's fire!'. He hit me up in the DMs like a month or two ago and said he's working on an album right now, and wanted me on this song. It's a dope song too! It's got a soulful sample and has a choir in the background or a female singing."
With new international ties, Kaash can't wait for the world to open back up so one day she can perform "at a crazy ass show, like Coachella or Camp Flog Gnaw, and see the whole crowd singing my lyrics". However, after achieving so much in such a little time, what does the future hold? 
"The future of Kaash Paige is just an artist that wants to be a legend and make a way for the next generation," she says, quite simply. "I'm super strict about being yourself, because [when] people understand that, it comes naturally with music. I'm here to set my mark and become the world's homie. Until then, I'm just gonna continue doing what I'm doing."
Kaash Paige's album 'Teenage Fever' is out now.