Julia Bardo should be preparing to tour her newly released, debut solo E.P 'Phase'. Instead, the Italian-born, ex-Working Men's Club musician is stuck inside her Manchester flat on lockdown unable to think about music at all. 
"I just feel very unlucky," Bardo sighs, knowing that the E.P. she's been working on for over two-and-a-half years has been released at the worst possible time as the world shuts down through the coronavirus pandemic. "I've been waiting a long time for this moment to come and now it's ruined. It's like it never came out and nobody still knows who I am. I'm not doing anything and it's like it never happened. Thinking about it is too hard, so I'm trying not to."
It's a desperate time for Bardo. As well as feeling as though her E.P. release has fallen by the wayside, she's missing her family in Italy and has no idea when she will see them next. She's also in the early stages of grief: just a few weeks earlier, her grandfather passed away after contracting the virus. The region where he lived was one of the worst virus-hit areas in Italy at the time.
"I am missing home a lot right now," she says sadly. "I lost my grandfather about a month ago through coronavirus. It was so very quick and a real shock. Who knows when I'll be able to return home now? Whenever I felt sad or lonely in the past, I'd just jump on a plane and spend some time with my family. Now, I have no idea when that will be." Her voice trails off and a long silence follows. "I just don't feel like doing anything at all right now."
Loneliness is a feeling Bardo knows well, having struggled with it most of her life. Growing up in Brescia, Italy, Bardo began her musical career singing and writing lyrics for a local band in between working shifts at her father's bar. Feeling uninspired by the music she was writing and at a loss to find like-minded musicians, she travelled on her own to the UK and set up a new life in Manchester.
"I always wanted to go to the UK," Bardo recalls. "I thought about London, Manchester or Bristol. As I was from quite a small city, London felt too overwhelming. In the end, Manchester was a good size and a place I could meet people to play music with. I needed to be in a place where the music scene was quite vast and varied but where I could still meet people easily: Manchester was that place."
It marked a turning point and a period of stability for Bardo. Up until then, she'd travelled, worked lots of odd jobs and tried studying at several universities but settled at none. "I tried to go to three different universities without getting a degree from any of them, which was mad," she laughs. Yet it was whilst studying for the third of these that she met the other members of Working Men's Club, the band she would later go on to join as a guitarist. After releasing an acclaimed single on Manchester's Melodic label, the band were signed to Heavenly Records a few months later.
Yet just as things were taking off, Bardo decided to leave after craving creative autonomy, something she didn't feel she had in the group. Part of the issue, she says, is that she still didn't know who she was and the loneliness she felt in Italy returned once more. "When I was in the band, I couldn't wait to do my own thing, to have my own space and voice in music. It was about proving to myself I could do it and me seeing if I could do something by myself for the first time. I needed to find out who I was. It was also about proving to my parents that I could do it too – and that I was good at it." After her various stints at university, Bardo says her parents were sceptical. Are they convinced by her career now? "It's still an ongoing process," Bardo says dejectedly. It feels like a tricky topic for her to address even though she explores it on her E.P.
One of the first solo songs Bardo wrote, for example, was 'Into Your Eyes', a song about her relationship with her father. "It was the second song I wrote for the E.P.," Bardo says of the track which she eventually decided would open the E.P. "That song has so many meanings. The song was written like a letter to myself. I was looking at myself in the mirror and telling myself those things. But actually, when I recorded it in the studio, I realised this was for my dad. It was about the relationship we've got."
Despite the upbeat leanings of the track which recalls early Angel Olsen and Cate Le Bon, its wistful, nostalgic 60's guitar lines mask a much more despondent track lyrically. "Every time I look into your eyes / I see the end, I read the word goodbye / I've never felt so lonely," the opening verse crushes. Later on, the loneliness is only compounded more near the song's bridge: "Why are you trying to make me feel so bad? / And you regret all the things you have said?"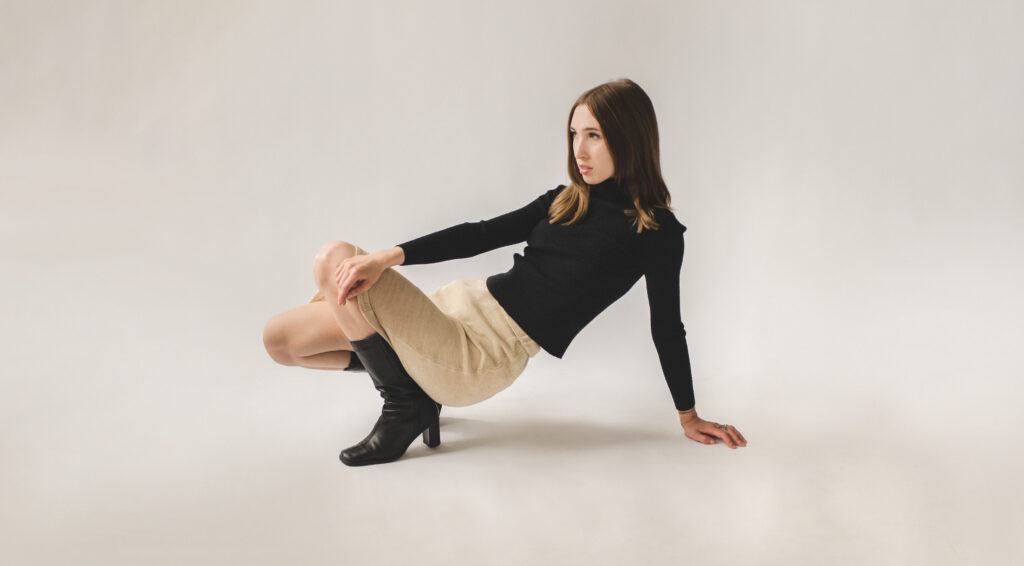 Loneliness is a recurring theme on the E.P. 'Lonely Morning' explores the helplessness Bardo felt at the start of her career and 'I Wanna Feel Love' examines the isolation she felt prior to her current relationship. Yet the greater, overarching theme seems to be one of self-discovery. On 'Please Don't Tell Me', a song she'd worked on with the Orielles' Henry Carlyle-Wade, Bardo looks at herself in the mirror for the first time and recognises herself.
"It's about being yourself, about thinking with your own head. It's about knowing your reflection and not hiding from what you see. You have to listen to what's inside… to find your own voice." Working with Henry – who produced the E.P. with Bardo at Stockport's Eve Studios – helped she says, to find that voice at a time she started to doubt her decision to go solo.
"When I was in the band, I couldn't wait to get out on my own. Then when I got that, I was like 'no, I don't want this'," she reveals. "You are there by yourself, putting out whatever you feel whenever you write it and becomes a matter for someone else – it's not yours anymore when it's out there and that can be daunting. I sometimes miss being a part of a band and not have all these responsibilities."
Does she regret leaving Working Men's Club in hindsight, then? "When I used to be in bands, I used to feel more self-confident and more secure. When you go off by yourself, you start to question yourself a lot and you start to think: 'am I making the music I really like?' It is starting all over again and you feel as though you don't have the ground under your feet anymore. It is a challenge and the hardest part is [battling] with yourself."
For now, Bardo is set on finishing her album when lockdown ends (she's already demoed it in full) but admits she isn't sure if she will end up returning to a band or not. Her life, she says, works best in short, ever-changing phases as she discovers more about herself. "Ultimately, I will end up finding out who I am. 'Phase' is a wave and things change and evolve," Bardo laughs, suggesting we're likely to see a lot more changes yet. 
One of them could involve a return to Working Men's Club. Bardo says their singer, Syd Minsky-Sargeant, has left the door open for her return. "Syd and I are still very good friends," she beams. "He always tells me, 'when you want to re-join, let me know. You never know what the future holds."
At the moment, Bardo is concentrating on getting through lockdown – but that won't involve following hundreds of other musicians in writing and sharing music from her living room. "I just feel there's no point in doing anything now when the future is so uncertain. I base everything on the future, I never live in the moment. I look at all these artists on Instagram and Facebook and I just feel so out of that whole circle."
"I feel really sad thinking about music right now. I need to go into the studio and properly record when this is all over. The album is about me finding out who I am and from there I'll go to the next phase, whatever that may be. But for now, a bit of silence."