Singer-songwriter Jessie Reyez isn't quite a household name yet, but just five years after releasing her debut EP, 'Kiddo', she's already got votes of confidence from Billie Eilish—with whom she's toured twice—and Beyoncé, who featured the singer on her collaborative soundtrack album, 2019's 'The Lion King: The Gift'.
Reyez released her debut LP, 'Before Love Came to Kill Us', in March 2020, but the onset of the pandemic threatened to stifle the momentum she'd been building for years at a critical time. Catching up with The Forty-Five on the eve of the release of her second album, 'Yessie', Reyez offers insight on the inspiration behind the project, and how her Colombian-Canadian roots shape her music.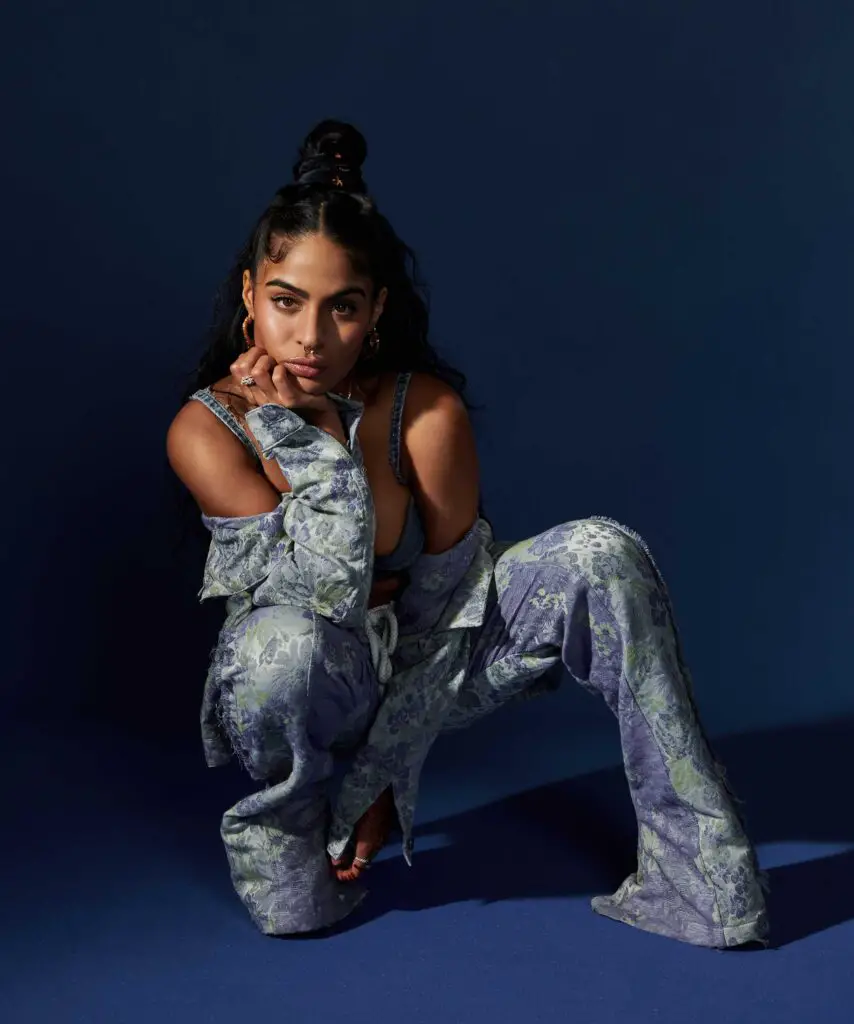 Like you, I come from like an immigrant background. Growing up in Toronto, how connected did you feel to Colombia? What kind of cultural connections did you have to those roots?
I was just really lucky that I had parents that were conscious of my connection to my history. My mom would go above and beyond — like having a wall in our house that was dedicated to Colombian history. The music that would play in the house would only be cumbia, and vallenato and salsa. At home, I wasn't allowed to speak English. Now I can recognise that it's something beautiful that I could walk in and feel like I walked into a different country. I walked into Colombia every time I walked into my house. When I left, I was in Canada.
At the time I couldn't see how much of a blessing it was because when you're younger, you're more susceptible to bullying. The first time I experienced racism, the first time I experienced someone making fun of my accent, the first time I experienced the difference in family income — being made fun of because I was wearing the four-stripe shoe instead of the Adidas, and then going home and my dad [saying], "No, the four-stripe shoe does exactly what the three-stripe shoe does. You'll be okay."
It makes you conscious of how to be a chameleon. It makes you appreciative of having a different tongue. Toronto in particular encourages you to wave both flags. Maybe if I wasn't raised in Toronto, I wouldn't be as connected, but I definitely feel every bit of the title, "Colombian-Canadian."
How long did it take for you to feel that you also wanted to write and sing in Spanish? Was that something you always wanted to do?
I've always wanted to do it and I've always done it, but unfortunately, because I went to school in North America, my [Spanish] writing takes time. I always second guess the tenses, I always second guess those kinds of things. It just takes me longer to write, but I've always done it.
Do you feel that you had more understanding from your family once they were able to hear you make your music in Spanish too?
No, I don't think so. My understanding came from when I first brought back a cheque.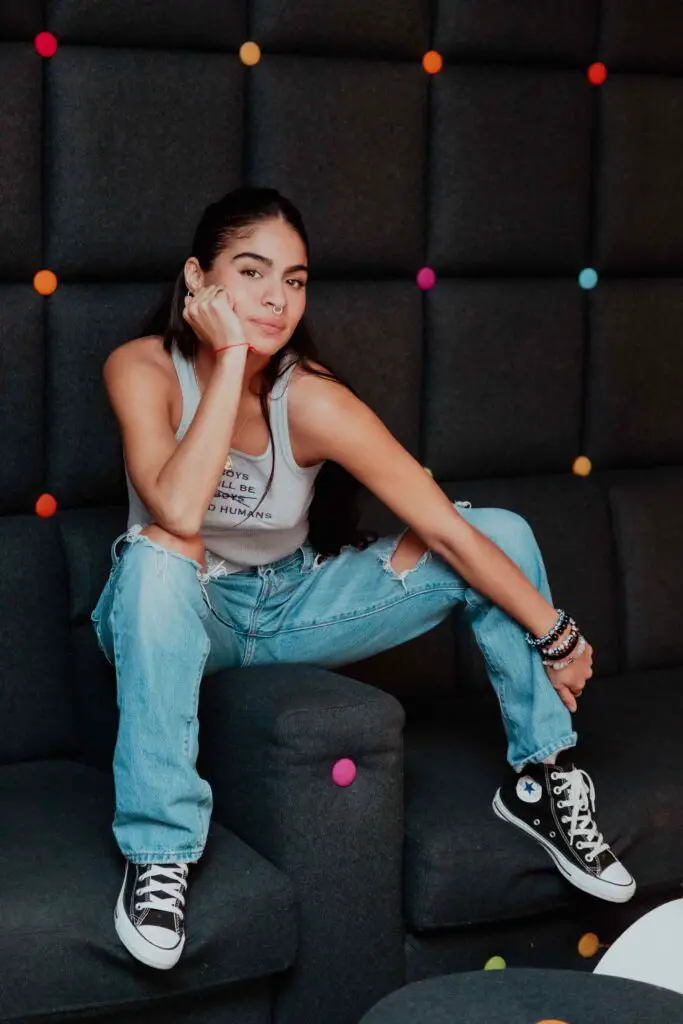 You have a gorgeous voice with a very sweet intonation when the moment calls for it, but one of the things that sets you apart is you have this guttural angst in your voice. Where do you think that angst came from?
It's a really difficult thing to pinpoint. It was wanting to be my own person early on. It was discovering that adults don't really know what they're doing. It was heartbreak mixed with wanting to be independent, mixed with natural teenage rebellion, mixed with the immigrant experience — childhood and the immigrant experience, which is rough on you at first, 'cause you don't appreciate the fact that you're cutting your teeth and [learning] how to be a stronger adult.
In what wound up being very not auspicious timing, you released your long-awaited LP, 'Before Love Came to Kill Us', in March 2020. What was going through your head when you put out that record at that time?
'I hope it goes well.' The album was supposed to be a catalyst for a conversation about mortality. The state of the world made it so that it was like, 'Oh, wait a minute. If we have a song called 'Coffin' and we have a song called 'Before Love Came to Kill Us,' it seems like it's a theme song for the death of the world'. So I was nervous.
You've had big projects and collaborations since then. You went on tour with Billie Eilish, and you were featured on Beyoncé's 'The Gift'. How did it feel to get back out there?
I felt great. I was so happy; probably one of the best tours of my life. Probably the healthiest I've ever been mentally and physically.
What does it feel like to see your name on a Beyoncé album? What was the songwriting process like on that record?
It feels insane. I'm part of the Beyhive. I loved her from before she was Beyoncé. I loved Destiny's child. The process was long distance because at the time I had a really bad injury. I was able to deliver the verse because I was home recovering. But then when we got invited to premieres and all these things, I couldn't fly, which crushed my heart.
But you've come across her before. Have you been able to voice to her how much she meant to you growing up?
Yeah, I have, which is really cool. After meeting her, I had to go meditate to come back to Earth, 'cause I was too hype. I said everything I needed to say, and then I went to go touch some grass.
You just put out your single, 'Mutual Friend,' and you're putting out your record, 'Yessie', this week. You announced the record while onstage with Kehlani in Toronto. Did you guys plan that announcement?
Oh yeah. We talked about it beforehand. She's lit. I love her. Everything was very last minute. We didn't rehearse. We never rehearsed that song either, which is a joke. I hate doing that kind of shit, 'cause it makes me so nervous without a practice or anything like that. But it went pretty fucking well.
How long have you been working on this project?
Since the end of the last one, but it's a hard question to answer because there's songs in there that had the seeds way before. So there's some that are maybe two months old and then there's some that are over two years old.
Is there anything you can share about the record?
I've made more of a conscious effort to be better to myself, be healthier and be kinder, extend myself the grace that I extend to other people. And I think it's shown up in my music, too. It's just more healing. The toxic is still there a little, because I'm not perfect and I'm still working on things. But there's an arc. I was gonna call it 'Self' originally, but then the more I thought about it, the more I was like, I'm gonna make it general. I've never made music for other people — I've always made it for me. So how can I make it more intimate? And then I thought of what my loved ones call me, my family calls me, what my ex used to call me: Yessie. It's sweet. It's closer to me. It's more intimate. That's how 'Yessie' came to be.
Do you prefer the studio or the live show?
The studio.
I would imagine it's like an exorcism.
It's everything. It's beautiful. It's the purest, man. It's like magic. You're in a room that had nothing and all of a sudden there's something. You're in the presence of alchemy. Usually, my songs are sad or angry, 'cause that's usually where I write from. So it's really dope that something good can come from that. Sometimes it's just not me. It just travels through me, but it's not me. So it's beautiful. It's spiritual. It's magic. I love it. I love it there.