Hope Tala wants to make the kind of music people leave on in the background. It's a modest musical ambition from the west London artist, who has already been hailed by the likes of Benee and Obama as being one of their favourite artists, but it's one that makes perfect sense. Tala's gentle, syrupy vocals take a backseat to her poetic lyricism inspired by the literary works of her favourite writers, from Zadie Smith to Shakespeare. "I want to be the type of singer where people feel like they can listen to my music all day," she says. 
Putting impactful prose before powerhouse vocals only compliments her colourful melodic palette, borrowing elements from neo-soul, R&B and bossa nova, while exploring the broad emotional spectrum of the early 20-something experience. For Hope, this included doing a university degree while juggling songwriting, recording and regular trips from Bristol to London before she graduated in 2019 with a first in English Literature. Now, with three EPs including 2020's 'Girl Eats Sun' under her belt, a debut album is somewhere on the horizon. But she's enjoying the journey for just a little while longer.
Following the release of recent single 'Tiptoeing' and with the promise of plenty of new music to come this year, the singer-songwriter is back with new track 'Party Sickness', a warm, cheeky tribute to the intoxicating spirit of a shindig. We caught up with Hope to hear about what inspired the new song, her first touring experience and when we can expect her debut LP.
How would you describe what the phrase 'Party Sickness' means?
If you go to a party and you get 'party sickness', that means that you're kind of being a little bit messy, having loads of fun, but being a bit chaotic and maybe causing a bit of a scene and being a bit mischievous. And you get 'party sickness' through maybe drinking a little bit too much, or just being in the general party headspace and being influenced by the fumes of the party.
Parties have been few and far between over the past couple of years, so where did the idea for the track come from?
I wrote this song in March of last year, and yeah, there hadn't been any parties for a while. And the day that I wrote the song, it was actually my younger brother's 21st birthday, but I was in LA so I was really far away from him and a bit sad that I wasn't with him. I just went to the studio and I was like, "Let's write a really fun party song."
Would you say you're an extrovert?
Yeah, I definitely think I'm an extroverted person. I do have my moments where I want to be alone, but I definitely would always rather be around people. And I go crazy if I ever haven't had a conversation for a couple of hours with a real person. But I do think that recently I've been getting better at spending time by myself, which is a good thing.
You worked with [R&B musical duo] Social House on 'Party Sickness'. What did they bring to the production?
What was so incredible to me, which I've never seen before when working with any producers or writers, was that they literally use anything around them to build the track. Obviously they use the drum loops and everything stored in their laptops and software, but in their home studio they have loads of pens and just cool things that you wouldn't think could be instruments, and then they'll start clicking a pen and it will be part of the song. They had a really fun approach.
Your music has a calming quality to it while the lyrics pack a lot of punch. How did you go about creating your own sound when starting out?
It always just came very naturally to me, I think because I really know what I like in all areas of life. It's always clear to me what direction I should go in. When I started making music, I was listening to such specific genres of music. I really only listened to neo-soul and a bit of rap and R&B as a teenager. I had no exposure to much else. And then a few years later, when I put out my first two EPs, I really got into a lot of indie music, rock music, folk. I took my blend from those. I think you can see that evolution as I put out more music, and you can maybe hear my newer influences creeping in a bit.
In terms of the kind of calming elements, I think a lot of it is because my voice is quite soft, and I don't feel the need to project too much or do too many tricks, because at the end of the day I want to be the type of singer where people feel like they can listen to my music all day. I don't think my voice is the main point of my music. It's just kind of the vehicle.
Did people take you seriously in the music industry while you were also doing a degree?
I think they did. I remember going for a lot of meetings, particularly in my final year of University to work with producers and stuff like that. And I think everyone kind of respected it rather than looking down on it or thinking "You don't have time to do it properly". I think everyone just wanted me to finish my degree and knew that finishing my degree would only help me in terms of navigating the industry and reaching my potential musically.
Do you think pursuing music over doing your masters at Cambridge has offered you better life lessons so far?
I think that's a really interesting question, because I keep talking to my friends about the fact that I've realised over the past few months that I've learned so much outside of education and doing this job than I would have done if I'd continued my education, which obviously would have also been an incredible path, and one that I would have been so lucky to take. And I definitely hope in the future to do my masters and a PhD, but I think I'm just the type of person, when I have a comfort zone, I tend to really stick to it. And my comfort zone has always been school and education. I feel safe within those confines, and then having to step out of that and do this job that is something new every day, I think it's done wonders to me personally.
As a voracious reader do you feel like reading widely makes you more lyrically fluent?
Definitely. There's the classic phrase, "If you're not a reader you can't be a writer", and I think that's so true. And I think the more expansively I read, and the more diversely I read, the better I write. It's kind of a cheat code almost, because you get to be inspired by all the storylines that have been written and all these different things in literature – even words, concepts, themes, characters. I think inspiration always comes from somewhere and whether it's other music or other literature or TV or life experiences, it's whatever works for you. I think literature is a big one for me. It just opens your mind, that's how I see it. And if my mind is open, then I can let space in for inspiration and music.
Your music videos and social media are very friend orientated. Are those closest to you your biggest inspiration?
Wow, I mean the people around me inspire me endlessly. I've been writing a lot of songs recently about my friendships and the people in my life, which is something I never really thought I would do, because I always just gravitated towards writing classic romantic love songs. So it's been really interesting to feel the impulse to write a song about one of my friends. I think it just helps so much to have people around you who understand and appreciate what you do. I'm really lucky with the people around me that will celebrate and uplift each other – that's half the battle when it comes to being a creator.
Unfortunately, the second leg of your support tour with Alina Baraz was cancelled, but what was that experience like?
The first leg was literally amazing. And obviously I'm so upset that the second leg isn't going ahead as planned, but I'm so grateful that we got to do the first half of it. I'd never toured before. I'd played a few shows before, but to be able to play like five shows in a row was just a completely different experience and taught me so much about performing and being an artist. But also it was amazing to be able to see positive feedback from a crowd, and have that really tangible reaction that you don't get when you release things online.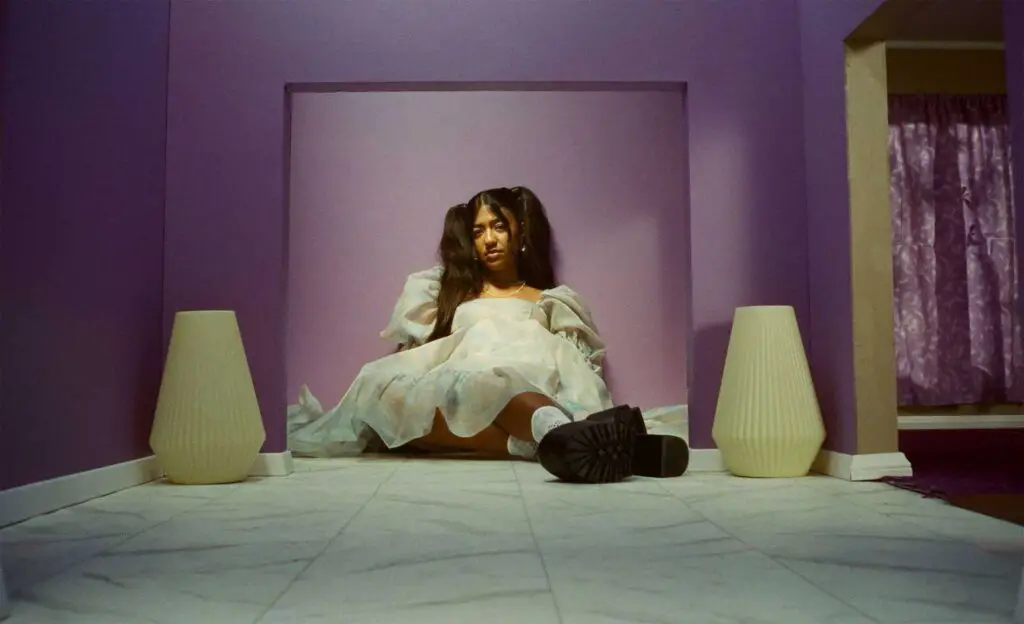 Can we expect your first album anytime soon?
There will be an album soon. I can't promise it will be this year, but it will definitely be soon. And there will be loads and loads of music coming out this year. And I feel like I'm getting very, very close, but obviously, I want to be perfect. And I mean, there's no such thing as perfect, but I want it to be as good as it can be.
Do you have any non-musical ambitions for what you want to achieve in 2022?
I love that! I am a big resolutions person. My big one is I want to learn how to drive, less junk food, and read for an hour a day. Also I have an addiction to buying books. It's like my fatal flaw, I just buy too many books. So my new thing is I can only buy one book for every five I'm reading.
That's not the worst habit to have!
People always say that, but it really hits my bank account hard. It's less about the money, it's more that I just don't have the space anymore. But yeah, I guess it's better than like, drugs or something.