With her animated demeanor and vivid, candyfloss curls, it's immediately obvious that Eyelar Mirzazadeh doesn't do shy and retiring. Apparently, she never has.
Speaking today from her mother's home in Amsterdam, the 24-year-old enthuses about her childhood, recalling how she would voluntarily entertain the guests at her parent's weekly parties, performing improvised choreography to the Persian music filling the house. By the age of 16 she was effortlessly belting out Mary J Blige ballads on national television, and subsequently made the semi-finals of 'The Voice of Holland'. Within a few years she established herself as a much sought-after songwriter in London, regularly working with A-listers like Little Mix, Demi Lovato and Charli XCX. But while all of this would have been impossible without her possessing even the mildest of exhibitionist streaks, the Dutch-Iranian singer-songwriter maintains that her sole motivation has always been forging an honest connection with her audience.
That fact is abundantly clear on her debut EP. Produced by her good friend and long-time collaborator Fred Again (Stormzy, Headie One, Jamie xx), 'Doin It Again' finds Eyelar delivering four unflinching snapshots from her life. "I got so tired of loving men, so I fucked a girl just to pretend," she sings over undulating keys on 'Man Like Her', a sweetly apologetic ode to a lost night of experimentation. Eyelar's hurt is palpable on 'Care Like You' as she reels off a list of imagined revenge tactics aimed at an ex-partner over twitchy beats and pillowy soft-synths. Meanwhile the title track tackles the difficulties of resisting damaging romantic attachments while swelling beautifully into soulful, electronic-pop from its foundation of sparse, shimmering guitars.
Here, Eyelar discusses the real-life inspirations behind the EP, and recaps her ascent from songwriter to featured artist.
Hey Eyelar, how has lockdown life been treating you?
"Well, for the first two weeks I was a bit like, 'Fuck, what am I gonna do?' Because I love making music with my friends in the studio, and that's what I do every single day, usually. And if I don't make music I get in a really weird place. But then I decided to pull myself together, so I bought a microphone, fiddled with Logic and I think after about a month I started really writing and recording, and I would shoot and edit videos. It's been really productive for me, actually – I've grown so much. I also tried to learn to skateboard, but I fell really hard. (Laughs)"
So can you tell me more about your route into songwriting?
So I come from a town where nobody does anything other than school stuff. I didn't know anyone who was creative, basically, so I decided to enter 'The Voice of Holland' because I needed to do something. I didn't tell my parents, because I wanted to see how far I would go, and then I got to the semi-finals. And that was good for me because then I had a way into the music industry.
So after 'The Voice' I started writing songs and toplines for DJs and stuff, because that's what everyone was doing, and then after a year I got really bored of writing dance songs and was like, right, 'I need to go to London.' I didn't know anyone there but I knew if I wanted to make it I needed to go to London. Then I found out that this producer called Distortion was Dutch but lived in London, so I just tweeted him, like, 'We should work together,' and he was like, 'Sure, send me some stuff.' I did and he really liked my songs, so I literally got on a plane to London to do a session with him and we wrote two songs together. And his manager was like, 'Wow, who's this girl?' and he ended up becoming my manager."
You've carved a successful career in songwriting since then, but was being the lead artist always the end goal?
"It was at the start. Then, when I started writing songs with other artists, I could see that there was so much other stuff they have to do, and I just wanted to make music in the studio. But then I started writing certain songs where I was like, these songs are me: I cannot give them away. 'Couple Hours' was one of those songs. I think that was being pitched to Selena Gomez, but it felt really wrong to give it away.
I think what I got wrong at the time was that I thought that being an artist meant you had to do certain things, but then I realised you can make any content you want and you don't have to do what a label says you need to do. So it's really good right now because it feels like I'm really true to myself as a person and as an artist, and slowly but surely more people want to jump on that."
How has London shaped you as an artist?
"I grew up on hip hop and R&B, because I had a bigger brother who was into that and I always wanted to impress him, but when I came to London I started listening to a lot of rock music. That was something that was quite new to my ears: The 1975, Nirvana, The Clash… I have a really weird song with Brunswick called 'Fxck You Cause You Were The One', that's literally inspired by 'I Wanna Be Adored' by The Stone Roses. Those earlier songs I released were my experimental phase, and that was definitely inspired by English music. I think London as a city suits me and my music. London feels like home for me."
Do you see the influence of Persian music in your work at all?
"Musically, not really. But in the Persian language the words are so emotional and poetic that that feeds into the music. It's all very emotional, and raw, and poetic, and I think that's definitely something I've been inspired by.
I don't know where I fit [musically], but I do know that my sound is my voice and my lyrics. My songwriting is storytelling, and that is the most important thing when I write a song. The difference between my music and someone else's is that someone else couldn't sing what I sing because it's based on a specific thing that happened. I mean, I live for pop melodies. But the most important thing is lyrics, definitely.
I love how straight-talking you are in your lyrics. My current favourite line on the EP is in 'Care Like You', where you say, "If I didn't care like you, I would fuck your friend because he always wanted to / And I'd film it and make you watch it all the way through."
"(Laughs) Oh yeah. That's a petty song to be honest. That's that feeling of when your ego is really hurt as well as your heart, so it's you just saying things that you know are going to hurt someone. I didn't fuck anyone's friend, though. (Laughs)"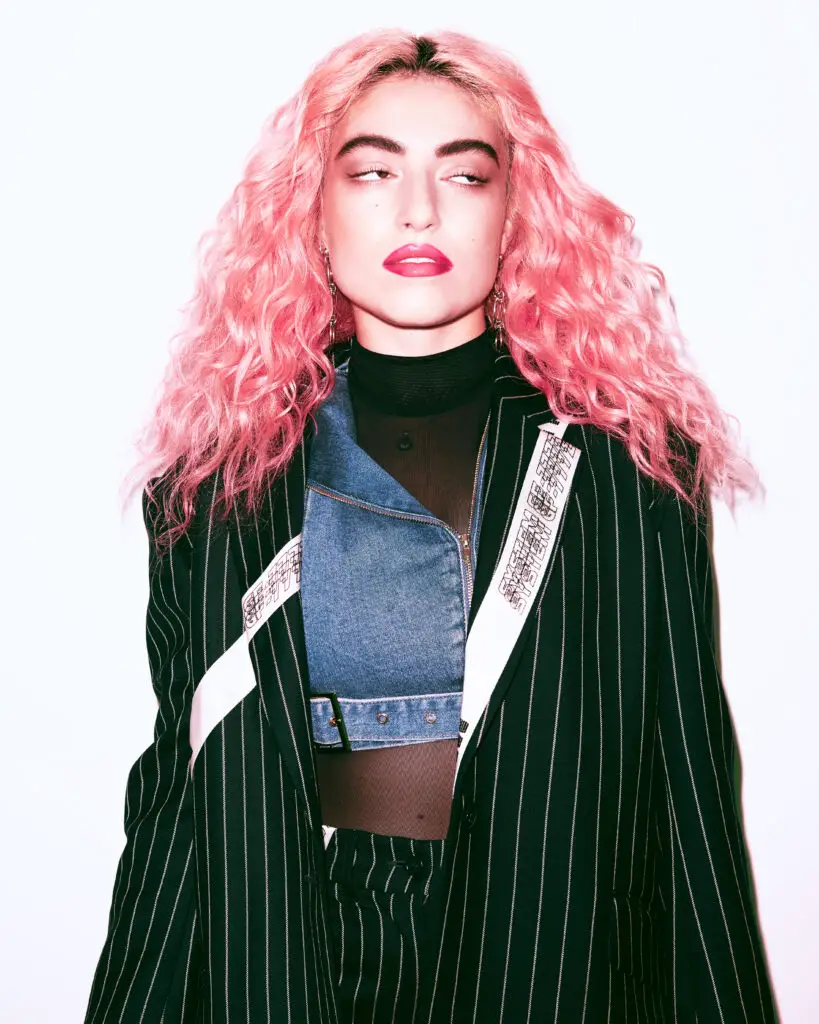 And what's the story behind 'Man Like Her'?
"I'm a little bit nervous about that one actually, because I have a bigger brother and he's definitely not gonna like the song but, hey, it's art."
Why wouldn't he like it?
"Because I'm his little sister! I'm eight years younger than him. But hopefully I'll become a huge star and I can just buy him a car and be like, 'Here – this is your present.' (Laughs)
But that song is about when I went out with my friends in Amsterdam. There's this girl who's part of our group of friends, and she was really into me and we basically got together, but for me I had a different motive. She was obviously into girls and I'm not really, I don't think. But that night I was. And it made me feel quite selfish, even though she knew where I was at. It's just that thing of feeling guilty for not being able to give someone what they want. Have you heard my song 'Sex Me Up'?"
No?
"I think we're saving that one for later, but that is one that goes a bit further than the EP. It's a huge sex ballad. But I think it's important because what I want to do with my music is create a world where people are comfortable with whatever they feel, and whoever they are. That's what I want to stand for and that's what I want to do for people who listen to my music."
Listen to Eyelar's latest track, 'Say It With Your Eyes' below.
Eyelar's debut EP 'Doin' It Again' is due for release this autumn.