Since 2013, Dawn Richard has been making music nonstop. It hasn't exactly been intentional, but for her, it's been necessary. "That's my therapy," she says of her constant output. "It's like regurgitation."
Just as integral has been having complete autonomy over her work. As a founding member of the MTV-formed, ex-girl group Danity Kane, maintaining her own voice and vision was key. That meant growing her presence through her own imprint. But after years of remaining staunchly independent, the New Orleans-born artist made the decision in early 2021 to sign with Merge Records. "The reason why I wanted to make the jump is because I finally found the label that was OK with me having creative control," says Richards over Zoom from her temporary residence in Los Angeles. For her, it was a "no-brainer." "I loved the mainstream aspect of my career, I think it was beautiful, but there's something really awesome about being with a label that says you'll be exactly who you are, and we're going to not only rock with you, but we're going to promote you and stick by you through it," says the singer.
With 'Second Line,' Richard's sixth studio album, the move to Merge has ushered in a new era. Perhaps it's the "purposeful" nature of the record, her personal history with New Orleans or the fact that we're in a period where Black women are not seen in the electronic space, let alone the dance or pop spaces, but 'Second Line' recasts Richard as an artist. "I purposely told the proudness of my Blackness, the proudness of me as a woman, the proudness of me as an LGBTQIA+ [ally], and the proudness of being from the south and being all of that and able to still not be labeled an R&B artist because of what I look like," Richard says of 'Second Line.' "I wanted to show the versatility in artists, that multi-genres can exist on an album, and it still be powerful and still be beautiful. And I can be a part of something that doesn't pigeonhole me but expands me."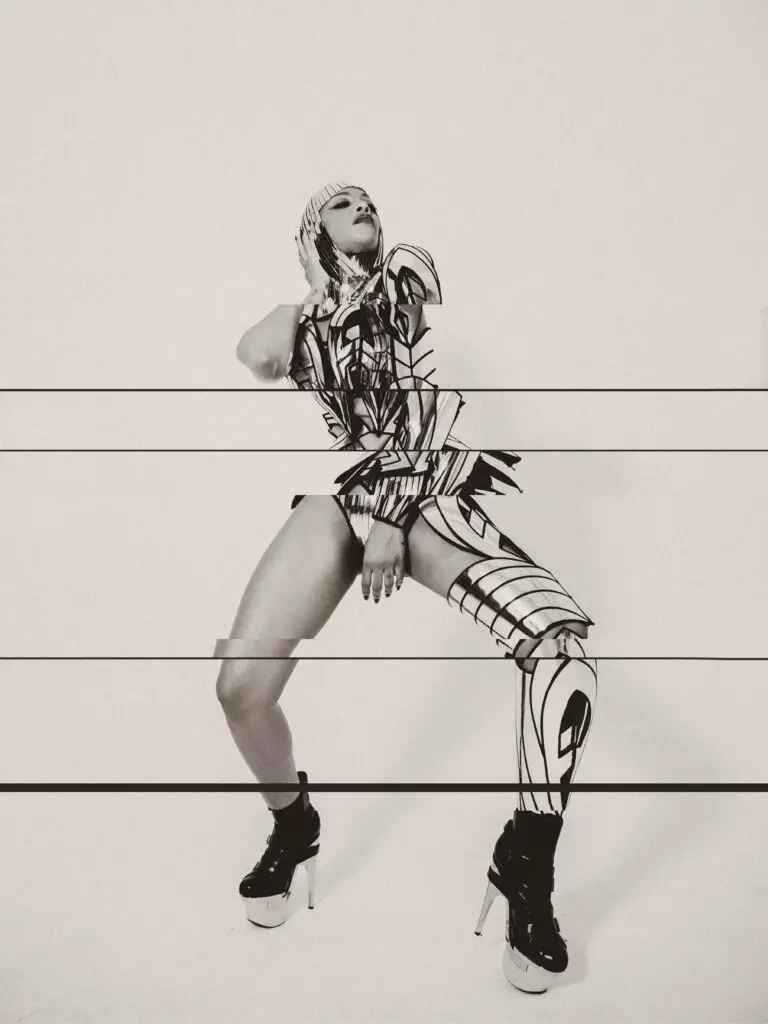 The birth of 'Second Line' really began in early 2018, right after Richard released her propulsive, dance-floor ready record 'New Breed.' "I decided I wasn't finished with the story and the message that I wanted to tell," she recalls. In the middle of recording 13 songs she had under her belt, her mom had to get knee surgery, so she returned home to New Orleans. What was meant to be a much shorter trip turned into quarantining during the coronavirus pandemic with her mom. But that time with her helped shape the album in a way she didn't expect. "Being with my mom trapped in a quarantine got me a great interview that was used for the album," she says. "It gave me an opportunity to use her voice and really narrate this project in a way that I think I wouldn't have, had that not happened." It also allowed her to finish recording the last portion of her LP.  
For the 37-year-old singer, the isolation of the pandemic and the need for Black voices to be heard and seen fueled 'Second Line.' "In New Orleans, [a second line] is an opportunity during a funeral, during sadness, [to] celebrate," Richard says. "We go to the streets and we dance. In the midst of sorrow or hurt, we dance through it." 'Second Line' is meant to be liberating, not just for Richard, but for her listeners. "Whether it's inside or outside, no matter where it is, we can all relate to that opportunity to join that parade," she says.
The visionary wanted to make an album that would signify that need to cultivate joy, despite the pain; so it made sense that the record's lead single was 'Bussifame', a cathartic swirl of house, bounce and footwork. "I wanted to release something that had so much energy [after] we've been stuck in our houses," she notes. 
Storytelling was essential to Richard's latest project: She wanted 'Second Line' to be an immersive experience that revealed a different side of New Orleans. That meant painting a portrait of how "the influences of our past can dictate a more Afrofuturist experience." To do that, Richard blurs the lines of past and present, putting her own flourishes on bounce and house music, while toying with jazz key signatures. "I was trying to meld something that was rooted in our heritage, but then through the synth and the pad, create a sound that brought it to a progressive place," the singer-songwriter notes. The result is a cinematic, electro-revival that transports listeners into Richard's world.
And in her eyes, the timing for 'Second Line' couldn't be more perfect. The Black community has been pioneers of dance culture – from Chicago footwork to Afrobeat – but the majority of the electronic genre has been male and white. Recent months have shown the needle moving in the right direction: In fall 2020, Lady Gaga became the first woman to win "Favorite EDM Artist" at the American Music Awards, while this year, Kaytranada became the first Black artist to win a Grammy for "Best Dance/Electronic" album. For Richard, it's time for her, and other Black dance artists to be seen and heard. "It's time for us to start saying, 'I want to see myself in this space,'" she says. "Not asking, but telling. I want this album to be that."
Second Line is out now