Courtney Barnett sighs. It could be relief, it could be weariness. It could be a bit of both. On the line from sunny Joshua Tree, about to embark on a US tour – her first live shows in almost two years – she's describing how it feels to be out there after staying in one place for so long.
"Good. A little strange to start off with. I didn't really leave the house for the last year." Courtney says "good" almost with a question mark – like most of us, reentering the world is a mixture of excitement, happiness and trepidation. "It's definitely a time I'll never forget, that's for sure."
Locked down in a friend's Melbourne apartment, reeling from tour burn-out and relationship break-down, you'd be forgiven for assuming the deadpan so-called slacker queen would nosedive into a well of cynical negativity. The onslaught of daily global pandemic ne​​ws, the climate emergency and ever-growing human inequality was enough to send any of us over the edge. Instead though, she says she dug into herself to find the positives.
Her third album 'Things Take Time, Take Time' plants a flag in this new ground, we can hear a lighter, more open Courtney Barnett. Instead of viewing life through the squint of a snarky side-eye, she's panned round to full-view. Drinking it all in.
'Rae Street' follows that line of vision out of the window onto one road, her lyrics giving the minutiae of the day-to-day the same weight as the big picture stuff. Changing the sheets and changing the world; both need to be done, and there's time for it all. "There's one thing I know; the sun will rise today and tomorrow," Courtney sings, over languid yet comforting guitars. "We got a long, long way to go."
That lockdown apartment on real-life Rae Street, in Melbourne's Fitzroy North neighbourhood, not only inspired this track but was pivotal in her fresh perspective. "I loved it, I was there for exactly one year. That will forever have a kind of nostalgic memory for me," she explains. "it forced me to spend time by myself, reflect and turn inward. Speak to friends on the phone. It changed my whole pattern and outlook. I hadn't lived on my own like that, or just been on my own like that, so it was kind of a good thing."
On the catchy upbeat 'Take It Day by Day', Courtney tells us to start looking on the bright side; no matter how down you are today, tomorrow you could be up again – "Don't stick that knife in the toaster / Baby, life is like a roller coaster." – while on 'Sunfair Sundown' she's tender and caring: "When you sleep, are you warm?…I don't want you to be alone." Love song 'Before You Gotta Go' is downright endearing: "If somethin' were to happen, my dear / I wouldn't want the last words you hear / To be unkind, to be unkind." The project is still peppered with the witty observations and wry humour we love her for, but it's a far cry from the "turpentine and cyanide" of 2015's 'Pedestrian at Best'.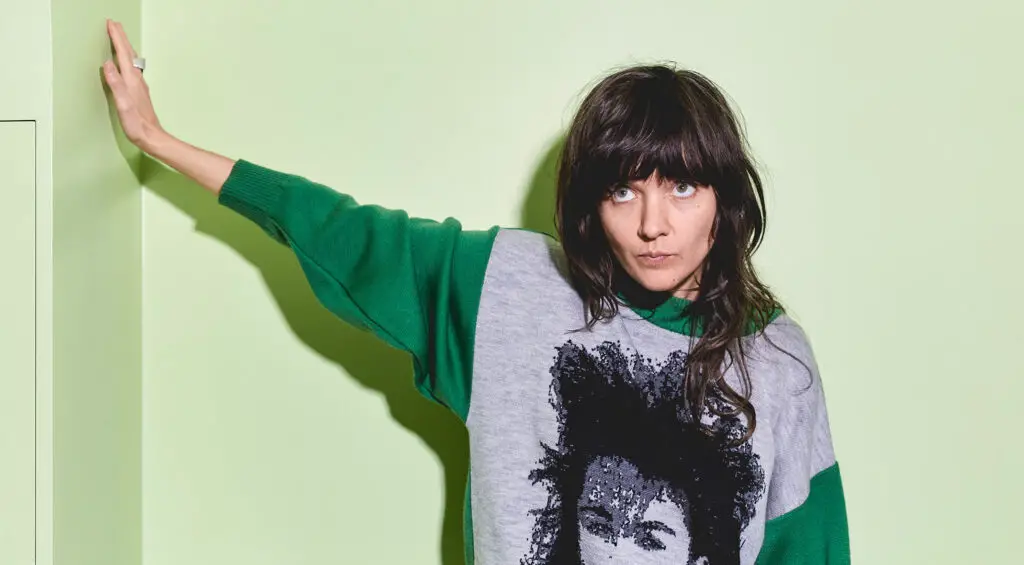 "There are so many bad stories in the world but there are also so many good stories," Courtney explains, of this pivot to the positive. "So many people are working hard to look after each other and keep their communities safe. I feel like people are looking out for each other more than they were before, and I find that really heartwarming."
Was it an active decision to make a record with a different attitude to past work? "I think it was subconscious. Maybe my brain was trying to find a way to deal with it all?" she wonders, hinting at the breakup from long-term partner Jen Cloher. "I was so depressed for a while, I guess kind of up and down, but it feels such a joyous album, to me. I think a lot of it was about me trying to find a balance – how to experience all the emotions. Accepting them for what they are."
We talk about practicing mindfulness – allowing yourself to experience everything rather than fighting it, letting feelings wash over you, taking them and looking at them – and putting in the hard graft when it comes to mental health. "I was definitely over the last few years actively trying to retrain my brain in certain ways, to break negative thought patterns or behaviour patterns. In January 2020 I think something switched in my brain, it's like all that work kind of kicked in."
Like most of us in lockdown, Courtney also made time to explore art, listening to everything from cellist Arthur Russell, to the jazz of Nina Simone and Alice Coltrane, and the electronic ambience of Floating Points. "Allowing myself time to really sit and appreciate it," she explains. "I became aware of how I often consume music, I'm so distracted a lot of the time. It soaked in. Say, Alice Coltrane: the album doesn't sound like Alice Coltrane, but the kind of feeling behind when I listen to something she makes – this meditative music practice – that soaks into the psychology behind it, or the philosophy. That kind of peacefulness somehow.
"There are elements everywhere, more ambient sounds, drones and strings. I did some really basic bow arrangements – I put a cello bow to my guitar and used different effects. It created this ambient drone sound. I find it really beautiful, thick texture. All these phantom sounds. There are points where it sounds like trumpets, a horn section, but it's just this weird frequency coming off the bow. Things like that, not quite knowing what to expect."
Classic films too – the back catalogue of French New Wave's Agnès Varder, and 'Stalker' and 'Solaris' from iconic Russian director and screenwriter Andrei Tarkovsky – fed into the creative process but also into her fresh outlook. "Looking at the world through a different lens," Courtney explains. "Constantly assessing life and death and purpose and intention. I was trying to stay open and study the world and the people. I normally can't help but write exactly what I'm going through. Even that process is me figuring it out, in real-time, thinking and learning and communicating. It all creeps in."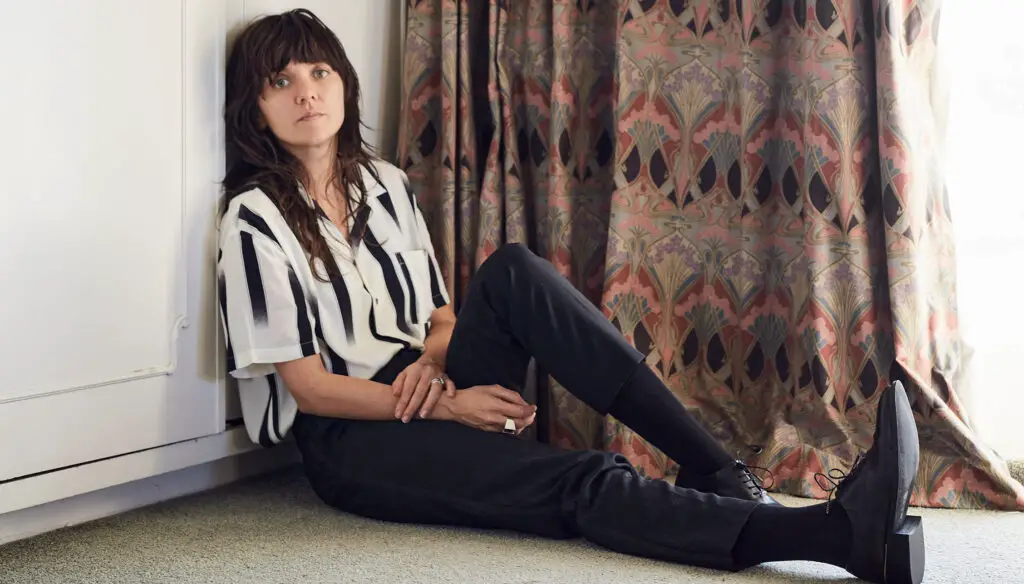 Is she able to look at 'Things Take Time, Take Time' like that yet? A sort of time capsule for that process? Courtney says it might (aptly) take time, and some distance. A little like flicking through your own teenage diary, you might only realise the full meaning and depth of feeling beneath the scribbles once you've stepped away from them for long enough. She reflects on the ways we mask our own feelings, in self-defence, the same way she perhaps hid behind cynicism on previous albums. "That's the greatest lesson: how much we can hide from ourselves without even knowing it. How much our mind and our body tries to protect us. It's really fascinating to be able to learn that."
And now she's taking this all out on the road. Despite 'Things Take Time, Take Time' being borne of a very personal set of circumstances, there's something totally human, totally universal about its sentiment and sound. Made for sharing. "It's such a beautiful and powerful connection, this mysterious energy in the room," Courtney's voice brightens as she talks about playing songs to others, the most basic of joys for an artist.
"Seeing people reacting to the music or the stories, bringing their own story to it, their own history, their own projection. It's such an other-worldly experience. I'm so grateful to be able to do that, now more than ever I see it with such clarity." And clarity's what this is all about. It's not "Courtney 2.0" speaking; it's the same Courtney Barnett, but for the first time we're seeing all of her.