"Being back on stage felt right," says Izzy Bee Phillips, Black Honey's striking frontwoman on the topic of the band's first gig since January. "I was nervous and I worried I'd forget how to play a show. I was unsure if I could do it in rehearsals. But it felt natural to be on stage. It felt cool."
When we meet, the band have just played their first proper gig since before the lockdown "to people sat at rows of picnic tables" at Signature Brew in Walthamstow.
After the whirlwind of their self-titled debut album and all the plaudits and attention that came their way, Brighton's Black Honey are back with a second album which confirms them as one of the best indie rock bands this country has to offer.
We're sat in the noisy and busy Breakfast Club, a café in the centre of Brighton's Lanes where Phillips is holding court while eating an intriguingly named plate of Disco Hash. A colourful dish of fried egg, jalapeños, hot harissa cheese sauce and pink pickled onions that match the singer's faded pink hair.
A regular customer, she's on first-name terms with the staff and recommends the Beetle Juice (a delicious mix of beetroot, ginger and pomegranate). She's friendly and greets me as warmly as social distancing rules allow and is keen to share her excitement about the band's new album 'Written & Directed'.
"I like the fact we got to do what we want with this second album," she says taking a sip of her purple concoction. "It's important we are offensively ourselves no matter what. Sticking by who we are and what we make and not giving up is what we are about. It's too easy to not push or challenge ourselves. We've taken a different journey to other bands so I feel proud and lucky that we have the opportunity to stick to our guns."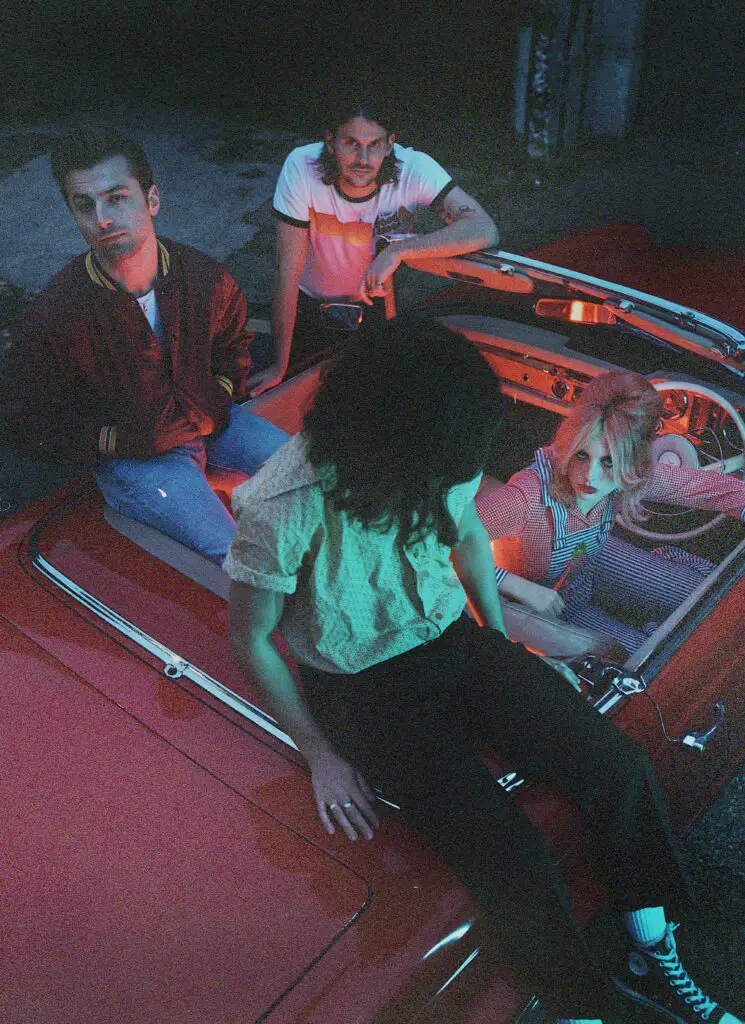 She's obviously a woman who knows her own mind and there is no self-doubt when it comes to her opinion or tastes. She describes how she approached the album by cherry picking from her favourite genres and eras.
"I'm lucky that everyone respects me and my vision. They give it a go even if they might not be sure about it, because they trust that I've got something. If you'd said to me a year ago that 'Beaches' and 'Disinfect' we're going to sit really well together on a record, I'd be like 'Fuck Off'."
The album reflects the confidence Phillips, guitarist and synths, Chris Ostler, bassist Tommy Taylor and new drummer Alex Woodward have in the progression of the band's musical style.
The shockingly good 'Disinfect' shows off their uncompromising attitude and is "a nod to the classic rock icons that we look up to like The White Stripes and Queens of the Stone Age."
Says Phillips: "The heavier side of that song stuck around and we felt it was more true and authentic to who we are."
The title 'Written & Directed' is inspired by the band's love of Quentin Tarantino films. Not any film in particular, but, as Phillips describes: "It just had to feel like an action movie scene. Every time we finished a song we'd be like, 'What scene would this be in?' The vision of the album just needed to feel like a Tarantino movie. The title is so simple and beautiful. We've paid homage to the films' rolling titles with the artwork. A lot of the vision for this record came from thinking about live and how we want the tour to be. I really wanted to make a record that I was excited to play live."
There's every chance when mass gatherings are allowed again there will be a lot of people gathering to see Black Honey, but Phillips doesn't feel anything like anything has changed for her despite being a modern day idol.
"I still feel like an outsider," she says. "Even though we've got good reviews. I feel like a piece of the puzzle. I've found a group of people that I connect with. But ultimately, in the band world, no one is as camp in indie rock as we are. And that's why I was a bit nervous because I'm really aware that to be a cool indie band you have to wear skinny ripped jeans, red Dr Martens and black T-shirts. You have to sing songs that are sort of aloof and be very distant with your feelings and I've just come in and been like 'this is how I feel and here's me dressed as a clown'," she laughs.
"It's good being seen as a glamorous character too. It's like I'm creating an aesthetic that is as much of a lie as the Kardashians projecting a billion dollar lifestyle. But acknowledging it, whether I like it or not, is what I've made. So I also have to let the curtain down and show the real me too."
With adoring fans who dress like Phillips at her gigs, being a role model is something Phillips takes seriously but doesn't find comes naturally.
"When girls come up to me it can be very heavy. I want to be everything to them and don't want to let them down. But at the same time, sometimes it crosses a bit of a line. So now we've created a system where they support each other in the fan groups where they have their own little friendships and talk to each other. Some came to the gig the other night and we had a group photo with everyone from the fan club. I'm here for the community thing, they're The Bad Black Honey Group – we call them Honeys."
Phillips admits the band were in a happier place making the new album than their debut. She says: "Making this record was a whole new experience and we loved every part of it. With the first record there was a lot of pressure that built up over time that became stressful and we felt like we were constantly on the road. But we're really proud of our first album, it's is part of our story and we own that."
Personal favourites on 'Written & Directed' include empowering anthem 'Fire' which Phillips says: "I wrote that for my girlfriends and it's always my favourite when I've had like five tequilas. I like different songs for different moods. At the moment I love 'I Do It To Myself.' I'm really proud of that one. It unveils the whole waking premonition thing. When I was drinking loads, I'd see a weird vision of a girl, a ghost-like girl who would visit me. When I was waking up, the girl would be there. Hovering. And the voice in my head would be 'She's back! I've always been really visual. I have a type of synaesthesia. When I orgasm I see colours and flashes of dreams in my eyes."
The band's swaggering recent single 'Run For Cover' was co-written with Royal Blood's Mike Kerr.
'It was actually written for Royal Blood's record. Then the album changed direction so I was like, "Can I have that one?' The demo has Mike singing on it so I was scared because I didn't know if my voice would suit that song style because it's so punchy. But it really worked. Lyrically, I didn't change anything. We wrote it for this egotistical rock man's perspective and it worked. I like the fact that the whole narrative flipped. The whole concept of this album is it's for the female gaze. Instead of the alpha male in rock and roll. Imagine it's by women for women. I want to switch the lid on the female narrative with 'I Like The Way You Die'. The video has a load of female vampires in it. They are at the table drinking blood – it's really retro. Some of the scenes in it are just wild. It was directed by Beautyspock (aka Instagram favourite, creative director and photographer Frances O'Sullivan) who's got a Lana Del Rey vibe."
As well as Kerr, Phillips also worked with Carl Barat and The Prodigy's co-writer Olly Burden on 'I Like The Way You Die', which came from a quote in Django Unchained.
"Sometimes you'd see Carl noodling around and I could literally hear a Libertines song rolling in front of my very eyes. We had a really good time. Carl has taken me on some of the funniest nights out of my life and Olly is a fucking absolute diamond."
Black Honey also worked with producer Dimi and legendary engineer Alan Moulder (Nine Inch Nails, Foals) who mixed the record. There was also nearly a track on the album with Kylie and Britney songwriter Cathy Dennis. Phillips says: "Dimi brought her in for a session. She was mental, in an inspiring genius other-wordly way. We did this song which we never finished called 'Weirdo' and It's like a Gwen Stefani hit. It was a fucking banger. We never finished but we probably will finish it at some point."
With her nerves about playing live again now banished, Phillips is excited to get out there and play some more gigs.
"We've got our 'Pencils Tour' for April, but it's going to be carnage. Sports Team, Magic Gang, Dream Wife; everyone is doing the same month. But I've got the taste of playing live again. It is going to be cool."
---
Listen to our episode of Trash In The Attic, recorded earlier this year with Izzy.