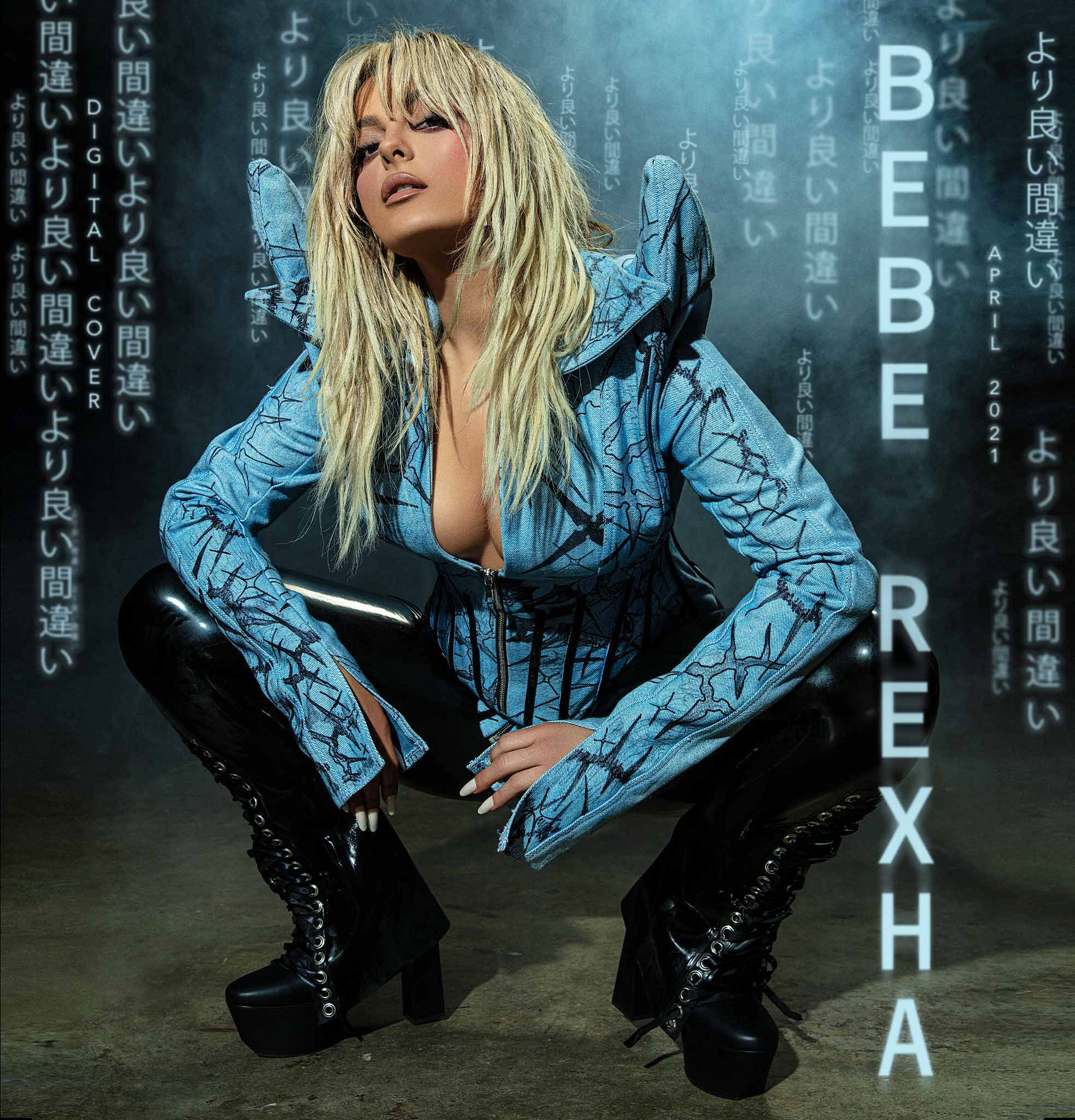 Bebe Rexha
---
With close to 11 million Instagram followers and songwriting credits on some of the biggest pop hits in recent history, Jacqui Swift meets bonafide megastar Bebe Rexha to talk about new beginnings, managing her mental health and the power of female solidarity.
---
"The pandemic has made me lazy as fuck," laughs Bebe Rexha with the kind of relatable candour that you might not expect of a platinum-selling global pop star. "When the weather is good here in LA, I want to go out, go to rehearsals and be more social. But when it's cold I just want to stay home. Like now, I'm home with my dog, eating Brussels sprouts. But this is a fresh start and I've got a new team, and I've got this album of new songs that I really love."
The album that the 31-year-old refers to is next month's 'Better Mistakes': the follow-up to 2018's 'Expectations', which saw the singer exceed the carrot dangled by its title and land firmly in the Billboard Top 20. Having made her name from co-writing 'The Monster' for Eminem and Rihanna back in 2013, it cemented the idea of Rexha as a star in her own right, and one with 10.6 million Instagram followers to boot.
Throughout her career, Rexha has crossed genres. Debut album standout 'I'm a Mess' was a worldwide pop chart hit, while 'Meant to Be' (featuring country duo, Florida Georgia Line) held the Number One spot on the Billboard Hot Country chart for a record-setting 50 weeks. Not only was it the longest reign ever by a female lead artist, it also won Top Country Song at the 2019 Billboard Music Awards and Best Collaboration at the 2018 iHeart Radio Music Awards. In that time, Rexha has also been nominated twice for a Grammy – for Best Country Duo/Group Performance and Best New Artist.
"Musically I've done country, hip-hop, dance and pop," she says proudly, with a New York drawl. "I've made so many different sounds but the closest to who I truly am was 'I'm a Mess'. And that sound was the aim for this album."
It might also come as a surprise that, before any of that, the singer was part of electropop quartet Black Cards alongside Fall Out Boy's Pete Wentz. After a brief couple of singles, Rexha quit in 2012 to try life as a solo artist, but during the writing for 'Better Mistakes' the two old friends reunited to work on a track for the record. "It was great to make the track together, it just didn't make the album," Rexha concedes. "Maybe one day it will come out as Pete killed it."
The Brooklyn-born, Staten Island-raised singer has enjoyed plenty of success with other collaborations however, including tracks with David Guetta ('Hey Mama'), Nick Minaj ('No Broken Hearts'), G-Eazy ('Me, Myself and I') and Martin Garrix ('In The Name of Love'). On 'Better Mistakes', meanwhile, she teams up with Blink-182 drummer Travis Barker on 'Break My Heart Myself', Ty Dolla $Ign and Trevor Daniel on 'My Dear Love', Rick Ross on 'Amore' and Doja Cat on its first single, confessional anthem 'Baby, I'm Jealous'. "That song is about paranoia and being jealous in a relationship, and Doja Cat is SO talented and I respect her a lot," beams the singer. "She has a great melodic and lyrical sensibility, and that song is the perfect mix of pop with hip hop. It's dope.
"I love collaborating," she continues. "It's all about coming together in a moment with that energy, with everyone on the same page and wavelength. Starting out in New York, I got to meet tons of producers from the hip-hop world. You'd go into the studio and whoever was there, there'd be a vibe." For 'Better Mistakes', those at the production helm included pop juggernaut Justin Tranter, the man behind the desk for Ariana Grande, Lady Gaga and Justin Bieber as well as Rexha's own 'Expectations'. "He gets it. He understood me and I have a really close connection with him," she nods. "I feel safe with him and he doesn't judge me."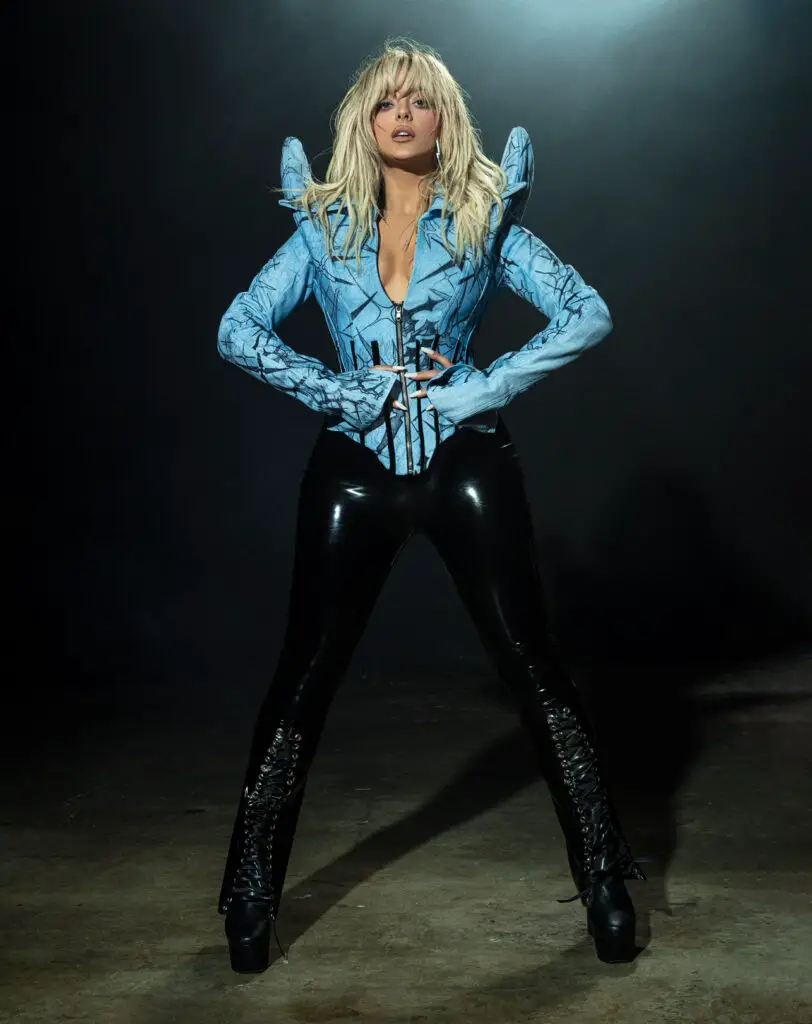 Overcoming judgement, and Rexha's own anxieties and struggles with her mental health are central to the singer's second LP. A few years ago, Rexha suffered a breakdown after learning she had bipolar disorder, which can lead to prolonged manic and depressive episodes. "I went into the studio and wanted to write about it. When you grow up, you think there's going to be no more anxiety and everything will be hunky dory," she explains, "but now I'm older I'm still dealing with the same shit that I've been dealing with since I was young."
Having undergone a large amount of therapy, these days Rexha says she has "more of a hold on it", "but I've broken my own heart so many times with it," she continues. "When I got my first record deal I had such bad anxiety that I was scared to even walk outside or take a bus alone. I was always panicking. It was horrendous; I was scared that I was going crazy. But talking and learning techniques have really helped."
With her second album, the hope is that these songs will give people a better insight as to the real Bebe. "Songs like 'Sacrifice', 'Sabotage', and 'Empty' are all different sides of me," she nods. "They're songs of pain, heartache, self-love and humour. People tell me I'm funny, sarcastic and I have a dark sense of humour – I'm always making people laugh, and I don't mean to. It's the way I like to live my life as everything is just so serious and dramatic. You have to laugh at life."
---
---
Rexha's frank attitude is also evident when it comes to social media. She's not afraid to say things as she sees them and, back in 2019, lashed out via Instagram at designers who refused to make a dress for her to wear to the Grammy Awards, allegedly labelling her "too big" at a size six to eight. These days, her MO is to give no time to trolls.
"The more success and fame you have means more haters, so sometimes I just try to stay off it. The hate comments stand out way more than the nice ones; trolling really is fucked-up bullying," she says angrily. "But if you're in the spotlight moaning about it, people are like, 'Boo hoo you knew what you were getting into with this career'. I think social media makes it harder for artists today as they have to deal with a level of hate that's face-to-face."
Has she watched troubling pop doc 'Framing Britney Spears' yet? "I only saw half of it but it was cruel," she answers. "People say times are different and there wasn't social media then, but that showed it wasn't easy. I couldn't believe the questions she was being asked. She was so sweet and so young. I would've stood up and left. Where was her PR? Why didn't her people step in to help?"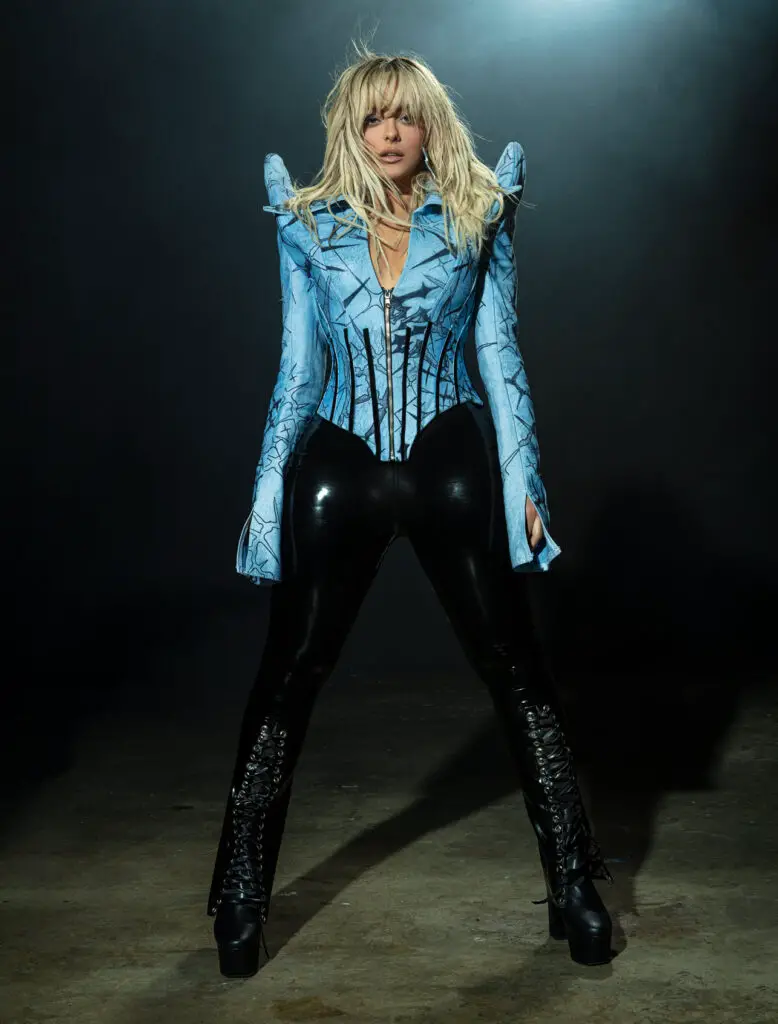 ---
---
Rexha herself has suffered with body image issues for years, but has been vocal about trying to overcome them, recently posting an unfiltered video of herself in a swimming costume with a caption encouraging fans to show their real bodies. "I've had problems with loving myself and constant weight struggles," she nods. "I want to be this fit queen who looks perfect all the time but it's hard for me. I have problems with self-love and am jealous of those girls who always look perfect. I try to work out and be healthy but it's hard. Being in a good relationship helps." Rexha has been dating filmmaker Keyan Safyari since last year. "It's going great," she smiles. "He's a really nice guy and he respects me. He respects my career and supports me. What more could I ask for?"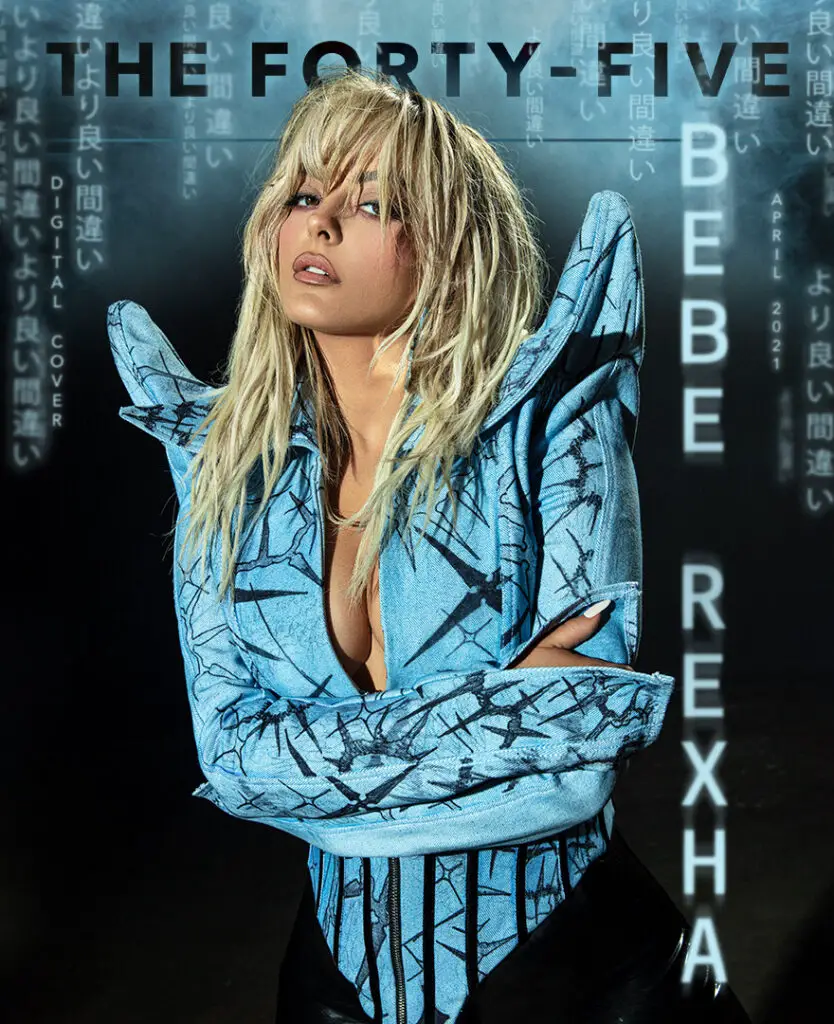 This confidence is echoed in Rexha's 'Women in Harmony' events, which – before the pandemic pressed pause – had taken place annually since 2018. Gathering together a group of female-identifying creatives, the idea behind them was to encourage conversation, collaboration and support between female writers, producers and artists in the music industry.
"I was shocked that nobody had done it before – putting something together where we could all get together and have a safe space to talk about things," she says. "Whether we were taken advantage of in the studio or are discussing why there aren't more female producers – these things are important.
"I don't have anything against men, but the competitiveness with other females is so unnecessary," she continues. "We feel we have to be competitive with each other to keep our place at the table when we need to make more room at the table. The #MeToo movement has helped make things more talked about but there are still a lot of stories that haven't been told. It's changing but songwriters, producers, engineers and executives – where are the females? The Grammys was so much better with Beyoncé, Megan, Cardi, Billie, Haim and Dua. It was really awesome to have all those females there."
---
---
And while Rexha is happy to give due props to her female pop peers on the stage, she's also struck up a close friendship with one of them offstage too. "I miss New York but I have to be [in LA] right now," she begins. "There's a lot more people who are following their dream – I wouldn't say fake people but their focus is more cutthroat so it's hard to find real friends." The saviour? "Alicia Keys is amazing," she gushes. "Honestly when I talk to her or I'm around her she has such a calming energy. She seems so at peace and she wants the best for other people. I really look up to her: she's something else."
With 'Better Mistakes' released in mere weeks, Rexha is hoping, like everyone, to perform as soon as it's safe and has been planning how she wants her live show to be. "I see a lot of fire and rock vibes," she divulges. "I don't like travelling every day, being on a bumpy bus or sleeping on a plane, but I love performing with my band and going hard. I've missed being on the road as I love the shows. That's the fun part."
Should she not be able to make it onto the big stage for little while, however, the polymath is at least gearing up for a stint on the big screen, playing Tempe Tina in Queenpins – an upcoming comedy starring Kristen Bell and Vince Vaughn about a $40million counterfeit coupon scam inspired by a true story.
"I play a hacker girl who helps get the girls – the queenpins – on track because they're doing some illegal things," reveals Rexha. "We hear about kingpins all the time but this is about two badass women. I filmed for three days, and it was exciting and nerve-wracking but the directors were holding my hand the whole time. I'm not really a fan of musicians who act and so I wanted to do it properly. I liked doing something new and trying something different and I tried my best. That's all you can do."
Trying her best has got the singer a hell of a long way so far and, with 'Better Mistakes', all the pins are lined up for another strike. Songwriting queen, vocal advocate of the musical sisterhood and screen star-in-the-making? There's nothing to be mistaken about Bebe Rexha's star power.
---
Like what we do? Support The Forty-Five's original editorial with a monthly Patreon subscription. It gets you early access to our Cover Story and lots of other goodies – and crucially, helps fund our writers and photographers.
Become a Patron!