If, as Nina Simone once said, it is an artist's duty to reflect the times we live in, then Baby Rose has chosen a more positive path. Instead of putting the hate, evil and sorrow that fills our world under a microscope, the Washington D.C.-born musician is bouncing back images full of hope and kindness on her stunning second album, 'Through And Through'. "Love has the power to heal the whole wide world," she sings on the record's optimistic closing track 'Power', a fact we could all do well to remember. 
Sitting in an unassuming café in Los Angeles' Koreatown a few weeks before the release of the follow-up to 2020's acclaimed 'To Myself', Baby Rose – aka Jasmine Rose Wilson – ponders the message she's trying to share. "I'm talking about the collective consciousness of us and the weight we put on people," she says between bites of a crisp strawberry Danish. Instead of being disappointed when the people around us or that we admire mess up, the artist suggests letting go of our expectations and seeing others – and ourselves – "with the gaze of love".
"Once you begin to love yourself and do all the love languages for yourself, you're able to see the world with a softer lens," she reasons. Self-acceptance and the idea of loving yourself have – particularly in recent years – become something of a cultural cliché; easily marketable, a feel-good note to hit rather than anything especially deep a lot of the time. But, when Rose speaks about that notion, you can feel her genuine belief in it and the good it can do.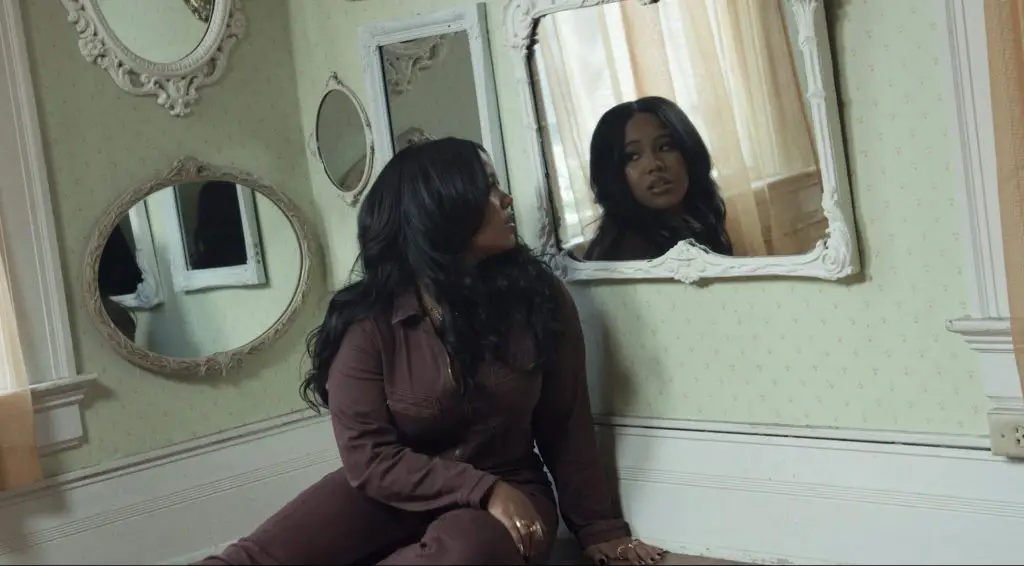 ---
Once you begin to love yourself and do all the love languages for yourself, you're able to see the world with a softer lens

Baby Rose
---
"It's a direct response to the ego and the individualism [of the society] that we live in – this illusion of separation," she continues as cars rush past on the busy street outside. Her distinctive voice drops to a hush, giving dramatic effect to her observation: "We are all the main characters in our lives and nothing else matters – bro, that's just not sustainable."
On 'Through And Through', Rose shares lessons in being kind to yourself, embracing her own mess and acknowledging her flaws. "I won't always be my best," she admits on 'Dance With Me, while the hypnotic 'Paranoid' finds her traversing through worries, joy, tears, and pain in the space of a few lines. Her lyrics are a representation of life's non-linear rollercoaster ride. "It's not like I've arrived at enlightenment and now I am healed," she laughs. "No! I had a breakdown yesterday and literally lost my phone. It's a journey and I think me showing all the crevices of it – the desperation, the chaos, the anger, the love, the lust – [is important]."
Written and recorded between Los Angeles, Atlanta and Nashville, the new record brings as many different sounds to the table as it does emotions and experiences. There's psychedelic R&B on 'Go', deep bass-y grooves on the Smino-featuring 'I Won't Tell', woozy indie experimentalism on 'Water', and much more. But Rose is more than aware that, as a Black artist, it's easy to get pigeonholed into one box no matter how eclectic your music is.
It's something SZA, forever described as an R&B artist regardless of what genre she's experimenting with on any given day, has also shared her frustrations with in recent months, and Rose is equally perplexed by the world's shortsightedness. "You see Alanis Morissette and Joni Mitchell and how could you not imagine SZA in those spaces as well?" she reasons. "With the complexity of her writing and melodies, and the sonics around songs like 'Nobody Gets Me' or 'Drew Barrymore', she's always been on some other shit."
Seeing how the industry has disrespected Black women in particular has played a part in Rose's perspective transforming, going from "starry eyed" about awards shows to redefining what success means to her. "I get a lot of respect from my peers and from people I look up to, and there's so many people that my music is affecting in a positive way," she explains. "That's real, at the end of the day."
Sustainability and satisfaction are the artist's key goals these days, rather than chasing the dream of being at the absolute top of music. "I'm on this point of breaking away from this capitalism bullshit that makes us feel like we're always a hamster in a wheel, chasing a carrot," Rose says. "People are so fucking sad and in this comparison mode for whatever unattainable thing – I deal with it too. But there are people who I've never heard who are doing amazing and doing whatever makes them happy and fulfilled. For me, I own my shit and I turn my pain into power – I hope other people can look at it through their own lens and feel empowered too in whatever way that means [for them]." 
Baby Rose's second album, 'Through And Through' is out now