Arxx are in the bath and they've invited us to watch. The Brighton duo are scrubbing up to mark the release of their stonking new single, 'Deep' – a slick indie-pop track that further cements them as one of the UK's most exciting up-and-coming guitar acts.
This isn't your classic Instagram thirst trap, though. What ensues is something more akin to a surrealist Vic and Bob sketch, with lead singer, Hanni fashioning a bubble-bath beard and drummer, Clara playing "Sink or Float" with various pieces of fruit.
"You know how people say when something's on the internet, it's there forever?.." Hanni laughs, while coiffing her bubbly whiskers.
For the last three years, Arxx have been working hard on the DIY scene to take this band thing really seriously. Meeting after Hanni's drummer moved to Australia and Clara decided to move on from her former band, the duo formed and an instant rapport was built.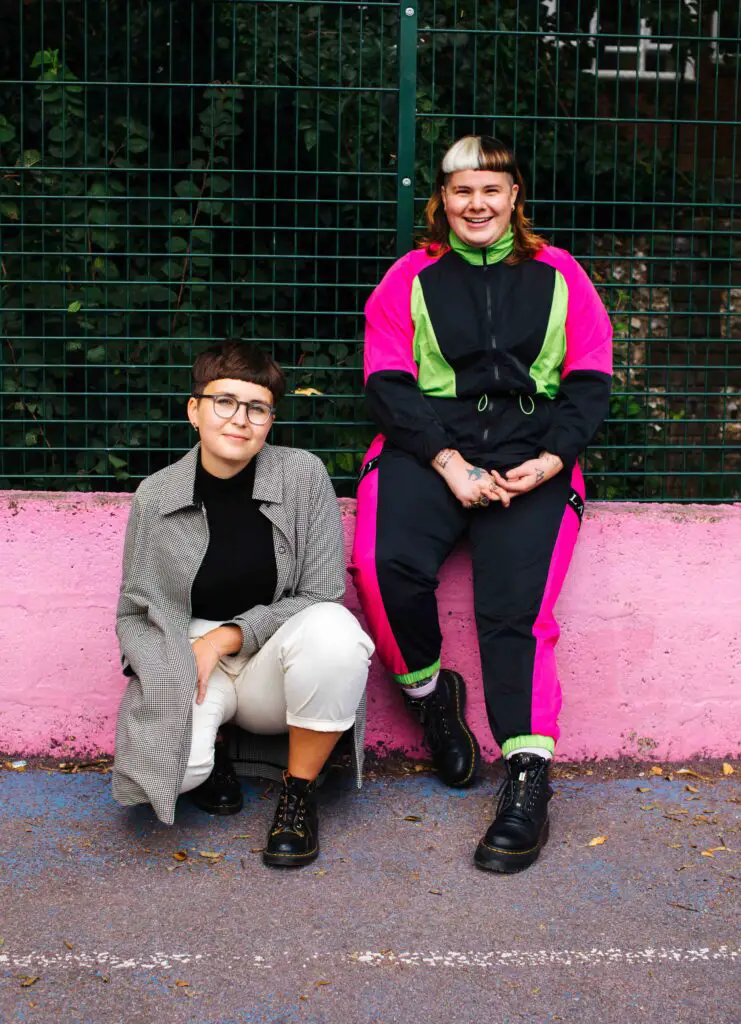 Early EPs, 2018's 'Daughters of Daughters' and 2019's 'Wrong Girl, Honey' showcased technical skill, and a rowdy sound from the pair – something that makes their live shows a very fun affair. For just two people, they make quite the racket.
But if lockdown has reminded Hanni and Clara of anything, it's their love of pop – Haim, in particular – and their most recent two singles, 2020's splendid 'Call Me Crazy' and now 'Deep' show a different, more diverse side to Arxx, pairing slick riffs with infectious pop melodies.
"We went through a weird phase where we didn't know what to call ourselves," says Clara. "We called ourselves garage rock for a while and were playing loads of really punky shows, which we loved, but then we were like, is that really us?"
"Our live shows are always going to have that energy and us losing our shit," adds Hanni. "But this is just something to add to what our music can be."
Growing up on a diet of her mum's country music, Hanni's songwriting and lyricism is strongly influenced by a love of Garth Brooks, John Denver and the queen: Ms Dolly Parton. "I hadn't realised how much impact that had on me until the last few years where I was like, shit, all my songs are country songs," she says. "Country Music is just pop, slowed down on an acoustic guitar. So it lends itself really well."
The pair are very definitely on the rise, with their new tracks being playlisted by the likes of Radio 1, Spotify, NME (and us, of course) but up until very recently it's been an entirely two-woman operation. "It wasn't necessarily a conscious decision to go DIY," says Hanni. "But I've always been like, well, we can do it. We don't have to wait for someone else to do it for us. So let's just do it now."
And do it they did. The pair organised their own European tour by ringing 'round promoters, one by one. They booked a support slot on Dream Wife's tour by lobbing CDs at them at a gig. ("Their tech picked it up. And then we messaged them on Instagram and said, 'We just threw a CD'. And they were like, 'We were listening to it in the van!'")
It's this drive and entrepreneurial spirit – as un-rock n' roll as that may sound – that sets Arxx apart from their peers. They already sound tight as hell and when they're not practicing, you can find them recording their highly entertaining podcast, giving guitar lessons on Instagram live, answering fan questions and generally goofing around.
"I think the best tip for being a DIY band is just to be everywhere", Hanni adds. "It's so easy to get people to talk about you if you constantly go and have conversations with people. I think about something like [Brighton new music festival] The Great Escape, we're like: 'Right, let's go and get breakfast at eight o'clock, so we can start networking," Hanni says, faux-professional voice on.
"It's amazing the things that have happened by just handing people a business card," laughs Clara.
The rest of the year already looks pretty packed for Arxx with more singles on the horizon, a "synchronised swimming" video on its way for 'Deep' and some August UK live shows scheduled in London, Brighton and Margate.
As we all start to put a trepidatious toe out of our front door for the first time in months, we can say with confidence, that these shows will be worth having your weekly bath for.
Arxx live shows:
Aug 20, 2021 Hope & Ruin // Brighton, UK
Aug 21, 2021 The Lexington // London, UK
Aug 25, 2021 Sunflower Lounge // Birmingham, UK
Sep 2, 2021 Oslo Hackney // London, UK *support
Sep 14, 2021 Sneaky Pete's // Edinburgh, UK
Sep 15, 2021 Broadcast // Glasgow, UK
Sep 16, 2021 Crofters Rights // Bristol, UK
Sep 18, 2021 Loud Women Festival // London, UK
Sep 23, 2021 Elsewhere // Margate, UK
---
Like what we do? Support The Forty-Five's original editorial with a monthly Patreon subscription. It gets you early access to our Cover Story and lots of other goodies – and crucially, helps fund our writers and photographers.
Become a Patron!