Since releasing her debut single, 'Cola', in 2018, Arlo Parks has been widely lauded as one of the most exciting new acts in the UK. Blending gentle, thoughtful and poetic lyrics with soothing melodies, Parks has managed to create her own sub-genre of blissful music. Tackling big themes, her songs touch upon mental health, queer identity and heartbreak and her latest single, 'Black Dog' deals with the helplessness of seeing a friend struggle with depression.
Fresh from a live set on a eerily empty Worthy Farm as part of the BBC's Glastonbury coverage (despite the festival being cancelled), we caught up with Arlo via Zoom to chat about role models, her favourite bands, live streams and making sense of these strange times.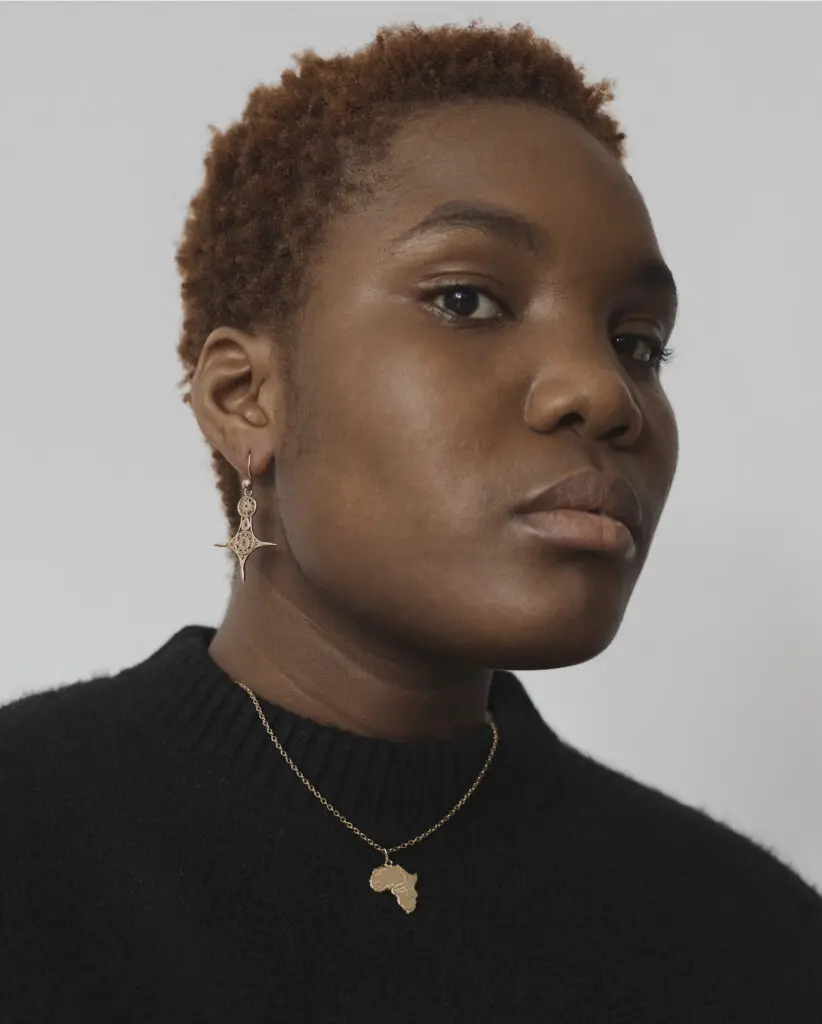 Hey Arlo! How has lockdown been for you? Where are you spending it?
I'm at my parents' house in West London. There's been ups and downs – I'm quite a restless person so at first I was kind of climbing up the walls, but then I actually picked up a few new hobbies. I started teaching myself how to DJ, a lot of cooking and stuff, and I've been working on my debut album. At first it's been hard to adjust but once I did, it was alright.
What's it been like to create music in lockdown?
It's been interesting. I think there's been a lot of mining the past for things, just because right now I'm not doing or seeing anything particularly interesting. I've been making a lot of music that's very introspective, and also because you spend a lot of time with yourself.
What sort of music did you listen to when you were growing up?
I listened to a lot of jazz music because my dad was playing it all around the house. But I was very into guitar music so I listened to a lot of King Krule, Pixies, I was really big into Artic Monkeys. All that kinda stuff.
Great choices! You've talked a lot about artists like Syd being people you looked up to. How important was it to see black queer artists reach success?
I think when I was younger I didn't really see it a lot and when I did, it felt like an amazing feeling. I was looking around and I thought "ooh I'm not sure if there's space for someone like me". And when I did see people who were making music that also I loved sonically, in those positions, I thought "wow, it is actually possible", and that was a beautiful thing.
What made you want to cover Radiohead's 'Creep'? And what does the song mean to you?
It's the first Radiohead song I ever heard, and Radiohead is my favourite band. I think what I've always been attracted to in their music is how it's very vulnerable and raw. The first time I listened to those lyrics, I felt it in my chest. I think I wanted to attempt to strip something down to its core – at its core, the lyrics and the chords are beautiful.
Your music is really honest and compassionate and I think that was really felt in 'Black Dog'. I know it resonated with a lot of people. What do you want to achieve through your music? And do you mainly write for cathartic reasons?
I think what I want to achieve is just connection. It's all about connection for me. Connecting with my own emotions and connecting to others, with listeners, and helping people. I started writing when I was really young, and started writing stories when I was about 11 or so. It's always definitely a form of personal therapy, and was always about me getting things out. I felt like writing them down made them easier to process.
You've recently taken part in Greenpeace's online party and Pride Inside. What's it been like transitioning from live performances to live streams?
It's strange because playing live is very much about getting and giving things back. You see how people react, the looks on their faces and that spurs you on. But, I think it has been positive also to still have some kind of live element during this time, and to feel like I am still connecting to people who are listening to my music. It's more about the people watching than how it makes you feel. I've caught a few live streams by artists that I really like, and it's so nice to have that element that I really miss. I was watching Phoebe Bridgers' DIY set and it was so nice. Seeing me, as a fan of other people, seeing how it made my day, I just wanted to give that to other people.
Congratulations on your AIM Awards nominations! Is there a lot of pressure that comes with receiving so much critical acclaim in such a short space of time?
There is a level of pressure, just because as my platform increases I do feel more responsibility to be a positive… to use that power for good. I don't know, I just think because there are people looking up to me, especially younger people, and I think it comes with a little bit more pressure. But, at the same time, I try not to think about it too much in terms of when I'm making music. I always write in my room and keep some kind of walls up because if you start thinking about what other people are thinking of your music then it can take you away from why you started doing it in the first place.
What was working with the Coyle-Larner brothers on the video for 'Eugene' like?
I've never had an artist direct a video of mine so it meant he took some things into consideration that maybe a normal director wouldn't. Ben was making sure I felt comfortable in the clothes because sometimes you're put in these outfits and you don't really speak up because you feel awkward or whatever. It was also very collaborative. We would sit down, just Ben, Ryan and I, and he'd done these cartoon strips. We spoke about the films we were into, spoke about colour palettes, and it was very much a back and forth. The conversation was constant. They really wanted to find out what I envisaged for the song.
What's next for you?
Obviously in terms of live shows, everything's very uncertain. But it's mainly working on this album and finishing it off. I'm not sure where it's going to come out, but I think the only thing I do know that I can do at the moment is write music. So I think it's just going to be a lot more of that. But hopefully playing live as soon as possible because I miss it so much.