In May last year, South Africa-born, Berlin-based artist Alice Phoebe Lou was given just over one month's notice to leave her home of four years. The flat that had been her safe haven in a foreign city was suddenly taken away in a messy eviction dispute, leaving her future up in the air. "That was all really painful and tricky," she says. "I moved here without knowing anybody, without having any money, and I've made my little world here. To suddenly not feel like you have roots or a ground here feels very, very weird."
The singer moved from her home country to the German creative hub in 2012 when she was just 19. She spent years busking on the streets and in parks, performing breezy acoustic covers of classic songs with a gravelly edge to her homegrown sound. One of her performances, Lou Reed's 'Walk On The Wild Side', currently has 8.9 million views on YouTube, in which she wholesomely chuckles into the microphone as she encourages a singalong from her audience underneath a dusky sky.
By 2016, the independent artist had released her debut album 'Orbit', followed up by 2019's 'Paper Castles' and two albums in 2021 – 'Glow' and surprise release 'Child's Play'. Since then, she's spent a big portion of the last year touring around the world, all while still finding time to perform in her local park, even selling records while she's there. "I think I always very feverishly just held on to busking as a part of my identity," she says.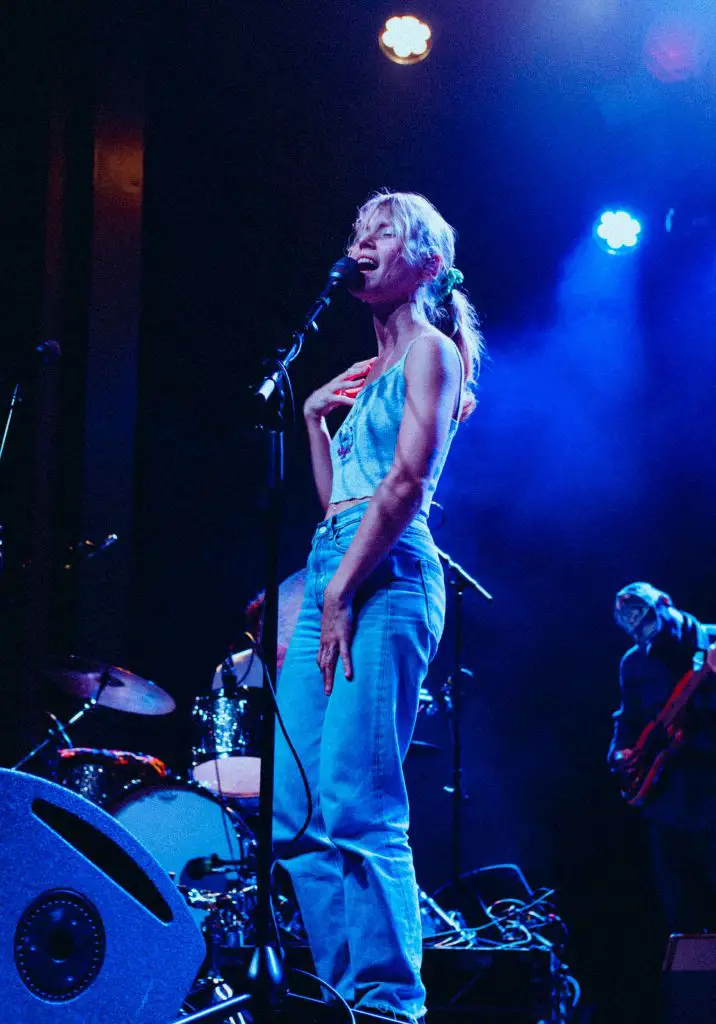 The sudden upheaval the singer experienced last year forced Lou to think about what home truly meant to her, which felt especially disorientating ahead of her 30th birthday next month. "Some days, it's a physical place that I really need and want and desire," she explains. "And other days, I accept that I've been learning how to – as cheesy as it sounds – kind of carry it with me." While the artist didn't know it at the time, these "swirling" ruminations, contradictions and revelations would coalesce to form new album 'Shelter', a serenely gentle yet assured collection of songs. "I kind of just had to confront a lot of things and start to realise and understand what's important to me and what makes me feel safe, what makes me feel good," Lou says.
While the singer tries to refrain from didactically attributing too much context to her lyrics, because even she finds their meanings evolve with time, Lou says the album is "a conversation with my younger self". With the help of therapy and a lot of looking inward, Lou was able to finally strike up that dialogue. She explains: "It's so important to reckon with the past and to accept and to forgive yourself and others, and for you to find some sort of understanding for the traumas, the incidences, the relationships, everything that has come before, especially in the tumultuous years of being a teenager into becoming a woman. That was my most difficult time."
Second single 'Open My Door', a blend of languorous, shoe-gazey arrangements and mellow vocals, was a song Lou first started penning when she was 19. Then, while on a self-created writing retreat in LA recently, the song came to the surface again and the rest "poured" out of her. "What I'm saying to myself in the second part of that song is what I needed to hear when I was younger," she says. Other tracks, like the energetic 'Lose My Head' are forceful and purging, while the viscerally tender 'Angel' is a "combination of all of my kind of contradictory feelings" from throughout the pandemic until present day.
Describing the album as a "celebration", the weightlessness of the record arose naturally, despite some of the more challenging times Lou revisited. It was a chance to free herself of expectation in regards to sound, having previously felt pigeonholed as a timid, folksy singer. 
Lou's determination to stay clear-headed is why she's remained independent all these years, allowing her to follow the vision that feels most authentic. It also means she doesn't have to worry about traditional industry pressures. "I've always had the attitude of, 'I'm an underground or an alternative artist', and I'm not asking to be a pop star, and I don't want anyone to think that that's where I'm going or try to push me there," she says. "I don't want to headline a massive stage. That's not really what my music is asking for."
Her thoughtful perspective on the new album is a good indicator of where Lou sees her life and career going next as she bids farewell to her twenties. "From here, the only desire for me is to just keep making cool things and trying things," she says. Where her previous records were an "exploration", 'Shelter', Lou says, is simply "an arrival".
'Shelter' by Alice Phoebe Lou is out July 7