When Jason Aalon Butler started his current band, the rap-metalcore group FEVER 333, he decided he would release their music through his own label. "I was arrogantly banking on the success of my band early on," he laughed. "But because of that, I felt I could then offer the advantages and benefits to having my own label to other artists."
Butler, who was previously in now-disbanded post-hardcore band letlive., was right to bet on FEVER 333 — not only have they become a notable name in modern alternative music, they were also nominated for a Grammy in the Best Rock Performance category for their song 'Made An America' in 2018.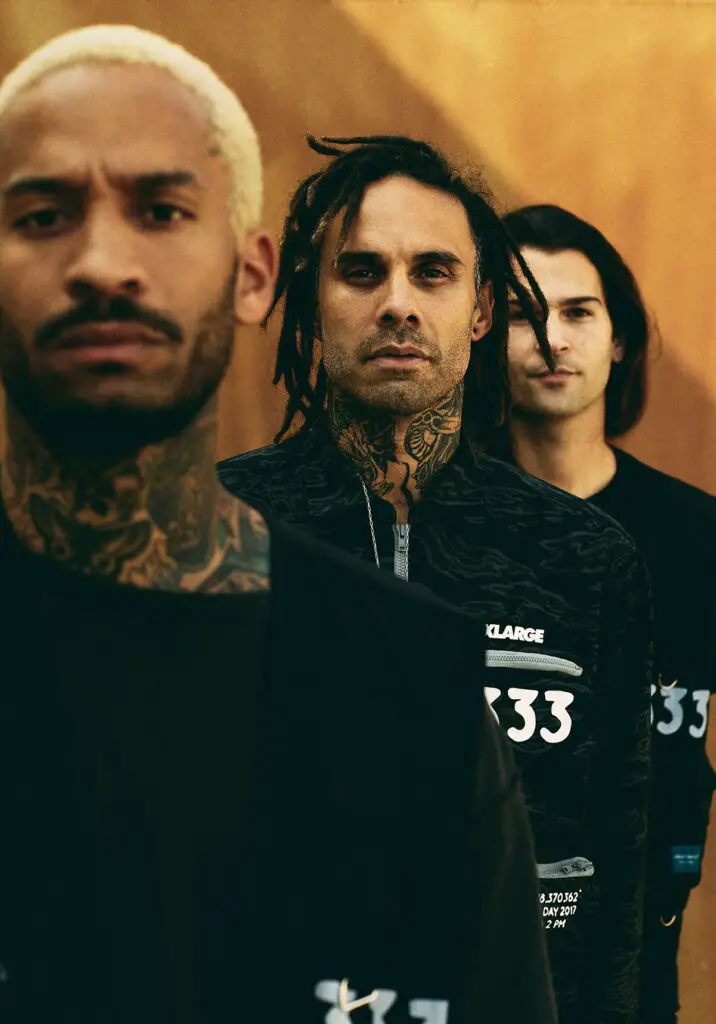 Butler's label and collective, 333 Wreckords Crew, now includes Nova Twins, Oxymorrons, Guerilla Warfare. Death Tour and Gin Wigmore. 333 Wreckords not only takes a non-traditional approach to supporting artists but has also been championing Black talent within alternative music. The 333 in the band and collective's name represents the 3 C's – community, charity and change. With the collective, Butler wanted to put artists first and to use his own experiences as a musician to help others.
Butler says he saw firsthand how artists were disenfranchised by the music industry through his father, Aalon Butler, who was in the soul band Aalon. Through 333 Wreckords, Butler wants to build a different kind of label – one that takes care of artists' wellbeing and interests, particularly Black artists, other artists of colour and those often overlooked by the wider industry.
"The industry cares about you doing things with your art, your mind, your body and your soul that makes them money," Butler said. "And if you really look at that, by my estimation, that's plunder, that's eviscerating, that's stealing, that's exploiting in the worst way."
333 Wreckords provides an alternative model to the typical label structure. Butler says that it shares revenue between artists, so if money enters the collective through one artist, the others benefit as well. "It's a large symbiotic relationship between everybody in this collective," he said.
One of the most marked differences between how 333 Wreckords and a traditional label operates is with master ownership. "I'm giving them their masters back, like, in no time," Butler said.
Often, labels retain the original recordings, also known as the masters, for decades. Copies of the masters have in the past been called slaves – an obviously racialised term that the industry has only recently begun to eliminate. Over the past two years, many have been advocating for artists, especially Black artists, to get their masters back. If an artist owns their own master recording, they have more creative control and are able to profit from it. In addition, Butler hopes it will allow them to maintain their independence instead of being indebted to the label.
Butler says he often gives artists a set number of years to get their recordings back, based on how long it'll take to recoup the costs of making the music. "The only reason I even set a fund that needs to be paid back is so that we can do it again," he said. That fund is never so large that Butler thinks the artist won't be able to pay it back and he says he's active in finding ways to earn the artists revenue. "If we make our money back early, that shit is yours," Butler said. 
But if they don't?
"If your master term is over, but we're like hella in the hole, it's like, alright, well, we got to keep going until we get this money back, just so we can do it again," he said.
Both Nova Twins and Oxymorrons own their masters.
"We have always had ownership of our masters," Oxymorrons said over email. "That's one of the many perks that came with working with 333 Wrecks."
Sometimes, the commitments are much shorter than an album. 333 Wreckords recently had a one-song deal with rap-metal band Jynx for their track 'All In Caskets.' "I just liked the song," Butler laughed. "That was it. I just thought it was dope. So I fucking put it out. Like, it's that simple."
The collective's biggest impact has been spotlighting people of colour, particularly Black musicians, in the alternative space, which was the goal from the outset. "The intentions were very clear from the beginning to offer platform, empowerment and representation to POC and specifically, Black culture in rock music," Butler said.
This is evident with the rise of Nova Twins, a band that has not only gained a huge following over the past year, but also has been elevating rock artists of colour through projects like their compilation, 'Voices for the Unheard,' featuring alternative bands with POC members. Butler saw Nova Twins at Afropunk festival in Brooklyn some years back and wanted them to join the collective — before he even knew what it would look like. Nova Twins released their debut album, 'Who Are The Girls?', through 333 Wreckords and FEVER 333 also recently remixed their song 'Undertaker.'
"It was nice for us to find a home, a community to feel like we do belong and we're not going crazy and these microaggressions are not in our minds, that they do exist in the industry in a systemic kind of way," Nova Twins' Amy Love said. "Now I think as we have banded together as a crew of alt bands we're starting to kind of push these barriers and push the ceiling, basically kick it down. And you're starting to see more diverse faces in the pop/punk/rock/alt scene."
The collective stands for values that have been a part of the punk and alternative ethos for decades, like elevating marginalised voices, building community, challenging the status quo and working against systemic, often capitalistic, exploitation — although those values haven't always made their way through to more mainstream spaces. "For some reason in alternative music and thought, when it becomes mainstream, it's almost like it's been bootlegged, and put on television and we forget what it was like behind the scenes," Butler said. "I don't want alternative thinking and values to be esoteric. I want everybody to know that you can live in a way that is not designed by a very white dominant, overly capitalistic, heartless system."
333 Wreckords has become a community of like-minded artists pushing for change in music. It's uplifting marginalised voices in rock music and providing a space for those being alternative in alternative music — and trying to give artists more control and guidance in navigating the difficult industry.