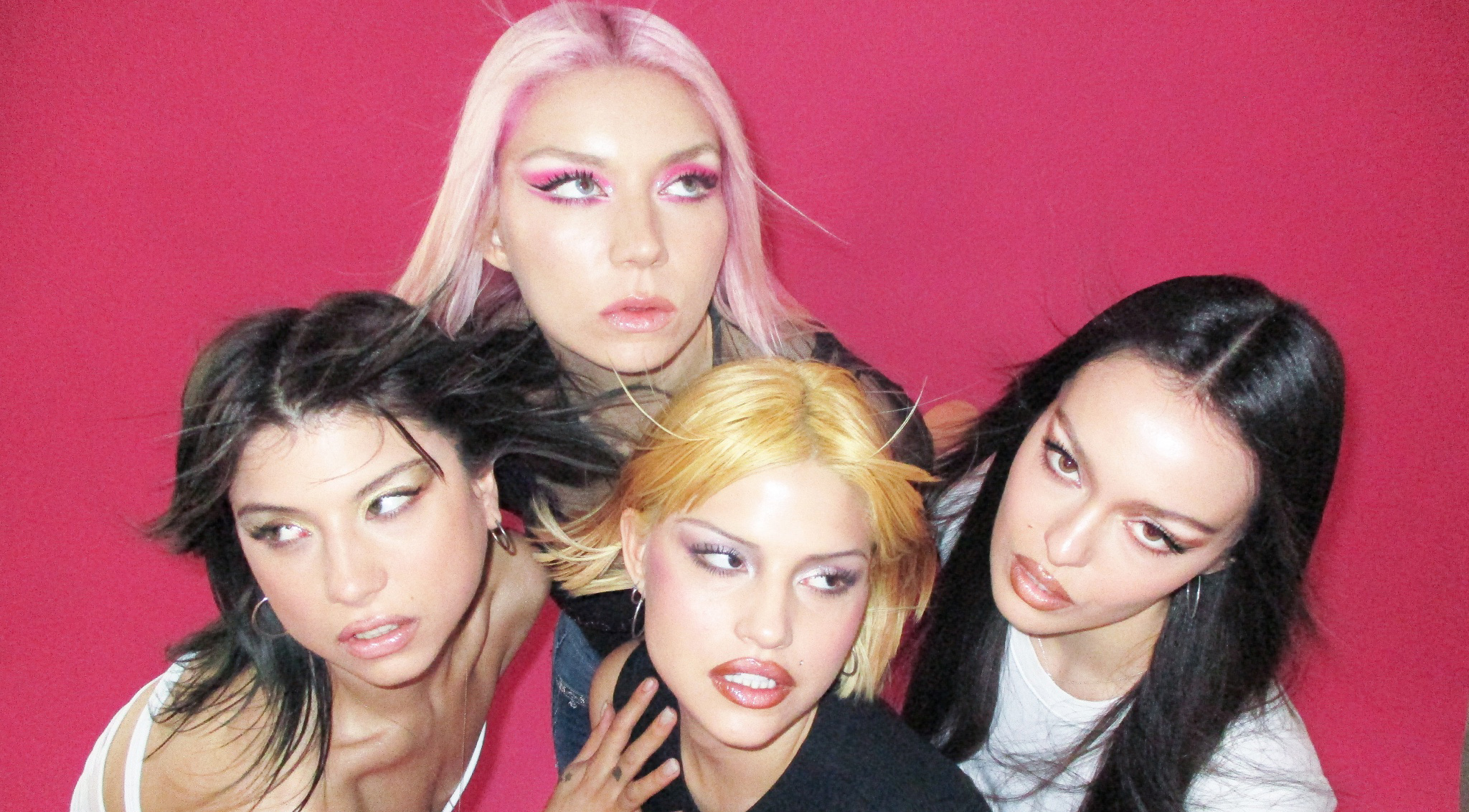 Nasty Cherry aren't really your average girl band. Catapulted to fame in late 2019 via the hit Netflix six-part docuseries, Nasty Cherry: I'm With The Band, the quartet quickly became the epitome of polarising hype as the show generated tireless debates about their manufactured origins.
For the uninitiated, each member was cherry-picked (geddit?) by pop polymath Charli XCX to be part of a new band. In order to join forces, these four girls quickly absconded from their past lives and moved into a house together in LA to tape the reality series. The show documented all the drama and debauchery that accompanied Nasty Cherry's conception; petty fights, messy break-ups and lavish parties. But here's the rub: only half of the group had any previous musical experience prior to filming; less than a year before the cameras began to roll, bassist Georgia Somary quit her day job as a film set decorator, and vocalist Gabi Bechtel ditched her burgeoning career as a model. Outwardly, the series posed as a credibility-killer to the band before they'd even released a full body of work.
That said, Nasty Cherry have managed to turn the collective pipe dream of starting a band into something that is now teetering upon the brink of blowing up, even if they may have had a little help from their friends along the way. Over a wildly productive, two-year long career, the half-British, half-American band has vied for global stardom via a neon pink pop lens that hones in on glitzy ambition, breathless romance, and sisterhood. In turn Nasty Cherry have been embraced by thousands.
Video-chatting from their respective transatlantic abodes, three quarters of Nasty Cherry – Georgia, drummer Debbie Knox-Hewson and guitarist Chloe Chaidez – are listing the ways in which they have started to find success in the face of their naysayers: they've amassed a wildly devoted fanbase (their Instagram following is currently sitting pretty at over 60,000), their first EP, 2019's 'Season 1', has racked up well over a million streams to date, "and we still have a best friend in Charli XCX!", laughs a bubblegum pink-haired Debbie, "We are incredibly lucky to have her." 
Lucky they may be, but if you strip away the group's synonymy with their "confidante and soundboard", Miss XCX, it is obvious that Nasty Cherry want to confute the idea that Charli is moonlighting as a Simon Cowell-esque svengali type. "We always want to prove ourselves, even if the amount of experience we have is relatively small in comparison to other bands." Debbie reasons, with a fiercely positive, can-do attitude to boot. "One of the main things we really want to get across is that if you are just having fun and if you work hard, you will really enjoy yourself, and begin to surprise yourself in terms of what you can achieve. The docuseries showed that in itself."
The group's rapid rise to fame came to them in a flurry, which now means that the next chapter they are about to embark on is one that countless eyes will be firmly locked in on. Enter the aptly-titled 'Season 2', a five-track collection of straightforward, gritty pop-rock bangers that bridge the gap between celestial 80s sparkle and sultry 90s grunge. You only have to listen to the first verse of pouty recent single 'I Am King', a glitchy ode to self-love produced by 100 Gecs' Dylan Brady, to notice that Nasty Cherry are starting to step forward as the self-assured stars that they want to be.
---
READ MORE: AN INTERVIEW WITH 100 GECS
---
On the verge of dropping their highly anticipated second EP, the band's collective mood translates to wildly optimistic, even if this time around, they don't have the marketing carousel of a multi-million dollar reality show, a tour schedule, and a year-long campaign to support its release. "I hope that 'Season 2' encourages people to keep following whatever dream is in front of them, especially because this has been such a crazy year. This is an EP that girls can dance to on a Friday night when they are together and getting drunk… I just want people to have fun!" enthuses Chloe, a staunch supporter of Nasty Cherry's party-happy ethos.
But does the lingering pressure to match the success of 'Season 1' intimidate the girls?
"I don't think that we have ever had a period of being comfortable with our success." admits Georgia. "The show only came out in November 2019, and since then, everything around us has blown up. I think the difference is that when we first started filming, we were four near strangers. Now, when we are sharing experiences together, it is as four really close friends." She thinks for a second, "There will always be something that will change how you have to deal with things. We're always kept on our toes," she adds. "Though it weirdly feels like there is more pressure on us now, particularly without being able to play live shows for the foreseeable. We want people to be able to connect with this music within a vacuum." 
This internal conflict about promoting 'Season 2' in the middle of a pandemic currently lies at the centre of the group. To make matters even more difficult, Debbie is currently residing in an apartment in London, over 5000 miles away from her LA-based bandmates. "I'm in the wrong continent for the band!", she exclaims. "We'd only be lying if we said the distance didn't didn't affect us as a group. We work on different time zones, and we have had to get into the swing of how we work, write, and communicate, and that process doesn't necessarily always take place on a weekly 5pm Zoom call. We're having to try and navigate it all."
Instead, they have gotten into a "rewarding" routine of sending each other lyrics, demos, and song ideas via voice notes and the occasional call. Chloe is eager to point out that this "pretty collaborative" course of action has only further established their ability to work in the face of hardship, proving that "one of the real beauties of this band is that everyone has a voice in it". 
As a group, they have been working towards developing a stronger bond, and within 'Season 2''s succinct 15-minute running time, you will find songs that elevate the lived experiences of the band. Take the woozy, warm and gorgeously melodic 'Better Run', which grapples with depression, or closer 'Cardamon December', a spaced-out meditation on self-reflection that feels overwhelmingly human. Georgia is effusive when she describes how these songs "emotionally affect all four of [them]", and explains that they were able to make sense of one another's personal situations through songwriting together as a group.
For a band writing so openly for the first time, they are also surprisingly adept at it. They are careful to stress, however, that Charli did not pen any of the tracks on 'Season 2', yet she is still "very much involved" in the band group chat, where the girls will send demos to her. Their experience of working with her, they say, gave them faith in their vision, and they want to continue to work with the women producers, engineers and crew that she introduced them to while filming the show.
"Charli was very clear from the get go that she wanted to have plenty of women working with us behind the scenes." Debbie explains. "It feels really important to make that conscious push towards working this way, otherwise, you may find yourself in a room full of guys."
Perhaps inevitably, this leads them to reflect on how, as a band, they plan on continuing to work against gender disparity in the music industry: "There are just never enough women anywhere it seems," says Georgia, shaking her head. "Especially women of colour. There are not enough women working in this industry, to the point where it has surprised me. We work with some insane male producers, so this is not about taking away from the fact we are working with them, it is about actively trying to say that 'we want to work with more women!'" – she repeats this chant four times over – "You can never, ever stop saying that."
Debbie also offers her view on how male artists, producers, engineers, promoters et cetera can be better allies to the cause: "Men have to be pushing for this change just as much as women are. If you care about equality not just in the music industry, but in any industry, you have to push for the change as much as the people that it directly affects."
Empowering women and non-binary artists – both inside and out of pop's star-making bubble – will always remain at the top of the agenda for Nasty Cherry, and this has been the momentum behind the group since the beginning. "Music shouldn't be elitist, the industry shouldn't be a club where people feel like they can't get into it," Debbie elaborates. "Music should just be about expressing yourself and working really hard at it. I think it's really cool that people have been to watch the show or see us develop as a band and then say, 'Yeah, I'm going to start a band too'."
Nasty Cherry may be unsure where the future leads, but above all else, they are proud of how they have built their universe on their own terms. And as for the cynics? "At the end of the day, we have proven that you can just join a band. A lot of people won't like that, but it's true, you can just join a band," deadpans Georgia as she relays Nasty Cherry's hard-won mantra. She follows with a very pensive pause, before offering a conspiratorial smirk as she doubles down on the no-shit stance of the group. "No one joins a girlband for it to be miserable!"
'Season 2' is out on July 17 via Vroom Vroom Recordings.